Estimated reading time: 17 minutes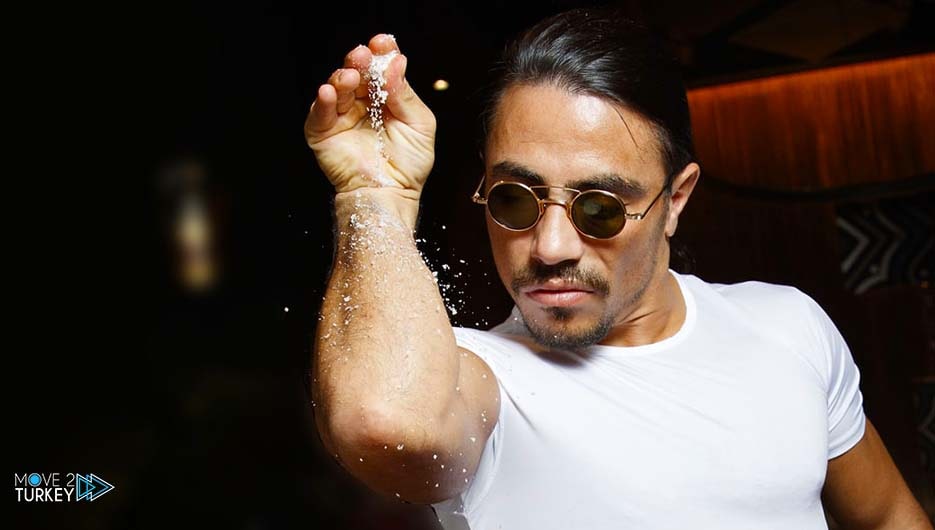 If you are a foodie, and a person who's into meat and wants to try different foods with good taste in various restaurants within Turkey or around the world.
you have definitely heard of Chef Nusret restaurants and the delicious professional steak recipes.
In addition to that Nusret Restaurant offers a lot of delicious and delicious foods from meats and others, it also has an enjoyable and exciting story.
This story has encouraged more and more people and fans of this chef to go to his chain of restaurants.
With this in mind, today in this article we want to tell you about the history of Nusret restaurants and their famous story in Turkey and the world.
We will tell you about the process of establishing the first branch of Nusret Restaurants in Istanbul, and about Nusret, its supreme chef and founder.
In general, we will explain to you the points of interest about these restaurants and the Turkish chef Nusret, follow our article.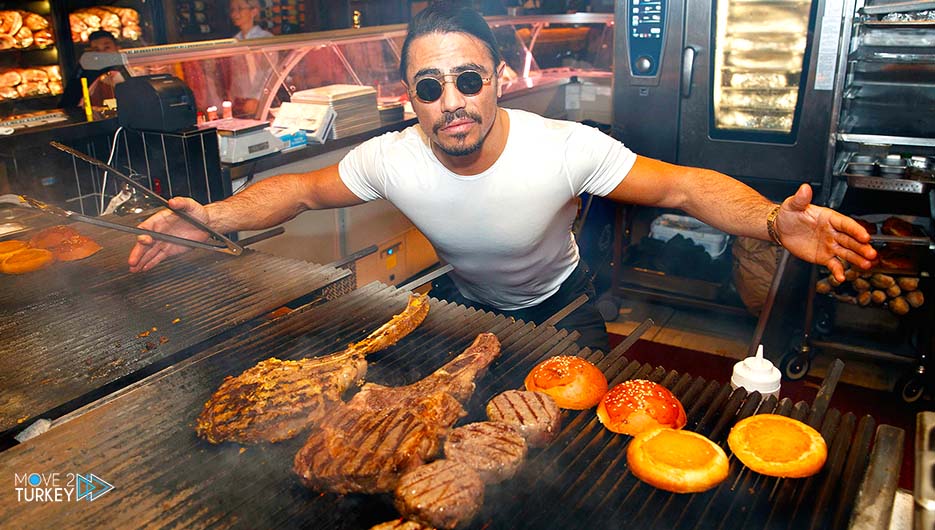 The story of the chef Nusret's chain of restaurants
For the first time, the Nusret restaurant complex originated in Istanbul, Turkey, and nowadays, these restaurants have expanded even further.
As Nusret has become a chain of restaurants with several branches in 8 countries around the world, and it is one of the most famous restaurants around the globe.
Although the menu in this restaurant consists of different and varied dishes, most Nusret restaurants are famous for their distinctive style of cooking.
In addition, it is Chef Nusret's way of presenting delicious steaks in a professional and striking way, as the most famous branch of this restaurant is located in Istanbul, Turkey.
Nusret Istanbul Restaurant is, in fact, the birthplace of these restaurants, the center of their origin and their international fame.
Hence, the famous chef Nusret Gökçe (Salt Bae), with his unique personality and restaurant, started the success of this restaurant, and brought him to great levels of fame and craftsmanship.
Chef Nusret's biography ending to his worldwide success
Nusret Gökçe was a poor cook and of course he was initially a waiter in many Turkish restaurants.
We also note that he also tried to place a trainee in Argentina for a while, but he failed several times during his life, until a certain idea came to him that we all know!
Until 2007, he was only responsible for washing dishes in Turkish restaurants, until he was appointed by a restaurant brand in Istanbul.
His skill at slicing large meat also led him to contract with another brand for a Miami restaurant, and he quickly moved up in ranks.
Having been a trainee since he was a child, he finally opened the first branch of his own restaurant in the most beautiful city in Turkey, Istanbul, in 2011.
Then he made a video of how to cut kebab and spice ribs first on his YouTube channel, and then got incredibly famous on his Instagram account as well.
Today, his restaurant has become one of the most important tourist attractions in Istanbul, and Turkish citizens have dubbed Nusret (Salt Bae)!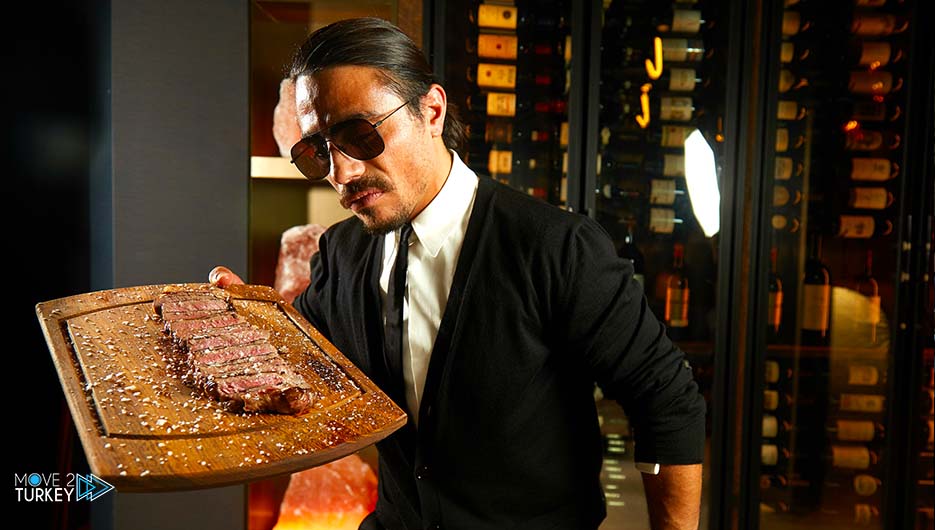 Who is chef Nusret ?
Nusret Gökçe is a 37-year-old chef who started his career as a dishwasher in restaurants in Turkey.
His innate talent led him to his great interest in cooking and to learning the basics of cooking in an initial, then more professional way.
After his appointment as a chef specialized in cutting meat in a large restaurant in Istanbul in 2007, he was later promoted.
This did not only happen in his country, Turkey, but he also managed to work in a famous American restaurant, and he was trained during his work there.
Then Nasret returned to Istanbul after receiving international training, and was able to open his first branch of his chain in Turkey.
It did not take long for Nusret Restaurant, located in Istanbul, to transform from a small and simple restaurant with few customers, to one of the busiest and most famous restaurants in Turkey, and of course, one of the largest in Istanbul.
So, we tell you that Chef Nusret Gökçe is one of the most famous chefs who became one of the pioneers in the world of cooking today, and the reason is due to the social networks.
This is also due to the influence of the Internet on people in our times, such as YouTube and Instagram, where Nusret has become one of its main players.
He turned into one of the successful chefs on these social networks, known as Salt Bae.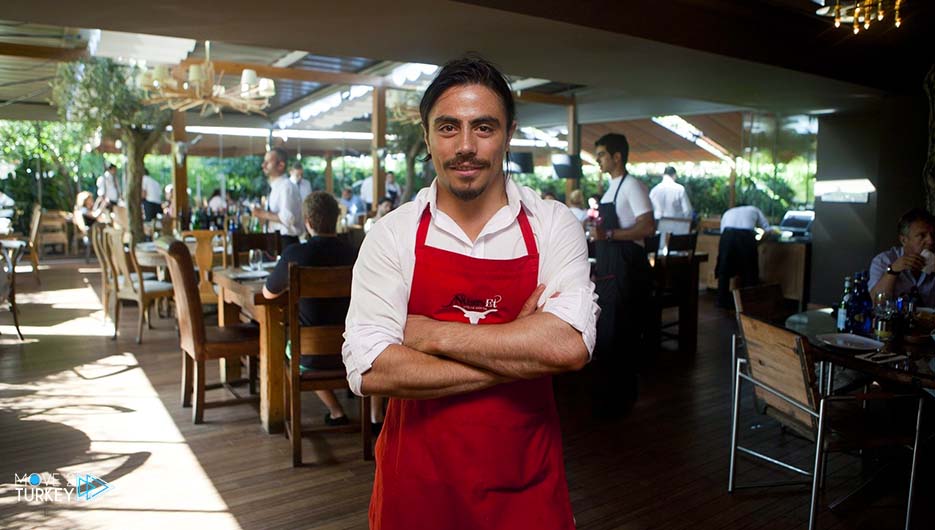 Facts you may hear for the first time about Nusret Gökçe
Chef Nusret owns five steakhouses in Turkey, the United Arab Emirates, Qatar and America, among others.
The capital of the Chef Nusret branch in Dubai was $ 2 million.
Superstar Ben Affleck and singer Rihanna wore T-shirts with a picture of Nasret on it while he was doing the salt-spraying motion.
Nusret's working hours reach 18 hours a day! (and that is INSANE)
It happened that the Emir of Abu Dhabi dined in one of Nusret's restaurants in the United Arab Emirates.
Chef Nusret comes from a poor family of Kurdish origin.
From a pinch of salt to stardom! ..
This means that Chef Nusret will act in an American series that narrates the life of the famous drug dealer Pablo Escobar, and he will play the role of a restaurant owner who serves steaks to mafia men.
In addition to being the owner of the title of Salt Bae, he is also a champion of women, as he invited women to eat for free in his restaurant branches around the world on the occasion of International Women's Day, and indeed thousands of women crowded in front of restaurants in New York, Miami and other branches.
A statue of Nusret was carved in the Wax Museum in Istanbul, and Nusret has become a global icon!
Meat wrapped in gold foil! ..
Chef Nusret offered meat with gold leaf at a special request from his customers, and the golden piece of meat was awarded to French footballer Franck Ribery, player of Bayern Munich, the German soccer champions.
It is also interesting to know that the famous Nusret burger, coated with 24 carat gold, was first introduced at Nusret Restaurant in Dubai, and this added a lot to the fame of this chef.
Chef Nusret does not care about anyone, that is, you may not find any picture of him smiling, as he's always trying to appear as a serious person who is very mysterious, even with famous people who visit his restaurants. He's just playing as the cool Salt Bae.
In a few years, Chef Nusret attracted more than 20 million followers on his Instagram account.
The famous chef Nusret has a great legacy professionally and financially, and it is a loss that one day this legacy runs out or fades, as he passes his inheritance to 9 children of his flesh and blood.
The result of the success of Nusret's globally attractive and enjoyable personality
We must mention that his composure, speed in doing things, his indifference to his surroundings and his kindness in using raw materials are among the most important factors that helped the fame and spread of the Turkish chef Nusret.
This has attracted many famous people in the world such as Leonardo DiCaprio, Bruno Mars, David Beckham, In addition to Lionel Messi, and many other celebrities around the world, to become customers of Nasrat restaurants.
Usually every time they visit Nusret's chain of restaurants, they take photos of this unique experience.
Or they post a video of Chef Nusret serving them the food in the salt bae style in their Instagram accounts.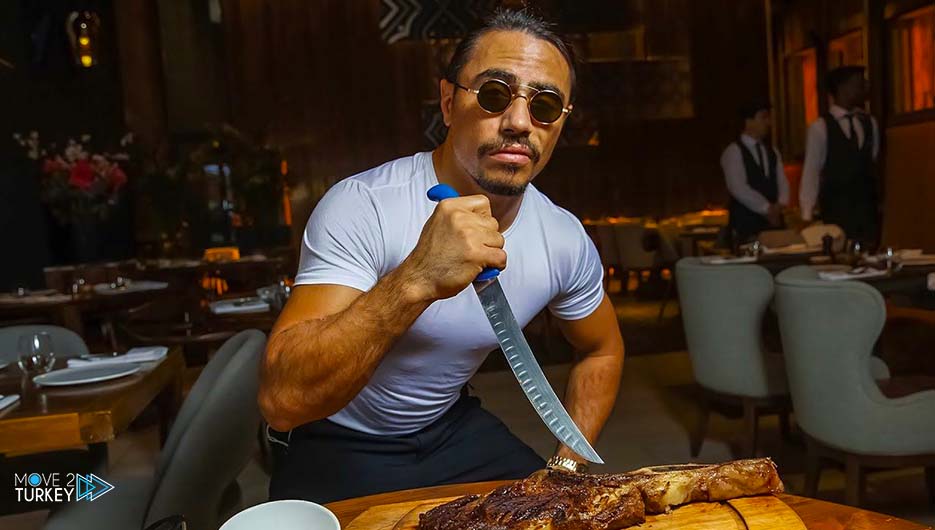 Why is the Turkish chef Nusret famous ?
Among the questions that people ask about this person, why is Nusret as famous as he is?
The answer to this question is that the most important factor in making this creative chef famous is not just cooking steak.
It is also summed up as a global fame through its special and distinctive way of serving food!
Whereas, in his videos, which he posts especially on Instagram and YouTube, the Turkish chef cuts steak. And he does this in a special way with very high skills. It is so interesting and somewhat so strange and mesmerizing, it just looks like a snake lurking in its prey.
And he spreads large grains of salt on the meat when touching his elbow from the top in a special, unparalleled manner.
For this, Chef Nasret has become more than a chef, but a video maker of strange cooking and an incredibly famous cooking style!
Despite all this, it must not be forgotten that Nusret's method of sprinkling salt is not the only reason for the popularity of the famous chef's dishes.
But also the delicious food and the special combination to prepare Turkish kebab ribs and more have taken this chef to the throne of fame.
Also, although Nasret owes everything he has today to his creative and innovative mind, he must be presented as an innovative and entrepreneurial chef.
The following three sides form the triangle of fame for this character represented by Nusret in general.
The use of high-quality meat in cooking, its model for serving food, and finally the possibility of unconditional exposure to social networks.
More accurate details about the story of the movement of pouring salt on meat, which became famous with Chef Nusret :
The salt fell on the meat in the winter of one of the years that Chef Nusret worked, and his photo and videos were widespread.
What he does has been documented in a strange and distinctive way without any hesitation while he is pouring salt all over the Internet.
Of course, millions have watched to this day a video of him preparing an Ottoman steak, which was specifically published on January 11, 2017.
His videos, strangely rich in meat, quickly became a growing and fun series of videos from Nusret Restaurant.
As spectators sprayed a handful of salt crystals onto the food at the end of the clip, it was so much fun.
The various branches owned by Nusret Restaurant in Turkey and the world
The chain of Nusret restaurants in Istanbul has become very famous until this hour, and also, this restaurant chain has more than 10 branches around the world.
Especially in Dubai, Abu Dhabi, New York, Doha, Miami, Istanbul, and many cities in Turkey.
We mention the largest Nusret restaurants around the world, in addition to addresses and informations:
Nusret restaurants in Istanbul :
As we mentioned at the beginning of the article, the first branch of Nusret Restaurants was opened in Istanbul, and it is also the largest restaurant of this chain.
This place is located in the Besiktas district of Istanbul, and it has the most delicious Turkish kebabs for tourists.
It is, of course, located in the same city in which Nusret was born, and today two more branches have opened in Istanbul.
Which you will find their addresses below:
Address of Nusret Restaurant in Etiler, Istanbul :
Etiler Mahallesi, Hisar Üstü Nispetiye Cd. No: 87, 34337 / Beşiktaş, Istanbul, Turkey.
Address of Nusret Burger Restaurant in Bebek, Istanbul :
Bebek Mahallesi, No: 244, Bebek Ykş, No: 1,34342 Beşiktaş, istanbul, Turkey.
Harbiye Mahallesi, Abdi İpekçi Cd. No: 44 34367 şişli /, Istanbul, Turkey.
Nusret Restaurant Branch in Ankara, Turkey :
The third branch of Nusret Gökçe restaurants opened in Ankara, which has also become the second largest branch in the capital of Turkey.
As a result, the best quality kebabs and steaks are also served in the capital of Turkey.
Restaurant address:
Gaziosmanpasa Mahallesi, Şht. Halmer Haluk Sipahioğlu Sk. No: 8, 06700 Çankaya / Ankara, Turkey.
Nusret Restaurant Branch in Bodrum, Turkey :
Continuing to expand the Nusret brand internationally, it established another place to serve food in the same way in another Turkish tourist city called Bodrum.
Bodrum is one of the luxurious regions in Turkey that is known as the Monaco of Turkey. It was a sound choice for Nusret.
Nusret Palmarina Bodrum Restaurant address:
Yalıkavak Mahallesi, Yat Limanı Çökertme Cad, Palmarina Bodrum No. 6, 48990, Bodrum / Yalıkavak / Muğla / Bodrum, Turkey.
Nusret Restaurant Branch in Marmaris, Turkey :
The coastal city of Marmaris is one of the supernatural and luxurious regions of Turkey, which wealthy western tourists travel to for fun.
Today, it hosts in one of its hotels another branch of the Nusret restaurant chain.
Restaurant address:
Hisarönü Mahallesi, D- Hotel Maris km, 48380, Yeni Datça Yolu No: 35 48700 Marmaris / Muğla, Turkey.
Nusret Restaurant Branch in Dubai :
Realizing his international fame, Nasret took measures immediately to spread his brand even further, so a new branch of Nusret restaurants was opened in Dubai.
Skilled Turkish and Indian Chefs have been appointed to do professional business and food business at this restaurant in Dubai.
The location of the restaurant was chosen in the most popular area of ​​Dubai, as the city of Jumeirah was chosen to build its restaurant.
Restaurant address:
Jumeirah Beach Dubai, Four Seasons Resort Village Restaurant, Dubai, United Arab Emirates.
Nusret Restaurant Branch in Doha :
In 2017, a new branch of his chain of restaurants opened in Doha, the capital of Qatar.
It was a clever idea to attract Qatari sheikhs and wealthy tourists to his restaurant in this city to sample his fine dining.
Restaurant address:
Corniche Street, Sheraton Doha Hotel & Resort, PO Box 6000, Qatar.
Nasret restaurants in America (USA) :
Chef Nusret moved his brand to the US in 2019, and chose the iconic cities of New York and Miami to open his other branches.
As a result, Nasret quickly became popular with Americans, and this is due to the popularity of meat consumption among people.
Therefore, the United States of America plays the leading role in the success of Chef Nusret, and is considered one of the most successful branches of Nusret Restaurants in the world.
Address of Nusret Restaurant in New York, USA :
60W, 53rd St, New York, NY, 10019 United States.
Address of Nusret Restaurant in Miami, USA :
999 Brickell Ave, Miami, FL 33131, United States.
List of the best dishes prepared in Nusret Restaurants
Now you may be wondering what kind of food is served at Nusret Restaurant chain?
We tell you if you are a vegetarian, it is better to stay away from these places.
Simply, this is not a place for vegetables!
Its menus are mostly mixed with meat and ribs, and its most popular dishes include barbecue ribs, beef fillet, and lamb.
In addition to spicy dishes, fish, sausages, burgers, steaks, white meat, and everything related to meat.
We mention the total dishes of Chef Nusret restaurants for you below:
Steaks of various kinds.
Burger.
Authorities of all kinds.
Various appetizers.
White meat dishes.
Red meat dishes.
Various spices and seasonings.
Fish meat.
Turkish sausage.
Chicken food.
Beef steak dishes.
Lamb dishes.
List of prices for Nusret restaurant dishes in Istanbul
First of all, we must say that the prices in Nusret Restaurants in Istanbul are high compared to other restaurants, and of course there is a reason for this.
Given the high quality and unique taste of Nusret dishes, it is not surprising that the prices of the dishes in Nusret Restaurant in Istanbul are very high.
A delegation has identified the price of the Nusret restaurant in Istanbul in recent months as follows:
Steak price: starts from 60 liras to 220 liras.
Meat price: starts from 140 liras to 760 liras.
Grilled dish price: starts from 140 liras to 340 liras.
Burger price: starts from 50 liras to 70 liras.
Kebab and meat fingers food price: starts from 30 liras to 60 liras.
Meatball price: starts from 50 liras to 60 liras.
The price of the Nusret special salad plate: the equivalent of 72 liras.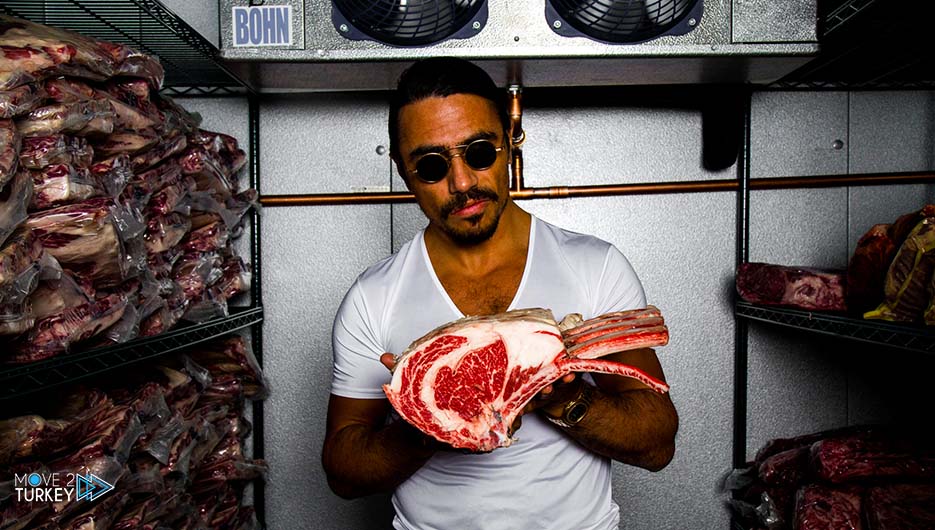 10 factors that summarize Chef Nusret's success…
Cooking love :
Of course, Chef Nusret loves cooking and the world of restaurants, which is what makes him do his best in this field.
Nusret won this love at the age of fourteen, in the kitchen of the restaurant for which he started working in a small way.
Since then, the famous chef has reached the pinnacle of the luxury restaurant industry, and Nasret has become extremely successful.
Nusret's respect for clients' rights :
This principle is one of the best policies that Nasret follows in his chain of restaurants. He regularly visits his restaurants HIMSELF, and is present in every branch.
He also personally welcomes customers who enter the restaurant, this is the rarest thing we can see from a restaurant manager of such a global standard.
As well as being the famous Salt Bae, this has made its restaurants even more widely spread.
Raw material quality :
Nasret attached great importance to the quality of the raw materials for his restaurants, as he has traveled several times to learn about the best meat in the world.
He chooses the necessary meat and proteins in his restaurants in the best interest of the customers, and even goes to check the cows that will be used in his restaurants.
Where he is keen to make sure that the cows are in good condition and on a completely healthy diet.
Excellence in cooking food :
The different cooking method and the special taste of the steaks in the famous Nasret restaurants all over the world.
Of course, this is not the end of the story, as his restaurants' dishes are all on the same level without any difference between them.
Customer happiness and satisfaction priority :
Keeping the customer happy is something the Salt Bae understands and takes care of, and uses very well.
His restaurant environment is well managed and he does not allow any of his customers to leave the restaurant due to dissatisfaction or the slightest problem.
We know that satisfied and happy customers will, of course, bring more customers, and vice versa.
And it seems that Chef Nusret knows this law by heart.
Strong presence in social networks and the Internet :
Nusret, the famous Salt Bae, of course has made social media a great way to propagate his fame.
His special gesture while spraying salt still invites him to visit, and people all over the world love him for this special and universally unique case.
The distinctive style and lifestyle of Nusret's personality :
Nusret's private lifestyle and his signature sprinkling of salt while tasting meat, as well as his family's accompaniment, is interesting to his fans.
Since Chef Nusret has 9 children, he has shared many photos with them on social networks.
It shows his love and concern for his children, and this love for his family made Chef Nusret even more close to our hearts.
Suffering from poverty in childhood and adolescence :
It is the experience of poverty that has brought many successful people to the stage today.
Nasret's experience of poverty and hardship not only made him a self-made and successful man, but also made him even more famous among the visitors of his restaurant.
Of course, people are likely to like the story of a dishwasher boy who is now the senior manager of his own business.
Nusret restaurant chain name (Nusr-ET) :
What do you explain from the name of the restaurant this way?
It is interesting to know that Nusret's name for his restaurants, written in Nusr-ET, has a completely different meaning.
In fact, it is a combination of his name with the word Et, which means meat in Turkish, and this gives a greater meaning and more similar to the idea of ​​his restaurant.
And as you know, the name of the restaurant has a very important role, and it will be very effective in attracting the audience.
New and creative ideas at work :
One of the most important secrets of Nusret's success is his new ideas. He is always looking for new ideas, new flavors and new experiences for his customers in the restaurant.
And in Nusret restaurants, you can always expect a new taste and even a different way of presenting food that you have not seen before.
Finally, we tell you that Chef Nusret Gökçe's road to success was complicated, but at the same time, extremely beneficial.
If we want to define Nusret Gökçe and what he did, we must consider him a symbol of an unknown boy who managed to become a great man in the world of restaurants.
And this is based on his creativity, abilities, intelligence, and most importantly, his will.
Also read about Chef Burak