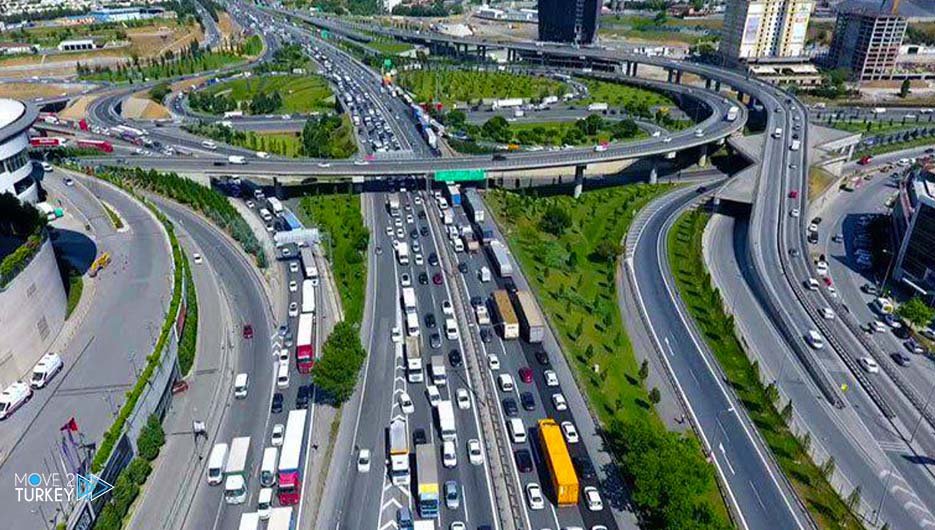 Istanbul is the largest city and most popular in Turkey, which in recent years has become a tourist destination for many foreigners.
Due to the popularity of this city, In this article we intend to provide a complete guide about Istanbul transportation system.
So if you are planning a visit to Istanbul, join us on this not so bumpy road trip.
Introduction to Istanbul transportation system
The city of Istanbul has a unique geographical location, where the Bosphorus strait divides the city into two parts, one European and the other Asian, connected by 3 huge hanging bridges.
This special natural and geographical location has led to the formation of a diverse sea and land transportation system in this city, that allowed people to travel between different districts of Istanbul.
Today it is possible to navigate Istanbul by ferry and boat between the famous city piers, as well as old tram lines, newly built metro lines, and public bus lines.
When choosing a vehicle for transportation in Istanbul, you should pay attention to certain things. Such as traffic hours, costs, the amount of luggage you have, the number of people, and the destination you want to travel to.
If you plan to use public transportation in Istanbul, it is recommended that you use the Istanbul card.
We explained in detail how to buy an Istanbul card and the benefits of using it in previous articles.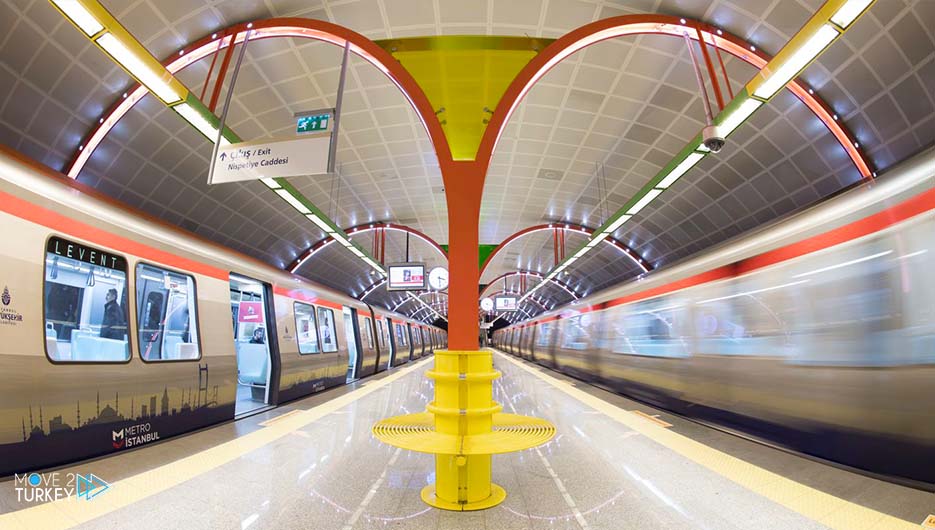 Istanbul Metro Line
The Istanbul Metro system operates under the auspices of the city council and its oldest line is the M1, which was opened in 1989.
The Istanbul Metro system currently has 7 lines M1, M2, M3, M4, M5, M6, M7.
The metro system in this big city is always in the process of development and M9, M10 lines will be built in the near future.
Istanbul Metro is open from 6 am to 12 midnight and trains arrive at the stations every 6 to 10 minutes.
Busy lines, such as the M2 line, take off every 3 minutes during peak hours.
Istanbul Metro lines routes
🚇 Line M1:
departs from Yenikapi in the city center to Atatürk Airport/Kirazili, the metro operates from 6:00 am to 12:00 am.
🚇 Line M2:
Departs from YeniKapi and arrives at Hacıosman.
People who want to go to Taksim Square and Şişli district can use this metro line. The metro operates from 6:15 am to 12 am.
🚇 Line M3:
It starts from Kirazli / Basaksehir all the way to the Kent / Olympia metro.
It can be said that Kirazli is one of the most important stations within Istanbul.
This Metro line operates from 6 am to 12 am.
🚇 Line M4:
It starts from Kadikoy and reaches Tavşantepe.
This line operates in the Asian part of Istanbul and starts from the Asian shore of the Bosphorus.
The metro line operates from 6 am to 12 am.
🚇 Line M5:
It goes from Uskudar to, and operates from 6 am to 12 am.
The journey from Uskudar to Şekmeköy takes about 17 minutes.
🚇 Line M6:
This metro line starts from Levent district / Bogazici University and reaches Hisarosto.
It is a small line and takes only 7 minutes, it also operates from 6 am to 12 am.
🚇 Line M7:
It starts from Mecidiyeköy and reaches Mahmutbey, it runs from 6 am to 12 am.
Its journey takes 32 minutes.
🚇 Line M9:
This line starts from Atakoy and reaches the Olympiat. This metro line operates from 6 am to 12 am, and the journey takes about 10 minutes.
Istanbul Metro map
In all metro stations in different parts of Istanbul, you will find metro line maps available for passengers. The map below shows the route of different subway lines in different colours.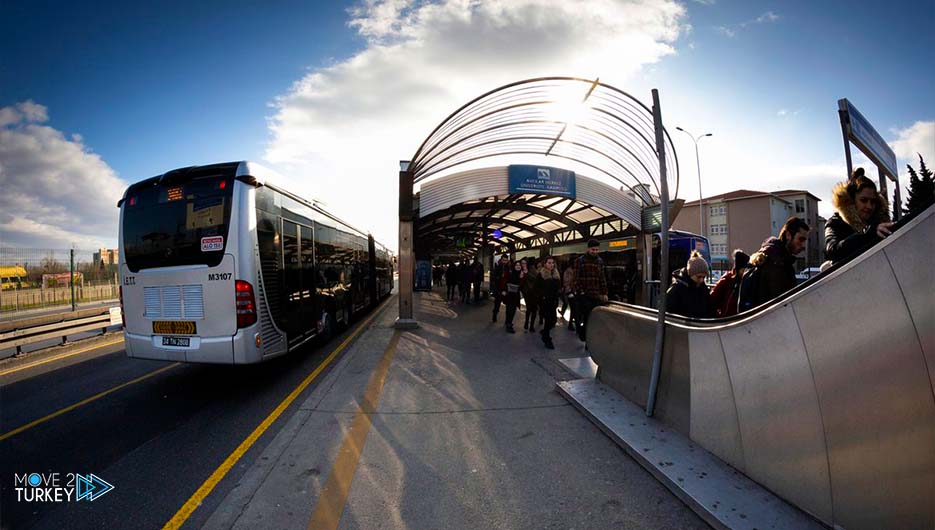 Metrobus Istanbul
The Metrobus is a fast and non-traffic public transport service in Istanbul.
Anyone using the Istanbul Card can easily use the Metrobus line.
It is distinguished by having a single line in the middle of the E5 highway, as it does not fall within the severe traffic in the city.
The Metrobus line extends over a distance of 52 km with a total of 44 stations.
From Beylikdüzü in the west of the European part of Istanbul to Söğütlüçeşme in the Asian part of the city.
Buses carrying passengers on this route have a high passenger capacity and are equipped with summer cooling and winter heating.
The Metrobus also enjoys greater safety and comfort than other public transport vehicles and its design makes it accessible to all groups of residents, including the disabled and the elderly.
Metrobus lines in Istanbul
BZ34: It is the longest line that connects Beylikdüzü and Zencirlikoy stations in Besiktas.
It consists of 37 stations, at a distance of 40 km, and takes about an hour.
C34: Cevizlibağ station. It is one of the main stations in the city, where you need to change buses.
It is also one of the stops that intersect with the tram line.
AS34: it is the station that connects Avcılar and Söğütlüçeşme, and extends for 32 km.
BC34: The station that connects Beylikdüzü and Cevizlibağ.
Buses in Istanbul
The bus is one of the most common means of public transportation in Istanbul.
Bus lines in Istanbul extend in different neighborhoods of the city, passing through a number of stations.
The important thing about using the bus is that it is not suitable if you are in a hurry to reach your destination, as it usually gets stuck in traffic jams in Istanbul.
The positive point of this Istanbul bus system is that it passes through different and important routes that cannot be reached by Tram or Metro.
Istanbul buses are divided into two types: private buses and city buses.
Private buses are green and blue and their destination is marked with yellow and non-digital signs.
While public buses look different and in different colours, for example the old buses are red and the newer buses are green.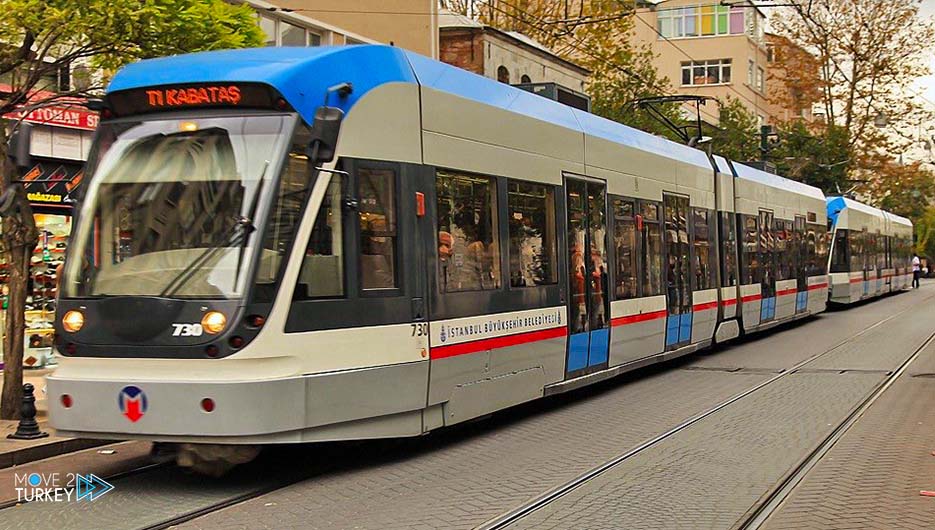 Istanbul Tram
Another popular means of public transportation in Istanbul is the tram.
Trams run through the old city streets, giving you the opportunity to explore the real Istanbul.
In terms of speed, the tram is not very fast.
In fact, the tram stops near most of Istanbul's tourist attractions, which is a good way to visit these famous attractions.
Istanbul Tram Lines
Tram line T1:
Kabataş-Bağcılar
Tram line T3:
Kadıköy-Moda
Tram line T4:
Topkapi – Selim I Mosque (Topkapı – Mescid-i Selam)
Tram line T5:
Cibali-Alibeyköy
Istanbul Tram map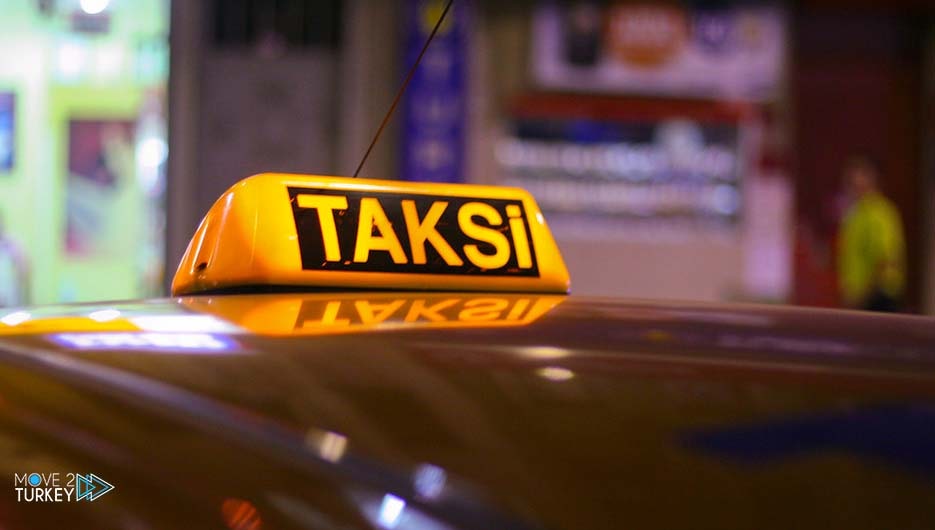 Taxis in Istanbul
Taxis in Istanbul are more expensive than other public transportation, but can be affordable if more than two people share the cost.
You will have no problem finding a taxi in the streets of Istanbul or the airport as there are more than just enough taxis.
To use the taxi, be sure to pay attention to the distance and traffic so that you do not spend a long time reaching your destination.
Another very important point when using a taxi in Istanbul is to review the cost before boarding and agree on the fare with the driver so that you are not charged extra.
Taxi prices vary day and night, and you have to pay for the taxi fare in Turkish lira, so if you don't have a lira be sure to exchange the currency before taking a taxi.
Expenses related to tolls on the bridge or highways when transporting by taxis are paid by the passenger.
If the driver pays the toll, it will be added to the fare later, so be sure to pay attention to the cost of the transit fee.
Online taxi
Perhaps you are familiar with the online taxi system.
In Turkey, you can use the online taxi services by installing its app to your smartphone.
The price of these taxis is not much cheaper than regular taxis, but it is convenient to get a taxi quickly.
Uber and iTaxi are good options for using online taxis in Istanbul.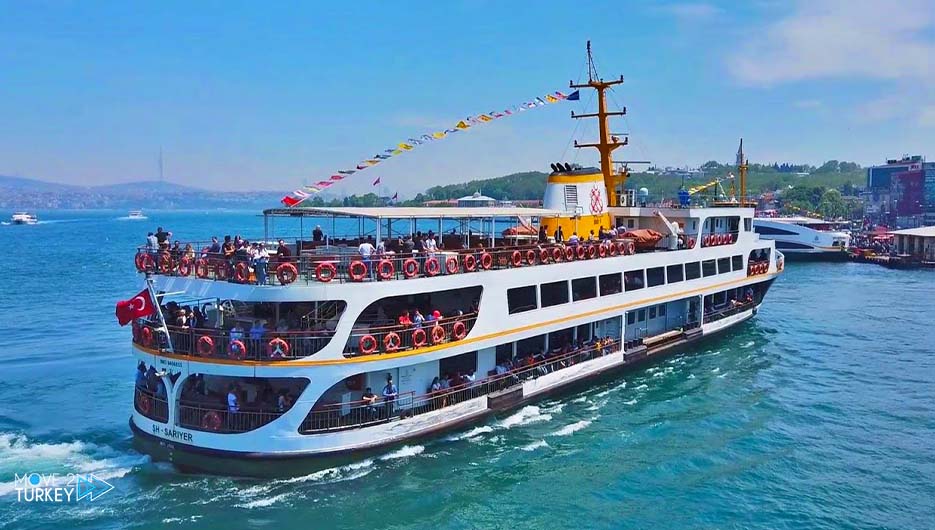 Boats and ferries in Istanbul
As mentioned, Istanbul is located on both sides of the Bosphorus, so many piers were built in different parts of the city.
In addition to recreational cruises, boats are also used for daily transportation.
You can use boats and ferries to transport between different parts of Istanbul, but they may cost more, and boats take a relatively longer time.
Istanbul piers
🚢 Eminonu Pier
🚢 Kabataş Pier
🚢 Yenikapi Pier
🚢 Beşiktaş Pier
🚢 Ortakoy Pier
🚢 Kadikoy Pier
Each of these piers has specific boat routes and times.
These piers are commonly used for trips to the Princes Islands and Bosphorus tours.
To be honest, tourists rarely use these routes as a means of transportation in Istanbul.
Some dock ships are privately owned and sell traditional tickets, while others are run by the public sector where you can use the Istanbul Card.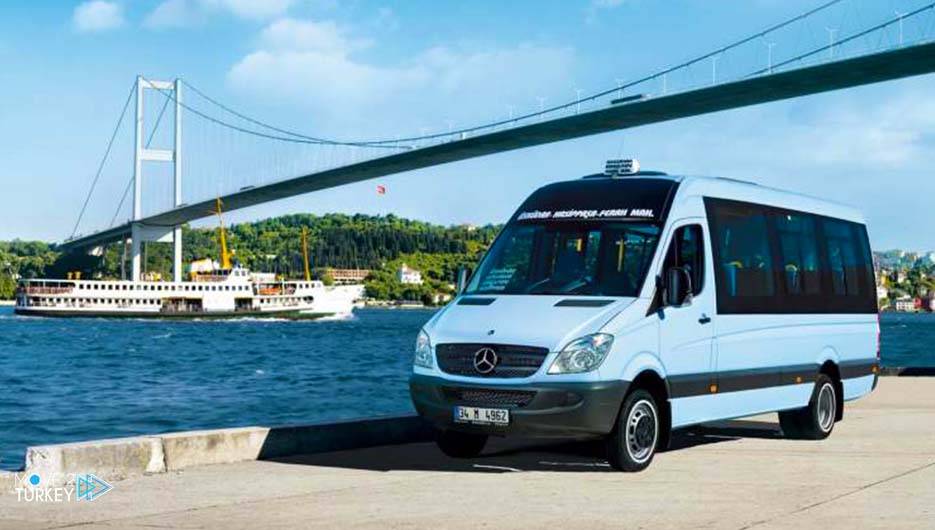 Minibuses (Dolmuş) in Istanbul
Dolmuş are 10 seater yellow vans that route on certain lines and routes and are priced by the state.
Dolmuş is more expensive than a bus, but less than a taxi.
Note that these buses do not have specific stops, and they stop at the request of the passenger.
They are more common in the Asian part of Istanbul, and you must have cash to pay for them, as they do not support Istanbul Card.
Istanbul Railways
In addition to being a means of transportation in Istanbul, it is also known as a tourist attraction.
The train is divided into two lines:
The T or Karaköy-Tünel line that goes down Istiklal Street.
The F1 or Taksim-Kabataş line that runs between Taksim Square and Kabataş.
If you want to go to Sultanahmet, or reach ships sailing to the Princes' Islands, you should use this line.
Frequently Asked Questions
What hours are the low traffic jams in Istanbul?
The peak hours of traffic jams in Istanbul are between 7 to 10 in the morning & 4 to 6 in the evening.
So if you want to go out during these hours, it is recommended that you use the Metro.
Is public transportation in Istanbul safe?
Yes, Transportation in Istanbul is subject to security and safety controls, however you must be careful of your valuables when using public transportation.