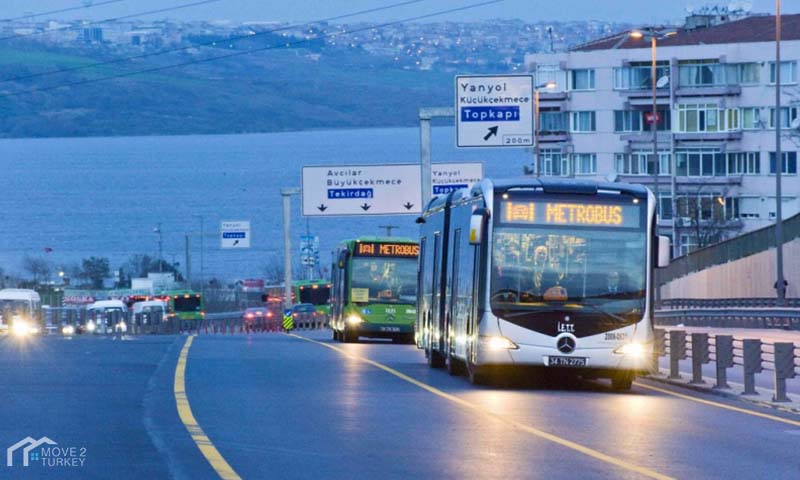 Istanbul Metrobus, is a fast and non-traffic public transport service in Istanbul. Anyone using the Istanbul Card can easily use the Metrobus service.
It is characterized as a single line in the middle of the highway. as it does not get stuck in the traffic.
The metrobus extends over 52 kilometers with a total of 44 stations. from Beylikdüzü, west of the European side of Istanbul, All the way to Söğütlüçeşme in the Asian side of the city.
Don't forget to mention that the Metrobus is located in the middle of the E5 highway. and you have to use pedestrian bridges to get into the station, but do not worry, most of these bridges are equipped with elevators and electric stairs.
Buses carrying passengers on this road have a high passenger capacity and are equipped with summer cooling and winter heating.
The metrobus also has greater safety and comfort conditions than other public transportation vehicles. and its design makes it accessible to all groups of the population, including the disabled and the elderly people. All the buses are also equipped with alert screens to display the stations before they arrive.

Once you leave the gate and get off the station, you can recover the rest of the value of your trip by specialized machines. which calculate the number of stations that you crossed by the Metrobus, to return the rest to your Istanbul Card.
The metrobus contains 4 main lines, each of which runs in the same path, but with different destination:
BZ34: It is the longest line that connects the two stations of Beylikduzu and ZencerliKoy in Besiktas region. and it consists of 37 stations, with a distance of 40 kilometers (25 Miles), with about an hour.
C34: Cevizlibağ station, it is one of the main stations in the city. where you need to change the bus, and it is one of the stations that intersect the tram line.
AS34: this line connects between Avcılar and Söğütlüçeşme, and runs for 32 kilometers.
BC34: The station links between Beylikduzu and Cevizlibağ.
The main stations of the Metro line, which also contain Istanbul metro stations:
Şirinevler
Bahçelievler
Zeytinburnu
Merter
Yenibosna
Mecidiyeköy
Zencerliköy
Şişli
The main Metrobus stations that intersect the tram line:
Zeytinburnu
Topkapı
Cevizlibağ
Bayrampaşa
The most important shopping centers along the metro bus line:
Marmara Park Mall in Beylikdüzü
Marmara Forum Mall in Zeytinburnu
Airport Mall in Yenibosna district
Metro Port Mall in Bahcelievler
Istanbul Cevahir Mall in Şişli
Zorlu Center at Zencerliköy Station