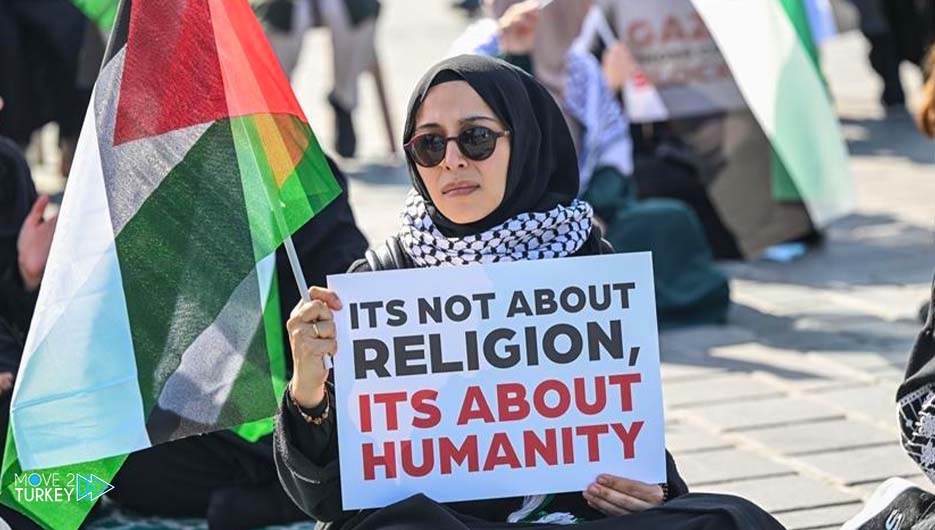 The Solidarity Initiative with Palestinian Women began a sit-in in Emin Uno Square in central Istanbul for 3 days to protest the Israeli attacks on Palestine.
Members of 39 civil society organizations participated in the sit-in, which began on Friday evening, and the participants raised the flags of Turkey and Palestine to express their protest against Israel.
Sumaya Erdogan Bayraktar, Chair of the Board of Trustees of the Women and Democracy Association (Kadem), said that Israel has been targeting and killing innocent people, women and children in hospitals and schools in Gaza and has been doing so for 75 years.
She added that Israel is committing what resembles Nazi crimes against the innocent Palestinian people, as it occupied their lands, took away their homes, and usurped all their rights, such as education, health, travel, and freedom of belief.
She stressed that there can be no justification for Israeli practices, and that they are considered war crimes in international agreements and the Geneva Convention.
In turn, the head of the women's branch of the "Mavi Marmara" Association, Khadija Karasakis, said that, as representatives of non-governmental organizations and mothers, they gathered to say, "Stop" the massacre that the Israeli occupation has been committing in the Gaza Strip for 15 days.
It indicated that war crimes were committed in front of the eyes of the whole world by targeting schools, places of worship, mosques and hospitals in Gaza.
She pointed out that more than 4,000 Palestinians were martyred in Israel's attacks on the Gaza Strip, including more than a thousand children.
She called on all civil societies in Turkey and around the world to take action to stop the genocide in the Gaza Strip, noting that they will continue the sit-in until Sunday evening.
For her part, the head of the Palestinian Women's Association, Alaa Abdel kader, expressed their condemnation of the brutal attacks carried out by Israel in the occupied Palestinian territories, calling on the whole world to stand in solidarity with Palestine.