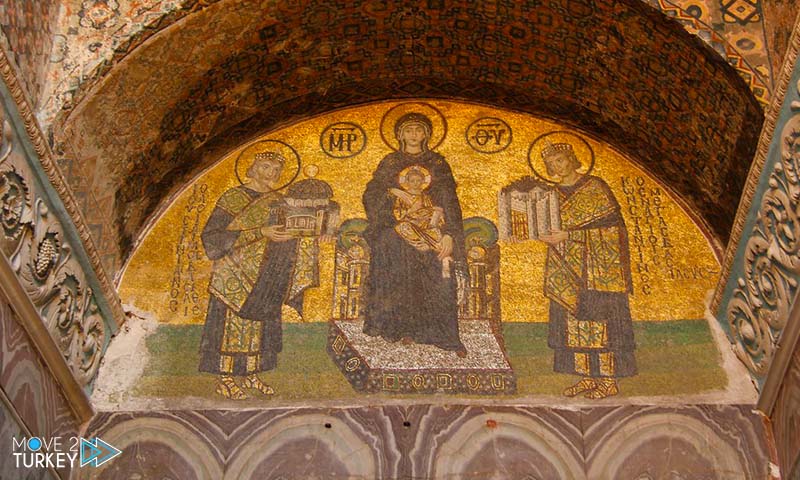 After the decision of the Turkish government and Turkish President Recep Tayyip Erdogan to cancel the decision issued in 1934, which stipulated the conversion of the Hagia Sophia into a museum, people wondered about the fate of Christian paintings decorating the internal walls of the Hagia Sophia
After the order to convert the Hagia Sophia Museum into a mosque, the Turkish government announced that the mosaics depicting the faces of the Virgin Mary and Gabriel would be covered during prayer times.
Earlier this month, Turkish President Recep Tayyip Erdogan ordered the Hagia Sophia Museum to be converted into a mosque, and that Muslims will start praying in Hagia Sophia on Fridays.
A spokesman for the Turkish government also announced that the "Byzantine" mosaics depicting the Virgin Mary and Gabriel in front of the qibla will be covered with curtains at prayer times only, and this mosaic will be displayed to all visitors and tourists.
One of the most famous Byzantine artworks in Hagia Sophia is the mosaic depicting the blessed Virgin Mary with a golden background. Where this mosaic was created in the ninth century AD and rebuilt in the fourteenth century after a severe earthquake. Images of the Archangel Gabriel and Michael standing beside the blessed Virgin Mary were also created.
Hagia Sophia was originally built as a church in the sixth century AD.
Immediately after the conquest of present-day Istanbul by Sultan Mehmed II (Mehmed the Conqueror) in 1453, the Hagia Sophia was converted into a mosque. During the reign of Sultan Suleiman I, mosaics and wall paintings with Christian themes were covered.
This covered mosaic was restored by the American archaeologist Thomas Westrum between 1935 and 1939. The archaeologist was able to reach Hagia Sophia due to his friendly relations with Mustafa Kemal Ataturk, the first Turkish president to convert the Hagia Sophia into a museum.
It is worth noting that Hagia Sophia was included in the World Heritage List, as part of Historic Istanbul in 1985 at the ninth meeting of the UNESCO World Heritage Committee.