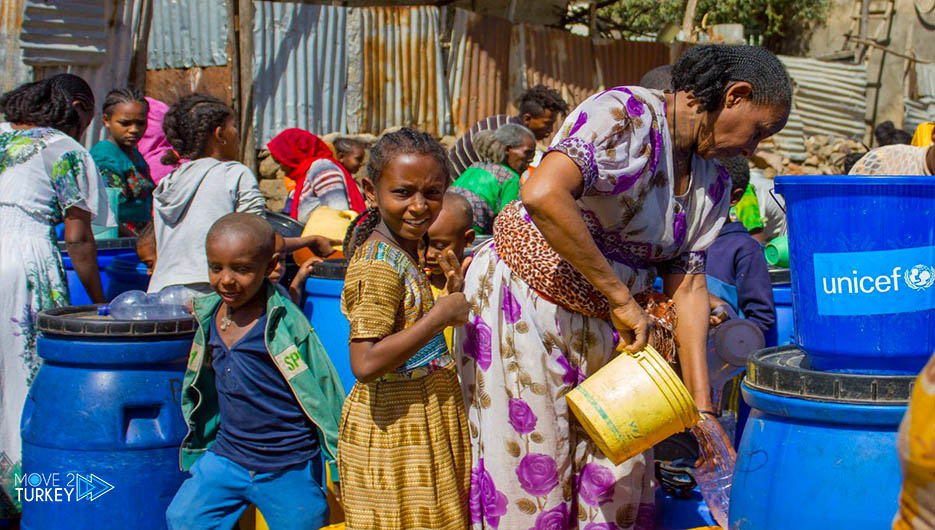 On Sunday, the United Nations Children's Fund (UNICEF) announced the provision of non-food needs to about 8,000 newly displaced people in Ma'rib Governorate, central Yemen.
"The displaced families in Marib continue to move from one camp to another in search of safety and humanitarian aid," the organization said in a brief statement posted on Twitter.
She added, "In response to the enormous needs in one of the new IDP camps called (Sumaya), UNICEF quickly intervened to support some 7,600 people in the camp."
The statement indicated that "133,000 cubic meters of clean water were provided on a daily basis."
He pointed out that "1330 hygiene kits have been distributed, in addition to the installation of 78 temporary latrines so far, while continuing work to install 222 additional latrines."
He stated that "13 water distribution points have been installed in order to facilitate access to it."
And the newly displaced people fled their homes during the past weeks due to the fighting south of Ma'rib.
The Yemeni government says that the Houthi military escalation in Marib has displaced about 100,000 people since September 2021.
Since last February, the Houthis have intensified their attacks in Marib to control it, as it is the most important stronghold of the government and the headquarters of the Ministry of Defense.
In addition to its enjoyment of oil and gas wealth and the Marib gas station, which before the war supplied most of the governorates with electric current.
For nearly 7 years, Yemen has been witnessing a continuous war between forces loyal to the government backed by an Arab military coalition led by neighboring Saudi Arabia.
And the Iranian-backed Houthis, who have controlled several governorates, including the capital, Sanaa, since September 2014.