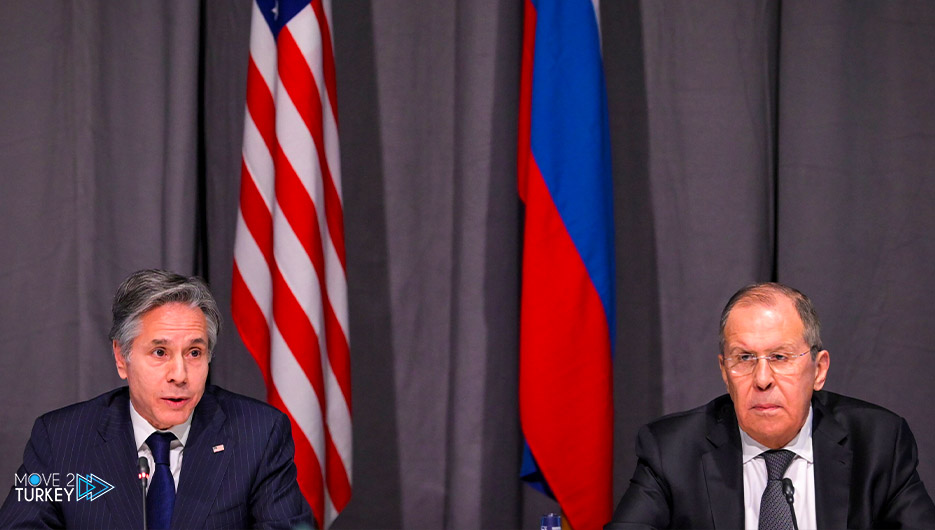 The American newspaper "Bloomberg" reported that a "severe" verbal altercation took place between US Secretary of State Anthony Blinken.
And his Russian counterpart, Sergei Lavrov, on Ukraine, at a dinner in the presence of dozens of their colleagues this week.
The newspaper, quoting informed sources, said that this "verbal altercation occurred at a time when the United States and its European allies are seeking ways to find ways."
Including potential sanctions, to counter the threat of Russia's invasion of Ukraine after President Vladimir Putin masses his forces on the border of the neighboring country.
The sources said that "Lavrov began speaking at a dinner hosted by the Organization for Security and Cooperation in Europe in Stockholm on the first of December.
This renews Russia's view that the collapse of the pro-Moscow administration in Ukraine in 2014 was a coup.
Lavrov also added, according to the same source, that "NATO and the European Union are suppressing opponents and threatening Russia."
Blinken responded by summarizing the events of 2014, including saying that forces loyal to then-President Viktor Yanukovych had fired on peaceful protesters in Kyiv.
Killing more than 100 people before escaping and appearing in Russia, Blinken responded to his Russian counterpart by saying that NATO was a "defensive alliance."
Russian Foreign Ministry spokeswoman Maria Zakharova dismissed suggestions that Blinken won the verbal altercation with Lavrov at the 57-nation forum, according to Bloomberg.
This came in response to her on Facebook to Ukrainian media reports that the Ukrainian Foreign Ministers Dmytro Kuleba and the American and Blinken had put Lavrov, one of the world's top diplomats, alone.
It is reported that Western countries and Ukraine have leveled accusations against Russia over its alleged build-up of troops near the Ukrainian border.
Washington has threatened to impose sanctions on Russia if it "launches" an attack on Ukraine.
Moscow rejected the accusations about the movements of its forces inside the Russian territory and denied the existence of any "aggressive" plans it had towards Ukraine.
Relations between Kyiv and Moscow have been experiencing escalating tension for nearly 7 years due to Russia's illegal annexation of the Ukrainian Crimea and its support for separatists loyal to it in the "Donbas".