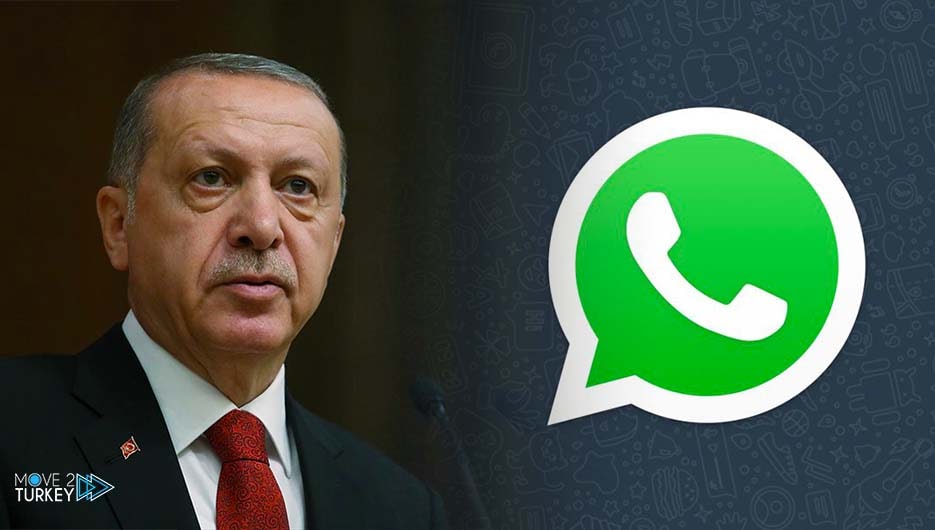 The press office of Turkish President Recep Tayyip Erdogan and the Turkish Ministry of Defense told reporters that they were leaving WhatsApp.
This is to join the global migration of the messaging app due to changing usage conditions and growing privacy concerns.
In a message to the press groups, it was announced that the Turkish presidency will transfer its WhatsApp groups to the encrypted messaging application BiP.
Which is a part of the Turkish company Cell Iltizm Hizmetlari.
The Turkish Ministry of Defense took similar action on Sunday.
The change coincides with Erdogan's broader campaign against social media platforms, which activists say are aimed at suppressing dissent.
Why did Erdogan leave WhatsApp?
The changes made to the terms and conditions of using the WhatsApp application, which will take effect on February 8, allow the application to share user information with Facebook, the parent company.
Users must agree to the new conditions that allow them to be targeted through targeted ads, or they will lose access to their WhatsApp accounts.
Facebook's attempt to exploit WhatsApp has become more serious as the social media company's growth slows.
According to the company, WhatsApp has grown by more than 50% in many countries severely affected by the outbreak of the Coronavirus.
But this growth did not lead to more ad revenue because WhatsApp was not among the platforms on which Facebook Ads were present.
With WhatsApp weakening data support, Elon Musk, the world's richest man, invited the world to switch to Signal.
As a result, the number of users of this messaging app has increased in recent days.
According to Bloomberg, the Turkish company Cell reported a similar pattern in Turkey.
According to the company, about 1 million new users have joined the BiP app in the last 24 hours.
The app has been downloaded more than 53 million times since its launch in 2013.