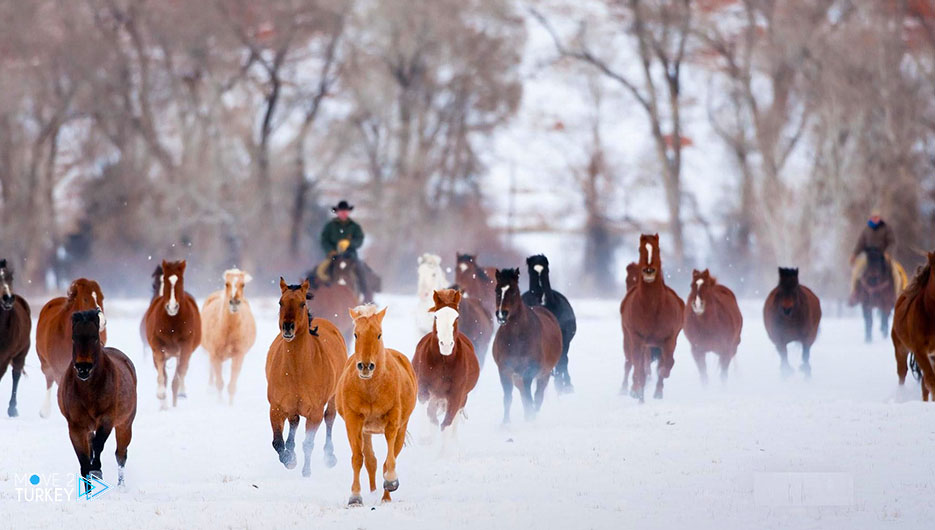 Buffaloes and horses in the village of Budagli in Bitlis, eastern Turkey, enjoy a warm bath in a hot spring, which attracts photography enthusiasts.
Breeders of buffaloes bring their animals to the hot water from time to time, in addition to the horses after staying for several days inside the barns due to the severe cold of 20 degrees below zero.
Photography enthusiasts are keen to seize the opportunity to take pictures of buffaloes and horses that spend fun times in the warm waters of 40 degrees.
While the buffalo and horses bathe, unique views are formed with the rising steam, while the area is covered with snow.
Photographer Ridwan Suslo, who comes from Van state (east), said that many of the photos taken in this place have won local and international awards.
For his part, the photographer, Mustafa Kılıç, who comes from the state of Mardin (southeast), confirmed that the site is characterized by a unique beauty that tempts photography lovers.
He pointed out that the animals entered the warm water while the area was covered with snow, while the young men were having fun and jumping from the back of the horses into the water, stressing that the pictures they take enrich their archives.
He invited all photography lovers, whether from inside or outside Turkey, to visit this place and immortalize the beautiful scenes with their lenses.