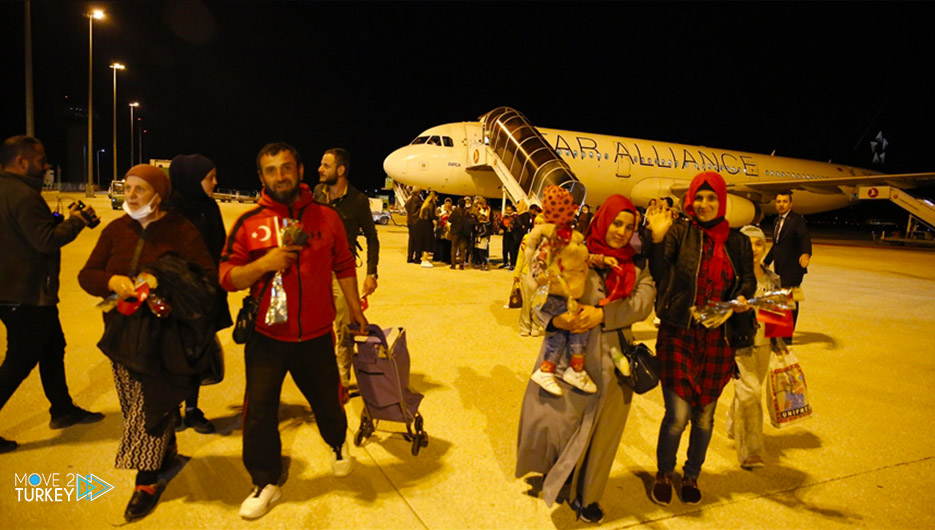 Turkey has evacuated a group of "Ahiska Turks" from Ukraine, which is witnessing a Russian military attack.
The evacuation was coordinated by the Turkish Foreign Ministry and included 180 Ahiska Turks.
On Tuesday, the group arrived at the airport in the state of Elazig in eastern Turkey, where they were received by a number of officials, led by Elazig Governor Omar Turaman and the state's security director, Jalal Cel.
In a press statement, Governor Turaman confirmed that Turkey will always stand by the Ahiska Turks.
He noted that the Ahiska Turks are now in their home (Turkey) and will be hosted until calm returns to their homes.
For her part, Sarah Askar from Ahiska Turks expressed her great happiness to come to Turkey and thanked President Recep Tayyip Erdogan and all those who contributed to their evacuation.
In turn, Gul Batum, 67, said that they were forced to leave their village in Ukraine because of the war, and she thanked Turkey for hosting them.
As for Sirma Tahiroglu, 13, she said that their lives were turned upside down because of Russia's war on Ukraine.
She noted that she feels safe in Turkey and expressed her hope that her father, who remained in Ukraine, would join her as soon as possible, and thanked President Erdogan for bringing them.
In turn, Osman Ali Oglu said that Turkey always stands by the oppressed and thanked the officials for the attention they showed towards them.
The group members were transported by buses from the airport to the temporary accommodation center where they will stay.
And the Ahiska Turks were residing in an area bearing their name in southwestern Georgia, but the Soviet government exiled them on 14 October 1944 to Kyrgyzstan, Kazakhstan, Uzbekistan, Azerbaijan, Ukraine and Siberia.
A large number of Ahiska Turks settled in the Ferghana Valley region of Uzbekistan, but about 100,000 of them were forced to leave the region after disturbances between them and the Uzbeks in 1989 and migrated to Azerbaijan, Kazakhstan, Kyrgyzstan, Russia and Ukraine.