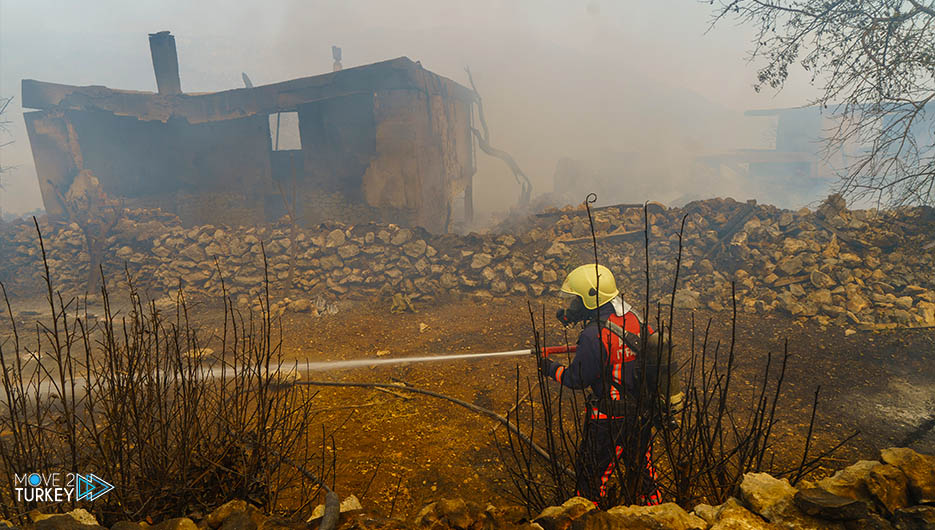 Turkish Foreign Minister ,Mevlüt çavuşoğlu confirmed that firefighting crews have controlled all fires in Antalya state, except for the fire that broke out in the forests of the Ibradi district.
This came in statements to reporters in Manavgat district, Antalya state, with Minister of Environment and Urban Development Murat Kurum, and Minister of Transportation and Infrastructure Adel Kara Ismailoglu.
"59 districts in 5 districts of Antalya state were affected by the fires that broke out 10 days ago," Çavuşoğlu said.
The Minister of Foreign Affairs, who comes from Antalya, confirmed that the efforts made yesterday, Thursday, to extinguish the fires in the state were great, despite the strong winds that hindered the work of the firefighting operations.
He explained that the fires in the Ibradi district are not out of control and that 1,915 vehicles and 8,155 firefighting personnel are present in the field to put out the fire.
He added that the firefighting planes conducted 1,600 sorties today in order to put out a cold fire.
Çavuşoğlu praised the efforts of Azerbaijani firefighting crews for their participation in putting out the fires with 40 fire engines and 162 firefighters.
And he added: "President Ilham Aliyev has instructed to send 200 firefighters by air today to Turkey.
They will arrive this evening (Friday) at Dalaman Airport (Mugla state) and Kazakhstan has sent two firefighting helicopters and 16 personnel are on the way now."
He pointed out that a Turkish company rented two firefighting helicopters from Israel and arrived at Dalaman Airport, and that the United States would send two firefighting helicopters that would arrive in Turkey on Sunday.
He also explained that he had contacted his Greek counterpart, Nikos Dandies, who briefed him on the situation of the fires in his country.
He continued, "Many regions of the world have been witnessing fires for a long time. I wish safety to all countries."