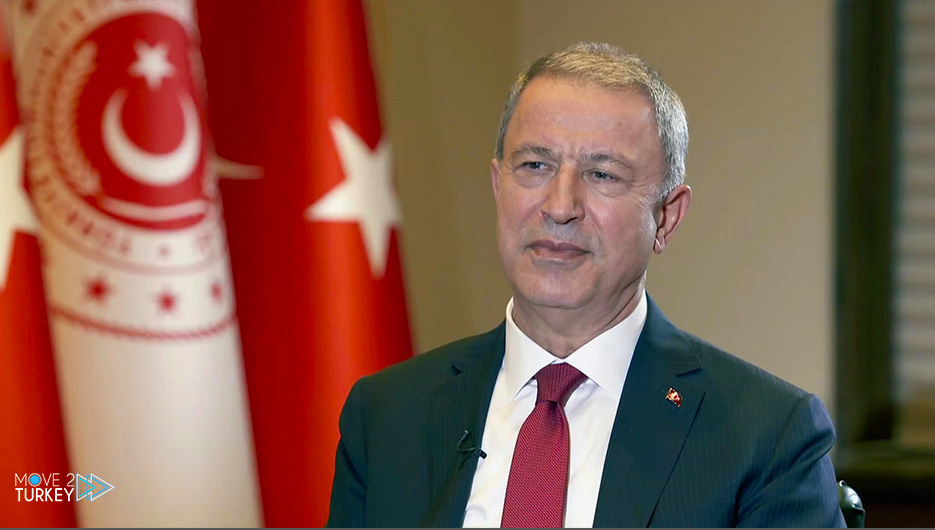 Turkish Defense Minister Hulusi Akar said that his country's army has so far neutralized 73 terrorists in the ongoing "claw-lock" operation against the PKK terrorist strongholds in northern Iraq.
This came in a statement to reporters on Saturday, during his visit, accompanied by military leaders, to the headquarters of the Naval Forces in Mersin, in the south of the country.
Akar added that the Turkish forces destroyed 102 caves and a hideout for the terrorist, while 524 improvised explosive devices were destroyed.
He stressed that the Turkish forces are pursuing the terrorists under harsh weather conditions and continue storming their hideouts.
He pointed out that 10 soldiers of the Turkish forces were martyred so far during the military operation against terrorist strongholds.
He stressed that "the Turkish forces will pursue the terrorists who are experiencing panic and confusion," and that they are determined "to rid the Turkish people of the scourge of this terrorist organization that has been going on for 40 years."
And he indicated that the "claw-lock" operation is taking place successfully according to the plan drawn for it.
On April 18, Turkey launched the "claw-lock" operation against the strongholds of the "PKK" terrorist organization in the areas of Matina, Zab and Afshin-Basian in northern Iraq.