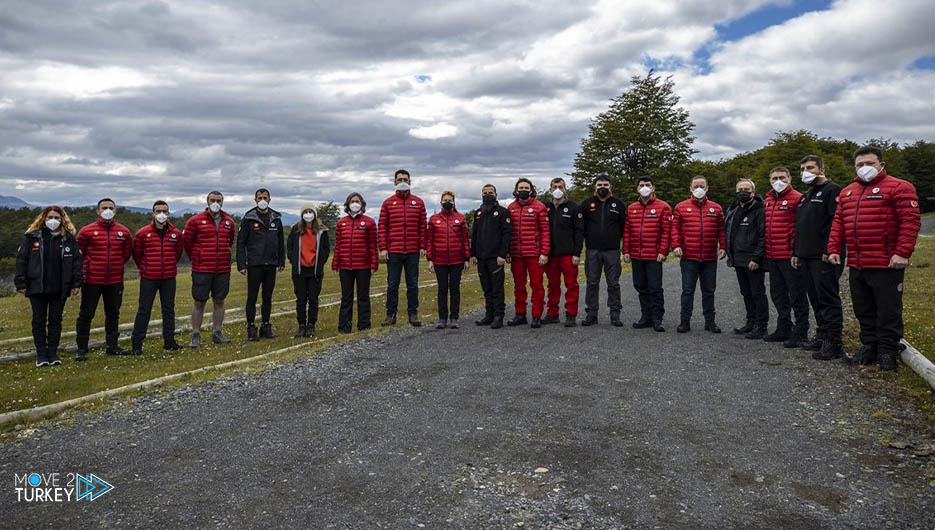 The Turkish team of experts arrived at its scientific base in Antarctica as part of the sixth Turkish scientific expedition.
The scientific trip is being coordinated by the Polar Research Institute of the Turkish Scientific and Technological Research Foundation "TUBITAK" under the auspices of the Presidency of the Republic.
After arriving in Antarctica, the Turkish team headed to the island, which houses the Bulgarian scientific base.
After that, the team crossed successively the Bransfield and Gerlanche Straits, the Limari Channel and then the Pinola Strait heading south, before reaching the island of Horseshoe, where its scientific base is.
From time to time, the Turkish scientific team's ship accompanied whales and penguins on its way to the scientific base.
The scientific trip is scheduled to last about a month and a half to conduct a detailed study in the framework of 14 projects such as earth sciences and biology sciences.
Two researchers from Portugal and Bulgaria will participate in the scientific journey to closely cover its stages.
Turkish scientific trips launched in 2017 for the purpose of conducting scientific research in the White Continent under the auspices of the Presidency of the Republic and the Ministry of Industry and Technology.
The sixth flight is scheduled to witness testing of many technological products developed with local Turkish capabilities.