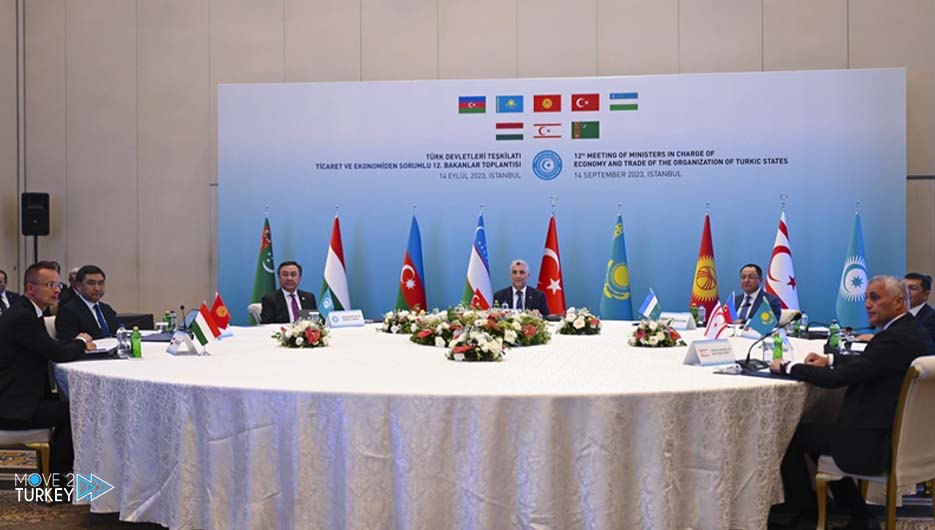 Turkish Trade Minister Omer Polat stated that members of the Organization of Turkic States agreed to strengthen economic and trade cooperation and continue working on implementing new projects.
This came in a press statement following the 12th meeting of the ministers responsible for trade and economy in the Organization of Turkish States and the 14th meeting of the Economic Cooperation Working Group in Istanbul.
The Organization of Turkic States was established in 2009 and includes Turkey, Azerbaijan, Kazakhstan, Kyrgyzstan, and Uzbekistan.​​​​​​
Hungary, Turkmenistan, and the Turkish Republic of Northern Cyprus all hold "observer member" status in the organization.
Ministers, representatives and members of delegations from Kyrgyzstan, Uzbekistan, Azerbaijan, Kazakhstan, Hungary, the Turkish Republic of Northern Cyprus and Turkmenistan participated in the meeting.
Polat explained in his statement that the Organization of Turkish States has strong potential and that it decided to continue working to strengthen the foundations of the organization and create new projects in the fields of trade and economics to make it one of the leading organizations of the 21st century.
He added that the countries of the organization agreed to implement new generation tools to enhance economic and trade cooperation, such as signing the Digital Economy Partnership Agreement between member states.
He stressed that, given the increasing importance of trade in services and investments in the current century, the OIC countries are working to establish a free trade agreement in the field of services and investments.
He continued: "Today we have demonstrated our intention to begin negotiations on this agreement as soon as possible."
He pointed out that member states agreed to increase mutual investments and support small and medium enterprises with the aim of increasing intra-regional trade.
He pointed out that the volume of trade exchange between member states of the organization last year amounted to about 33 billion dollars.
He stated that the goal is to raise the proportion of exports among OIC countries from 6 to 10 percent of total exports to countries of the world in the coming period.