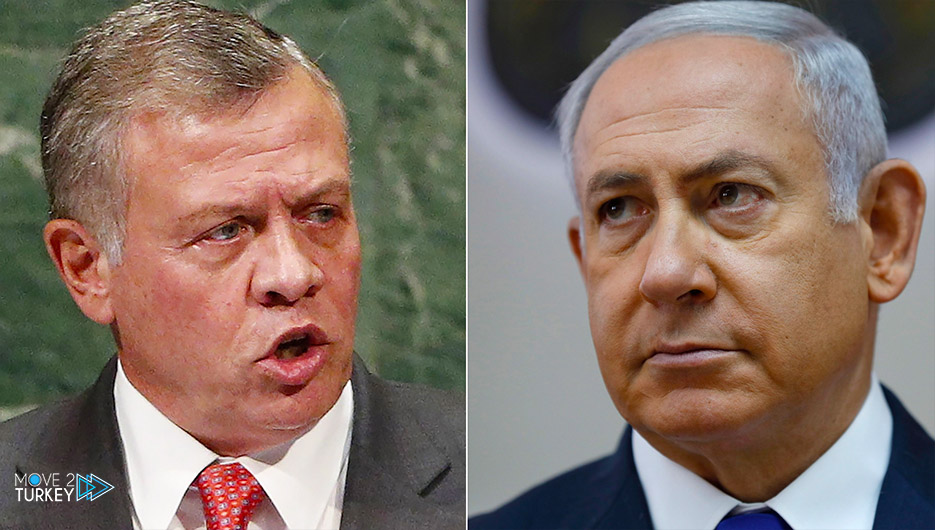 The Israeli TV channel "13" said that Prime Minister Naftali Bennett visited "secretly" last week, Amman, and met Jordan's, King Abdullah II.
The channel quoted an Israeli source as saying that the meeting "had a positive atmosphere and that the two sides agreed to open a new page in the relations between the leaderships of the two countries."
Bennett's office did not issue a comment on the news, and Jordan did not confirm the visit.
Channel 13 said Bennett's visit was the first by an Israeli prime minister in five years.
Relations between Jordan and Israel witnessed a clear estrangement during the era of former Israeli Prime Minister Benjamin Netanyahu (2009-2021).
So much so that Jordan's King Abdullah described it during a dialogue session in the United States of America as "at its worst".
And prompted Tel Aviv's continued violations of Al-Aqsa Mosque and Palestine in general towards a further deterioration in relations between the two countries.
This is because it represents a clear transgression of the role of Oman and its guardianship over the sanctities of the occupied Palestinian land.
Al-Aqsa Mosque is currently supervised by the Jerusalem Endowments Department of the Jordanian Ministry of Awqaf under international law.
Jordan is the last local authority to oversee the city's sanctities before the Israeli occupation.
On Thursday, Israeli Foreign Minister Yair Lapid met in the Jordanian capital with his Jordanian counterpart, Ayman Safadi.
"The two sides reached agreements on trade and water issues," the Israeli Foreign Ministry said in a written statement.
She added that the two sides agreed "to increase the value of Jordan's exports of goods to the West Bank to about 700 million dollars, from about 160 million dollars a year."
On the issue of water, they agreed that Israel would sell Jordan an additional 50 million cubic meters of water this year, with the professional teams completing the final details in the coming days.
For its part, the Jordanian Foreign Ministry said in a statement that the two ministers (Lapid and Safadi) discussed developments related to the peace process.
It is noteworthy that the peace process between the two sides has been frozen since April 2014 due to Israel's refusal to stop settlements in the occupied territories and accept the 1967 borders as a basis for negotiating the establishment of a Palestinian state.