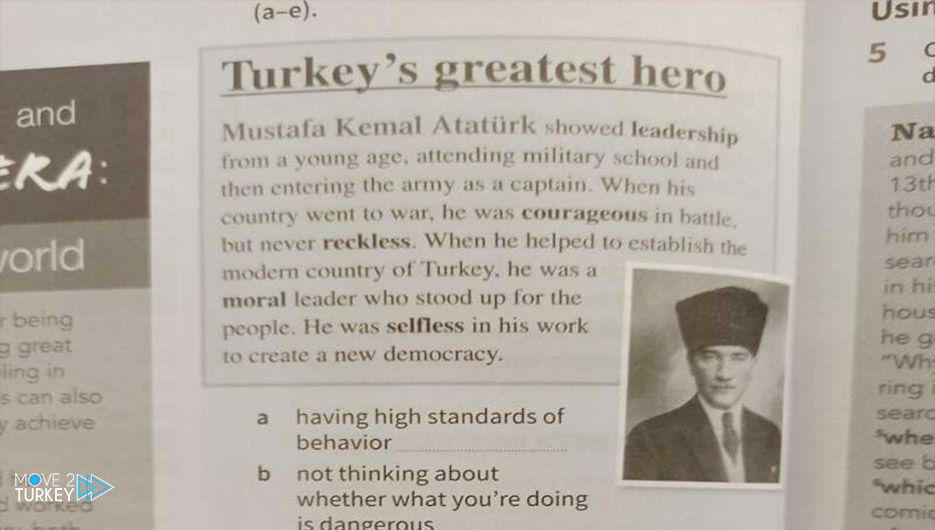 The Ministry of Education of the Greek Cypriot Administration has decided to withdraw the "Oxford Discover Futures 3 Workbook" from the middle school curriculum.
This is to include a special section that talks about the founder of the Turkish Republic, Mustafa Kemal Ataturk.
On Wednesday, local reports said the Greek Cypriot Administration's Education Ministry had sent circular ordering teachers to tear up page 36 of the English subject book.
To include a paragraph about Ataturk under the title "The Great Hero of Turkey" before distributing it to the students.
The ministry published a statement about the aforementioned circular, in which it said that the book was evaluated as "inappropriate", and that it was decided to collect it and withdraw it completely from the curriculum.
The ministry justified its circular, which was criticized in education circles, by saying that it was discovered yesterday that the book contains information about Ataturk.
The statement added, "It is unacceptable that there are phrases in the textbooks that promote Atatürk's personality and leadership."
He continued, "The book is evaluated as completely inappropriate and unacceptable, and is collected until a solution is found."
Earlier on Wednesday, the Turkish Foreign Ministry strongly condemned the order issued by the Ministry of Education in the Greek Cypriot administration to tear up a page from the book with a section on Ataturk.