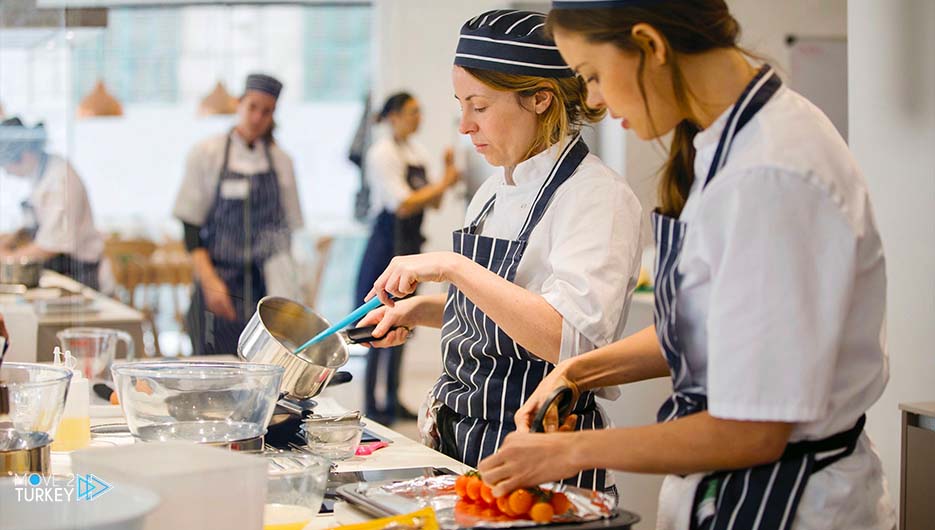 Today, cooking is one of the most popular and needed jobs in the world, and of course everyone is a chef in his own kitchen, but professional cooking is acquired through education.
Many universities and private institutes offer comprehensive culinary education programs in Turkey.
If you want to achieve your dreams and become a good chef, you can take advantage of the opportunity and study cooking in Turkey.
Follow us in this article to learn about the most famous universities and institutes that offer culinary arts courses in Turkey.
Study Culinary Arts in Turkey
The main objective of studying culinary arts in Turkey is to have the ability to master many dishes from various international cuisines.
Graduates of culinary arts universities in Turkey obtain a bachelor's degree in culinary arts, along with theoretical education and practical training, in addition to training for a minimum of 60 days in hotels or restaurants.
The language of studying for the culinary arts field in Turkey is English and Turkish.
The courses are teached by eminent teachers, and along with the main courses students have the opportunity to gain greater knowledge in their field through seminars and workshops.
Duration of culinary study in Turkey
The duration of the culinary courses is 420 credit hours from the Ministry of Education in Turkey.
At the end of the course a certificate is awarded to the student, which is a proof of course completion.
Students in Turkey are allowed to study cooking programs in three types, a 4-year bachelor's program, a 2-year professional diploma, and a 6-month private institute.
Career future of culinary university graduates in Turkey
Graduates of the Culinary University in Turkey have a wide range of job opportunities.
Students in this program gain a lot of information and experience through training that takes place in 5 or 4 star hotels, so they gain extensive experience to work in various culinary fields.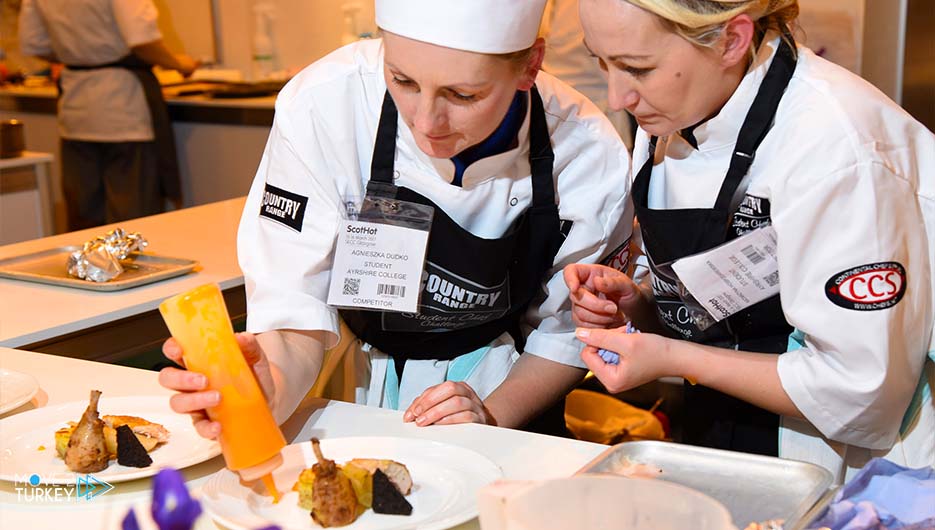 Universities that offer culinary courses in Turkey
Private Universities
Ozyegin University
Altenbach University
Galata University
Beykoz University
Okan University
Gelisim University Istanbul
Gulf University
Public Universities
Adiyaman University
Aksaray University
Amasya University
Akdeniz University
Adnan Menderes University
Uludağ University of Bursa
Anadolu University
Gaziantep University
Mugla University
Harran University
Yalova University
Cappadocia Vocational School
Private institutes offering Culinary Arts courses in Turkey
The number of institutes that offer culinary arts courses in Turkey is large and varied.
Below we will present the most famous institutes to study culinary arts in Turkey:
MSA
The Culinary Arts Academy (MSA) was officially recognized by the Ministry of Education of Turkey in 2004 as an institute offering professional culinary arts mastery programs with an international certificate.
The institute's classes always have a typical number of students, 28 students in workshops, 20 students in apprenticeship classes, 24 students in cooking classes.
The average daily cost of the workshop is 150-170 Turkish liras, and professional fees range from 17 thousand to 30 thousand Turkish liras.
Website: https://msa.com.tr/school
USLA
The USLA Institute of Culinary Arts was established in 2011 in association with the American International Hospitality University in Istanbul as the first international culinary academy.
To participate in this institute's professional programs, you must be a high school graduate, in addition, students are selected after interviews with responsible chefs.
The professional kitchens and workshops in this institute can accommodate up to 20 students, the average daily workshop price fee is 100-150 TL, and the vocational training fee ranges between 14,000 and 20,000 TL.
After graduating from training courses, graduates can spend an internship in famous hotels and restaurants for 6-12 months.
Website: https://www.uslaakademi.com/
Chef's Table
Founded in 2011 and recognized by WACS (World Association of Chefs). The institute includes a comprehensive training program for culinary enthusiasts, as well as dozens of different workshops.
Website: www.chefstable.com.tr
EKS
The first culinary arts institute in Anatolia, Turkey, established in 2011.
The institute offers several vocational training programs such as short-term introductory training and international culinary training.
In addition, the Baptist holds daily workshops in various fields, and the EKS Institute has another branch in Bursa.
The classes of the institute accommodate about 20 students, 12 of them are for professional cooking classes and 8 for desserts and bakeries.
The fees for vocational training in this institute range between 13,000 and 16,0000 Turkish liras.
Website: https://www.eksmutfak.com.tr/index.php?lang=EN
Cooking school
This institute started its professional culinary training in 2008, and the training, which consists of three courses, takes a total of six months.
In this first course, which spans two months, the Istanbul cooking school Institute curriculum uses basic culinary techniques and skills, and at the end of the course the student is awarded a professional certificate.
The second course focuses on the principles of Turkish cuisine.
With the participation of experienced chefs, students have the opportunity to discover differences in opinions and recipes.
The aim of this course is to provide students with different experiences through hands-on training.
The third and final course spans three months, including a practical course in a restaurant, and students have a real three-month culinary experience.
Website: https://istanbulcookingschool.com/
Le Cordon Bleu
Le Cordon Bleu Culinary Institute was founded in 1895 in Paris, and another branch of this institute opened in Turkey in 2012.
Many different workshops are organized, accommodating about 16 students, and a certificate is given at the end of it.
The price of the training workshop is between 200-400 Turkish liras, while the fees for the comprehensive cooking program range between 10,500-13900 Turkish liras.
Website: https://www.cordonbleu.edu/istanbul/home/en
Frequently Asked Questions About Studying Culinary Arts in Turkey
How long does it take to study a bachelor's degree in culinary arts at a Turkish university?
The duration of study for a bachelor's degree in culinary arts at a university in Turkey is 4 years.
After obtaining a bachelor's degree in culinary arts in Turkey, in which fields can I obtain a master's degree?
Graduates can obtain a master's degree in business administration, tourism management, and economics.
How long is the culinary arts course in institutes in Turkey?
The duration of Culinary Arts courses at Turkish institutes is usually 6 months.
Is it possible to study culinary arts in English in Turkey?
Yes, you can find many universities and institutes that offer culinary arts courses in English.
Is it possible to apply to study culinary arts in Turkey with a tourist visa?
Yes, with a tourist visa you can apply to study short courses of culinary arts in Turkey with a duration of several months.
What are the conditions for studying culinary arts in Turkey?
Obtaining a study residence in Turkey, a good level of English or Turkish, and usually requires a high school graduation certificate.
How much do Culinary Arts courses cost in Turkey?
Costs vary widely depending on the length of the course, the type of course and the university for which it is offered.