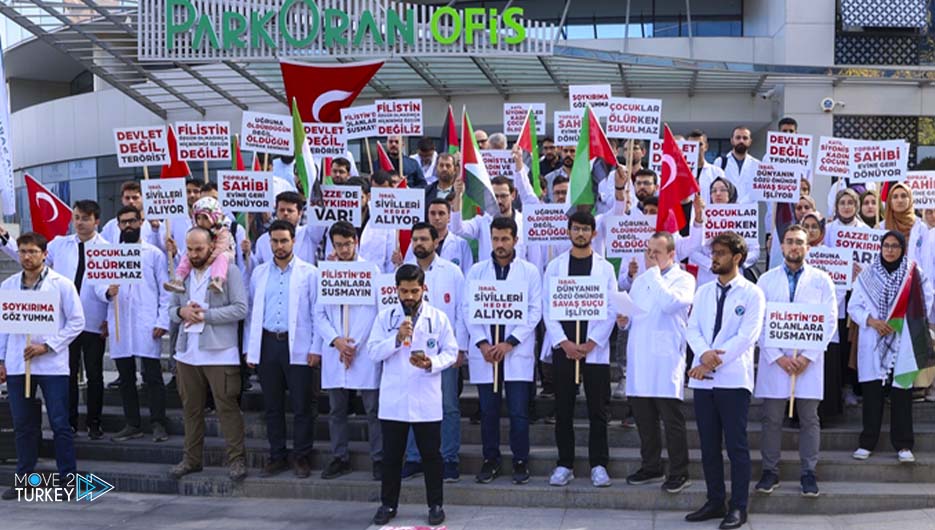 Healthcare workers in the Turkish capital, Ankara, protested against the World Health Organization's silence regarding the Israeli attacks on Gaza.
A group of health care workers gathered on Saturday in front of the World Health Organization office in Ankara.
The protesters raised banners with the phrases "There is genocide in Gaza" and "You cannot remain silent when children die."
Specialist doctor Muhammad Ali Ekshi spoke on behalf of the group, criticizing the silence of the World Health Organization regarding what is happening in Gaza.
Ekshi addressed the organization by saying: "Why are you silent while genocide is being committed, phosphorus bombs are falling on civilians, hospitals and ambulances are being targeted, and hundreds of health care workers and doctors are losing their lives"!?
He called for the opening of a humanitarian corridor to Gaza and the immediate delivery of medical aid sent to hospitals.
For 22 days, Israel launched a military operation in the Gaza Strip, which it called "Iron Swords," which destroyed entire neighborhoods and left 7,703 martyrs, including 3,195 children and 1,863 women, in addition to 19,743 who sustained various injuries.
During the same period, the Hamas movement killed more than 1,400 Israelis and wounded 5,132, according to the Israeli Ministry of Health. It also captured more than 220 Israelis, including high-ranking military personnel, and wants to exchange them for more than 6,000 Palestinian prisoners, including children and women.