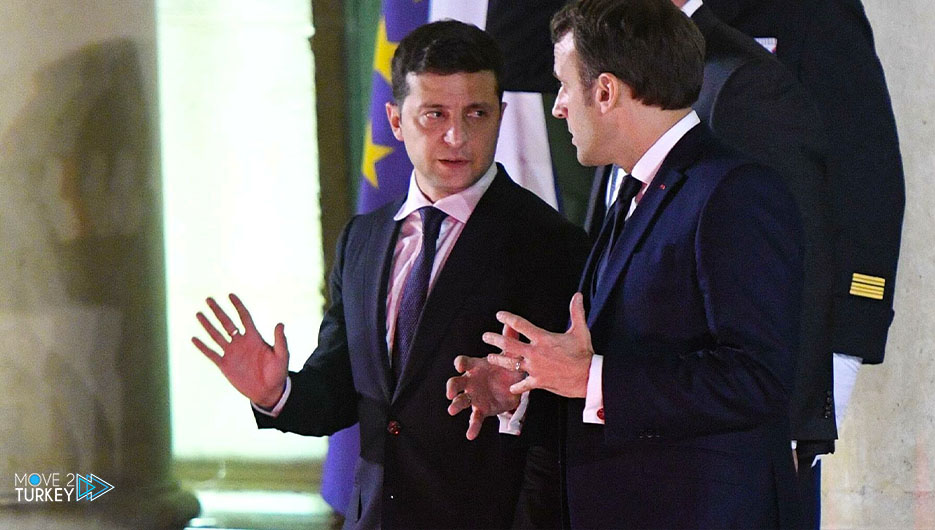 President Volodymyr Zelensky and his French counterpart Emmanuel Macron discussed the situation in eastern Ukraine.
The Ukrainian presidency said in a statement that Zelensky and Macron expressed their satisfaction with the start of work on the Ukrainian issue.
Within the framework of the Normandy format, which includes Germany, France, Russia and Ukraine, and Wednesday's meeting in Paris.
On Wednesday, presidential advisers from Russia, Ukraine, France and Germany met for more than five hours in the French capital, Paris, to talk about the Ukraine crisis.
"As long as diplomatic initiatives continue, the risk of future tension will decrease," the Ukrainian presidential statement quoted Zelensky as saying.
The two presidents also discussed issues related to economic agreements between Kyiv and Paris and the implementation of new projects.
Yesterday, Russian President Vladimir Putin and his French counterpart discussed by phone the response of the United States and the North Atlantic Treaty Organization (NATO) regarding the security guarantees initiative.
According to a statement issued by the Kremlin, in which he stressed that Moscow would analyze the response of Washington and NATO.
"It was emphasized that in these responses the main concerns of Russia were not taken into account.
Such as preventing NATO expansion, abandoning the deployment of weapons near the Russian borders, and restoring NATO's military capabilities and infrastructure in Europe to what they were in 1997."
The statement also confirmed that the two presidents addressed the issue of eastern Ukraine, and stressed that work on this issue would continue within the framework of the Normandy format.
Western countries have accused Moscow of mobilizing its forces recently near the Ukrainian border, while Washington has threatened to impose sanctions on Russia if it "launches" an attack on Ukraine.
For its part, Russia rejected the accusations about the movements of its forces inside its territory, and denied the existence of any "aggressive" plans it had towards Ukraine.