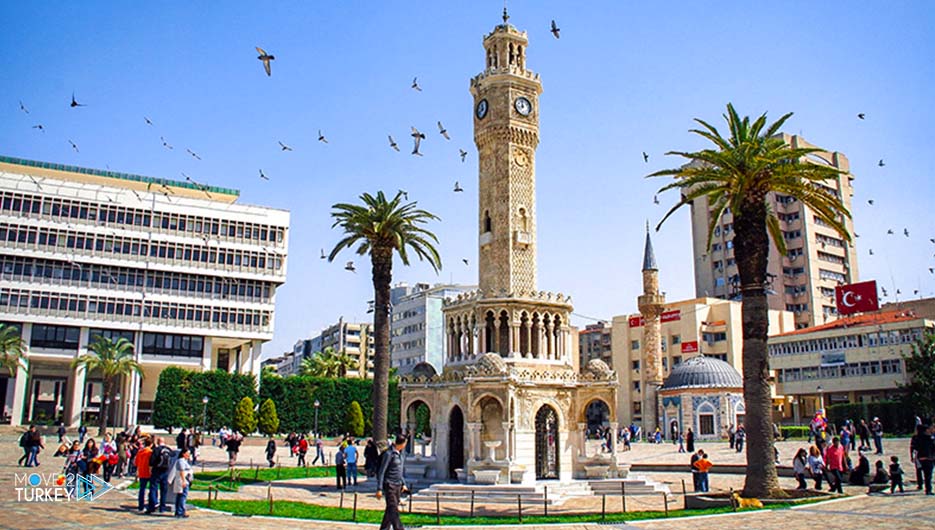 Izmir is one of the most attractive and wonderful cities in Turkey, which can undoubtedly be an unforgettable trip for anyone.
But there are many who are associated with this city and love it so much that they prefer to live in Izmir and move to this city from anywhere in the world to live in it.
On the other hand, we can mention the slang term that is popular with tourists, which is the vitality of the Turkish city of Izmir, and we can promise you a quiet life with millions of people in this city.
Izmir has countless natural attractions, as it is a city of sandy beaches, historical monuments, mineral waters, ancient cities, palm trees, cafes and many other attractions that not only attract many tourists, but also those seeking for permanent residence.
So, how is life in Izmir? How is living in it?
Living in Izmir in brief
Izmir is the third largest city in Turkey, located on the shores of the Aegean Sea.
This beautiful coastal city enjoys wonderful views of the Aegean Sea.
The population of Izmir, according to the latest census of 2017, is estimated at 4 million and 224 people.
In addition to its excellent industrial and commercial location and the port, this city also includes very beautiful tourist attractions, including quiet and beautiful beaches, the clock tower in Konak Square, the elevator building, the Church of Saint Polycarp, the house of Hazrat Mary, the cave (that was mentioned in Quran), the temple of Apollo and the mosque, The siege and the historic city of Ephesus and the monument of Ataturk in the Republic Square.
Why is Izmir called the pearl of the Aegean?
The city of Izmir is known as "the modern face of Anatolia", but this does not mean that the city has a poor history.
As Izmir has witnessed a variety of different civilizations and religions over time.
The history of life in Izmir goes back to 6500 BC, as it hosted ethnic groups and different countries, and most importantly From that rich culture of the people of Izmir.
The historical and cultural monuments testify to the city of Izmir its ancient history, and that is why it is called "the pearl of the Aegean Sea".
Tourist attractions in Izmir
Izmir's sights are a mixture of the Aegean Sea, warm sandy beaches, lush trees and tall palm trees.
After a busy day it will be wonderful to see this view with the clear sky and fresh air of Izmir.
Due to its ancient history, Izmir includes many monuments, which is one of the reasons why Izmir annually hosts many tourists from all over the world.
And the most famous of these are the clock tower in Konak Square, the elevator building, the Church of St. Polycarp, the House of Mary, the Cave of the Cave Companions, the Temple of Apollo and the Hisar Mosque And the historic city of Efes and the Ataturk Monument on Republic Square.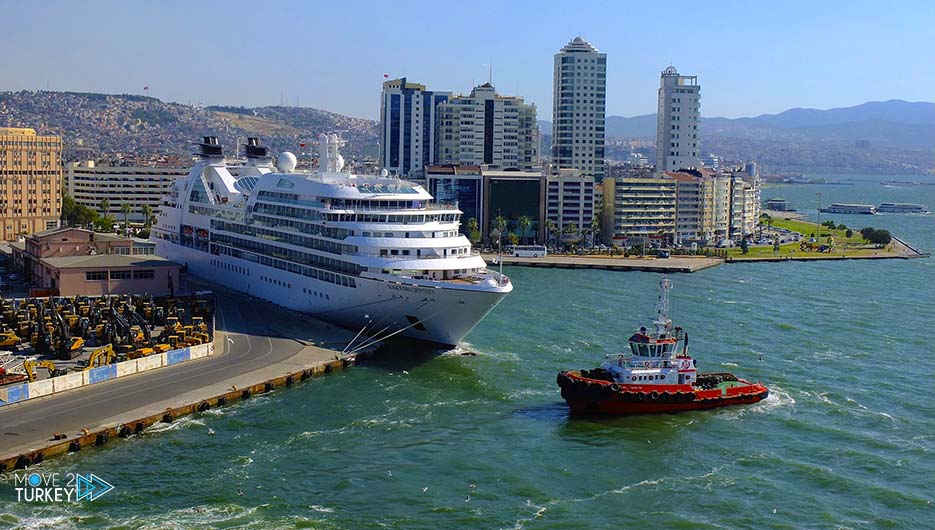 People of Izmir
Living in Izmir, Turkey, means living in a place of extreme calm.
Residents of the city of Amir are very peaceful and loving, as the people of Izmir attract the attention of many tourists and immigrants with a positive, polite and comfortable life.
Geography and climate in Izmir
This vast city located on the West Bank, with a population of about 2.5 million, Izmir is the third largest city in Turkey in terms of population and the second largest city in the Aegean, with ​​30 regions, and a total area of ​​734 thousand square kilometers and an average height 30 meters above sea level.
Climate in Izmir
Climate is a top priority for many people who travel or migrate.
Imagine that you live in a place where the weather is rarely sunny or on the contrary, it is seldom cold and unpleasant.
Or you are involved in traffic and pollution every day, and the good news is that if you were planning to live in Izmir, you wouldn't have these concerns.
Izmir is a city with a Mediterranean climate with hot and sunny summers and mild and rainy winters.
Due to the temperate climate and the relatively small difference between winter and summer temperatures, you can easily keep the house warm or cool.
In Izmir, there is no trace of any kind of pollution, whether it is due to weather, noise or industrial pollution, and you can see this in every part of the city.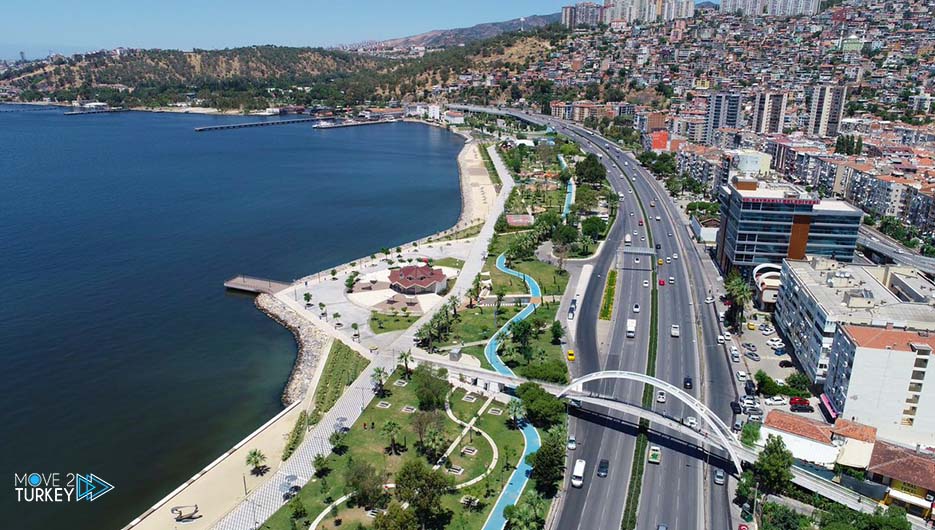 The economic situation in Izmir
Izmir is one of the cities that has not been deprived of any blessing, this city with natural beauty, abundant water resources, fertile soil and a very suitable climate for agriculture.
It is natural for this city to be an important and special center for its country, as this city is a pioneer not only in industry and trade in Turkey, but also in the world.
Job opportunities in Izmir
The cost of living in Izmir is very low and you can find a job with a little research.
Izmir has a great economic location in Turkey due to its permanent sources of income such as ports and agricultural lands.
Business in Izmir like any city has its own ways, but at the same time it is possible and simple.
In addition to the low cost of living in Izmir and the small population, you do not need to worry and you can easily get a job.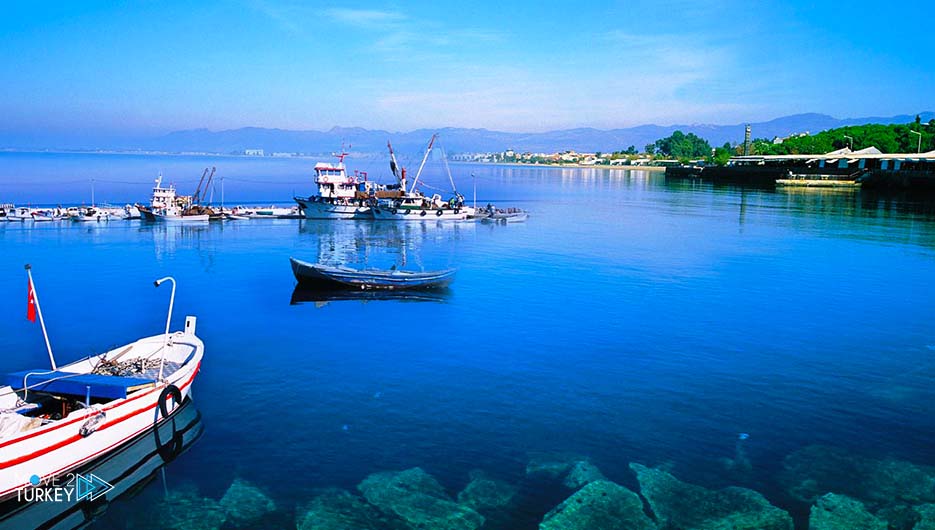 The extensive public transportation system in Izmir
In Turkey, cars and fuel are both very expensive, so immigrants and even many Turks may not travel by car.
On the other hand, Turkey has extensive metro lines and buses, in this way you can go to any part of the city in Izmir at a lower cost and easily use public transportation.
The transportation systems of Izban, Ashut and Metro provide round-the-clock services without any problems, and after a certain time in the night buses called Baykuş can be used.
What is the cost of living in Izmir?
Izmir is one of the most beautiful and largest cities in Turkey, where the cost of living is very low.
The number of applicants for immigration is increasing day by day, many people choose Turkey to travel or migrate due to the low costs compared to other European countries.
And it is interesting to know that Izmir, which we are talking about today, is an ideal city to live in, as the cost of living in Izmir is very reasonable.
Buying real estate in and living in Izmir Turkey
The cost of living in Izmir, along with all the social, entertainment, cultural and climatic features, including buying or renting a home and related expenses, are very reasonable and acceptable.
So you will have the opportunity to live with good and acceptable amenities, reasonable expenses in situations like food, clothes, etc., and this will reduce the difficulty of immigration big times.
This makes many people who visit this beautiful and interesting city think of staying in it.
And by buying property in Izmir, you can easily get permanent residence in this country.
Click here to buy a property in Turkey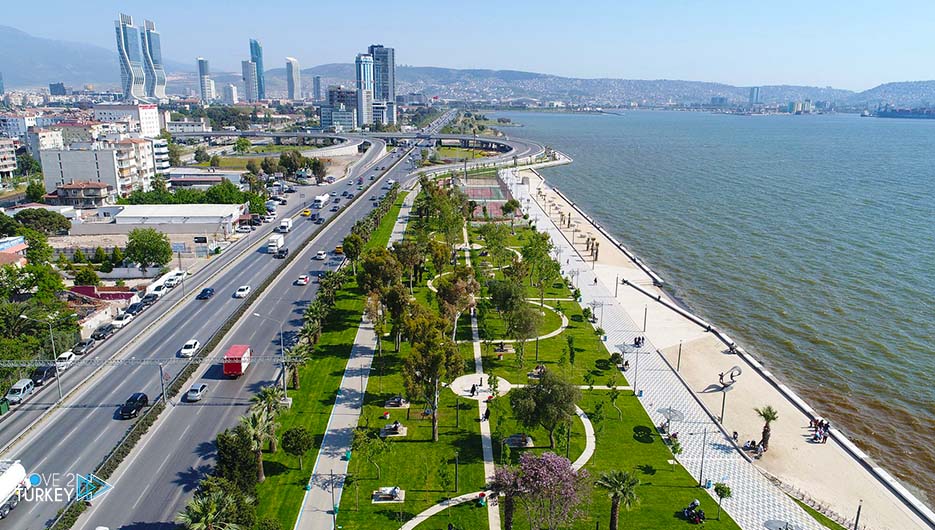 How would the food be if you decide living in Izmir
Of course, the people of Izmir are also very kind and hospitable, they love their city very much and are very hardworking and sensitive in preserving it.
The belly tour, attractions and festivals in Izmir should definitely not be missed, as they are among the things that make Izmir's living conditions more enjoyable.
Delicious Turkish food is cooked and served in the best possible way in every city of this country, so if you are a food-loving person and want to taste the best taste of Turkish food, make sure to visit Izmir restaurants.
We especially recommend that you order foods like kebab, manti and burek, because many Izmir residents cook these foods so well that there is no doubt that the unique taste of the foods will remain in your mind forever.
You can spend a little money in the countless restaurants and cafes in this city to find your favorite snack or food or just stop by for a cup of tea and relax at the cafe.
Festivals in Izmir
If you are one of those people who care about the city lights at night and have fun and walk, then don't miss the Izmir International Festivals.
Important and interesting festivals are held in Izmir throughout the year, and some of them may be of interest to you.
For example the Izmir International Short Film Festival is one of the most famous festivals and has been held in this city since 1999, where short films are shown.
Of course, one should not miss the annual International Izmir Festival, which has been held every year since 1987 at the end of July, and many musical performances are held in this festival.
Another festival that takes place in Izmir and has its fans is the Izmir European Jazz Festival, which is one of the cultural events that takes place in the second half of March every year, one of the interesting points in this festival is that it meets the lovers of jazz music.
Country resorts in Izmir
The first thing that comes to the mind of every tourist who goes to Izmir is the rural resorts in Izmir.
The unique nature of these resorts along with the natural springs and the beautiful and unique beach, especially in the spring and summer.
Many of these resorts are five-star hotels, which makes traveling and living in Izmir is a great opportunity for many nature lovers.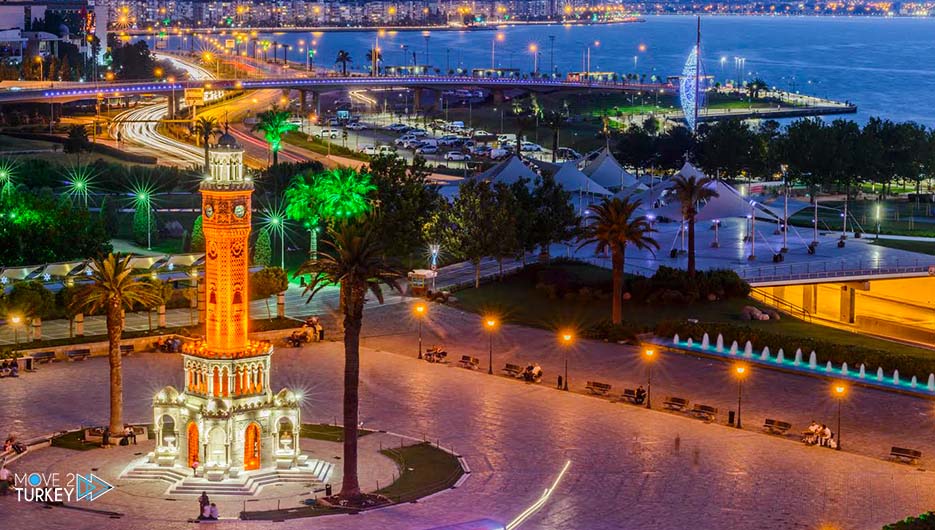 Nightlife in Izmir
Izmir is one of the liveliest cities in Turkey and it can be especially fun for those who like exciting night experiences.
You can try the places crowded with different music on Gazi Kadinlar Street or Muzaffar Izgü Street.
Izmir sports clubs
Izmir is full of clubs, maybe the first thing that comes to your mind is the Göztepe-Karşıyaka competition, but we can also talk about the nice competition between other teams in Izmir, and you can see many of these sports clubs in Izmir with a lot of fans, such as:
Goztah
Boca Sport
Altai
Altin Urdu
Karashyaka
How much does it cost living in Izmir
The cost of the restaurant
A meal in a cheap restaurant: 15-30 liras
A full meal with side dishes for two people in an average restaurant: 60-120 liras
Meals at McDonald's: 25-16 liras
Regular cappuccino: 12-7 lira
Coca / Pepsi (0.3 liter bottle): 2-6 liters
Water bottle (0.3 liter): 3-1 lira
Shopping in the store
Regular milk (1 liter): 5-3 lira
1 piece of fresh white bread (500 g): 3.50 – 1 lira
White Rice (1 kg): 5-12 lira
A normal egg (12 pieces): 14-6 lira
Local cheese (1 kg): 40-20 lira
Chicken breast (skinless and boneless 1 kg): 25.45 – 15 lira
Beef: 74-45 lira
Apples (1 kg): 6.61 – 3 lira
Banana (1 kg): 12-6 lira
Orange (1 kg): 6 – 3 lira
Tomatoes (1 kg): 8-3.50 lira
Potatoes (1 kg): 6-2.50 lira
Onions (1 kg): 7-2.50 lira
One lettuce: 5-2 lira
Water (1.5 liters): 2.50-2 lira
Marlboro cigarettes (20 packs): 15-13 lira
Transportation
One-way ticket (on-site transportation): 3-2.50 liras
Taxi counter. Fare: 5-3 liras and 4–2.50 liras per km
Benzene (1 liter): 7-6 lira
energy
(Electricity, heating and cooling, water, gas, garbage) for the 85 meter apartment: 584-210 liras
Mobile line tariff for every minute of an internal call: 1-0.35 lira
Internet: 150-60 liras
Sports and leisure
Study institute for one month: 200-95 liras
Tennis club rent (one hour): 150 – 30 lira
Cinema ticket for one person: 15-25 25 lira
Take care of the child
Nursery or nursery monthly cost: 2500-750 liras
International Elementary School Annual cost: 50,000-18,000 liras
Clothes and shoes
A pair of jeans (Levis) or the like: 300-100 pounds
Summer dress in a chain store: 200-70 lira
A pair of Nike shoes: 500-220 liras
Men's shoe pair: 400-150 liras
monthly rent
Apartment (one bedroom) in the city center: 2000-750 liras
Apartment (one bedroom) outside the city center: 1200-500 liras
Apartment (3 bedrooms) in the city center: 3800-1300 liras
Apartment (3 bedrooms) outside the center: 2200-900 liras
Buy an apartment
Price per square meter to buy an apartment in the city center: 10,000-3,000 liras
Price per square meter for an apartment outside the city center: 5000-2000 liras
Read more about the difference between living in Izmir and living in Istanbul