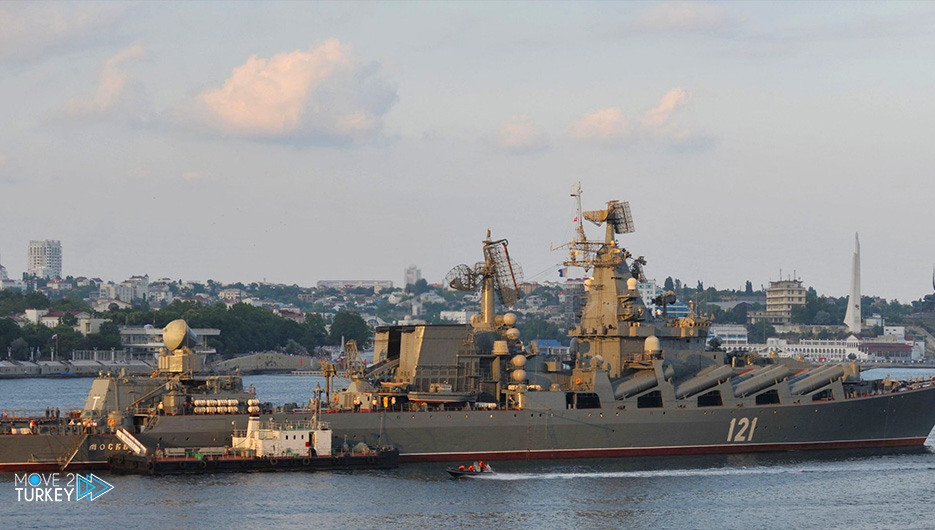 The Lithuanian government said that a Turkish ship had evacuated 54 people from the Russian warship "Moskva", which Ukraine announced targeted in the Black Sea.
According to information released by Defense Minister Arvidas Anousauskas on Thursday, Lithuania received a distress call from the Russian cruiser "Moskva" at night.
Anusauskas pointed out that the cruiser began tilting at 01.14 pm Lithuanian time (GMT +3), and at 02.00 a Turkish ship evacuated 54 people from it.
He said that Turkey and Romania announced at 03:00 that the cruiser had completely sank.
He added that the cruiser had 485 people on board, including 66 soldiers, and explained that the number of dead is still unknown.
Late Wednesday, Maxim Marchenko, head of the regional military administration in the Ukrainian city of Odessa, said in a press statement that:
"Ukrainian army hit the warship Moskva with two Neptune anti-ship missiles, causing severe damage".
"Moskva" is the flagship of the "Project 1164 Atlant" class of guided missile cruisers in the Russian Navy, and entered service in 1983 under the name "Glory", and then in 1996 under its current name.
The ship's armament includes "Basalt" and "Vulcan" anti-ship missiles, as well as S-300 long-range air defense missiles.
On February 24, Russia launched a military operation in Ukraine, which was followed by angry international reactions and the imposition of "tough" economic and financial sanctions on Moscow.
Russia requires Ukraine to abandon any plans to join military entities, including the North Atlantic Treaty Organization, "NATO", and to maintain complete neutrality, which Kyiv considers an "interference in its sovereignty" to end the operation.