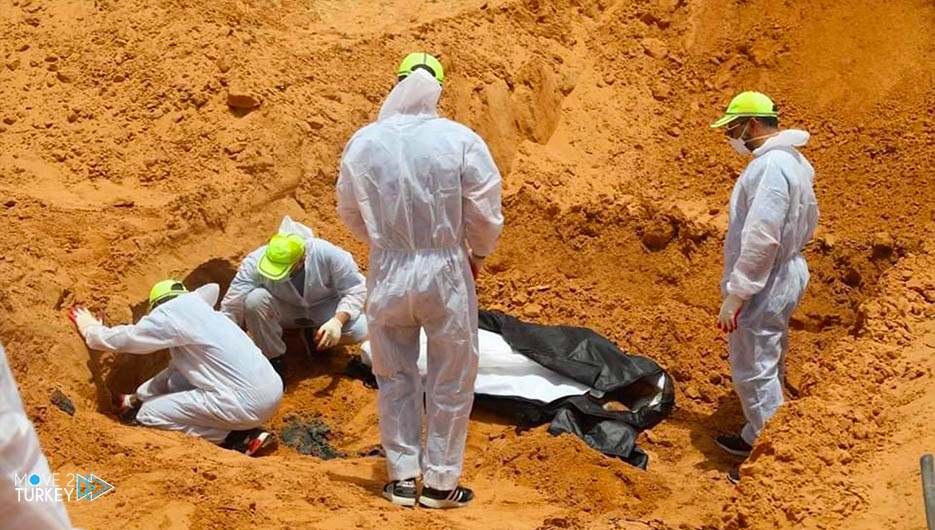 On Wednesday, the Libyan authorities announced that 12 unidentified bodies had been recovered from two mass graves that were discovered in the city of Tarhuna, south of the capital, Tripoli.
The General Authority for the Search and Identification of Missing Persons in Libya (governmental) said in a statement that "two (new) cemeteries were discovered in the city's agricultural project."
And it explained that her teams were able to "extract two unidentified bodies from the first site and 10 other unidentified bodies from the second site" without further details.
On July 13, the Libyan authorities announced the exhumation of 3 bodies from two new mass graves that had been discovered in the city of Tarhuna.
The number of graves discovered since June 5, 2020, has reached 54 in the outskirts of Tripoli, especially Tarhuna, which was under the control of the militia of retired General Khalifa Haftar before this date.
The authority reported last March that the number of missing persons registered with it reached 3,650 from different cities, 350 of whom were missing from Tarhuna.
On March 16, the oil-rich country witnessed a political breakthrough, as it received an elected transitional authority that includes a unity government and a presidential council.
Its mission is to lead the country to parliamentary and presidential elections on December 24.
But Haftar still acts independently of the legitimate government, controls Libyan areas, and commands an armed militia.
He calls himself the "Supreme Commander of the Armed Forces", contesting the Presidency Council's powers.