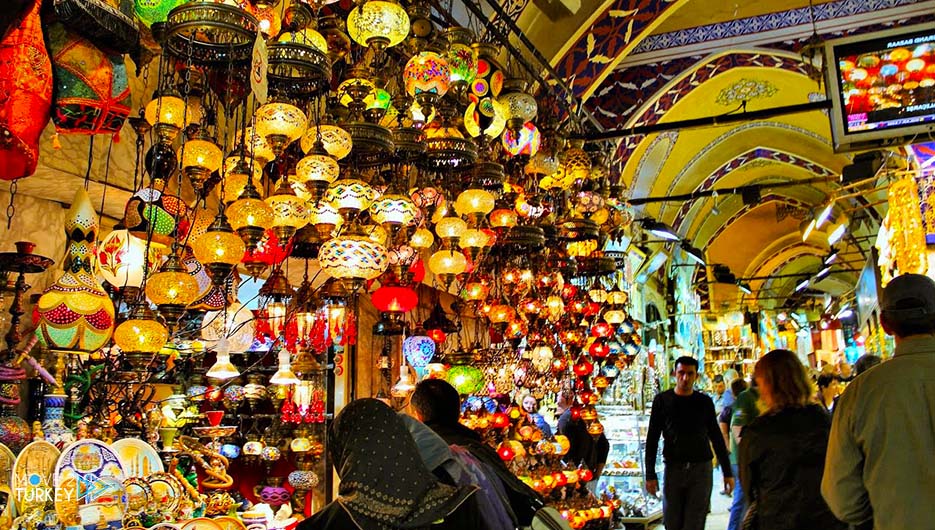 Istanbul Grand Bazaar is one of the largest and oldest internal markets in Turkey and in the world with more than 3000 stores, and covers 61 streets in Istanbul.
And despite the increasing number of modern and luxurious markets and shops in Turkey, Istanbul Bazaar is still one of the most popular tourist attractions to visit in Turkey, and even in the world as in 2019, it received more than 91 million visitors!
In addition to the pleasure of tourists in sightseeing historical and tourist attractions, traveling has another pleasure by buying souvenirs.
So Istanbul's Grand Bazaar is the center for tourists to have fun and spend hours wandering around and enjoying themselves.
The formation history of Istanbul Grand Market in Turkey over the years:
Construction of the grand bazaar began in Istanbul, Turkey in 1455 AD and it was completed after 6 years.
The Bazaar consists of two main parts: the main bazaar and the sandal bazaar, the two parts were separated and then reconnected with time.
Istanbul's Grand Market has caught fire at least 14 times since its inception, and it has suffered two earthquakes as well.
Many historical mosques are located in or around Istanbul Bazaar.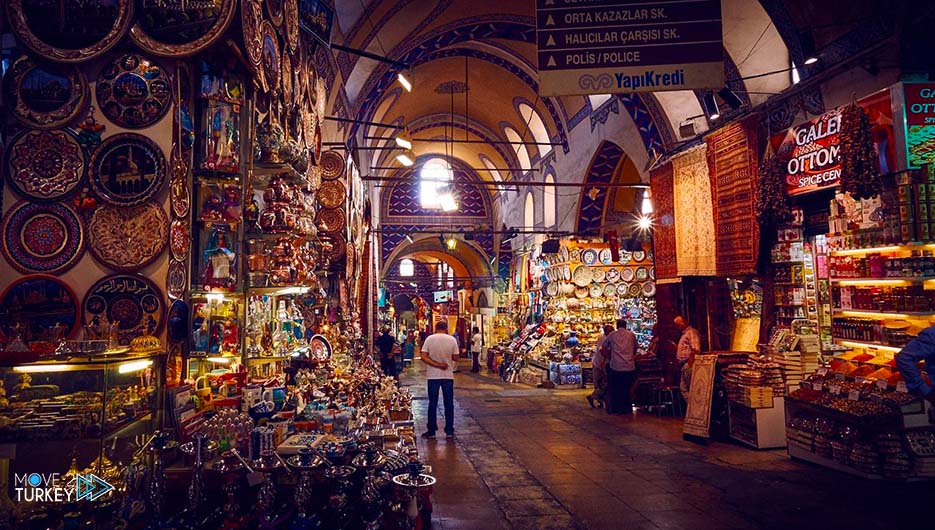 What is the reason for the fiery history of the Istanbul Grand Bazaar?
The Grand Bazaar caught fire several times:
1548 AD, 1588 AD, 1618 AD
1645 AD: From this date onwards, the fires intensified
1652 AD, 1658 AD
1660 AD: A fire occurred that destroyed the entire city of Istanbul
1687 AD, 1688 AD, 1695 AD, 1701 AD
The last fires occurred in 1943 and 1954
The rulers thought of a solution so that the market would not catch fire anymore, so they enacted a new law to prevent fires, related to the type of roofs of shops and the use of heating devices.
But the fires remained on happening in the market, after each fire, the architects and builders began working to rebuild the area.
Istanbul's Grand Bazaar is no longer as its previous size, and little is known about its unpleasant past, if some tourists knew this, then they forgot it, because the presence of colorful shops and friendly vendors befalls every tourist and traveler.
Amazing facts about Istanbul Grand Bazaar:
The number of visitors ranges between 250,000 and 400,000 daily, and one of the most reliable sources that narrate the Istanbul Bazaar in the nineteenth century are the writings of writers such as the Italian novelist Edmundo de Amisis and the French poet and writer Theophile Gautier.
Each Istanbul Grand Market Syndicate had a financial department that collects monthly fees from members and spends it on the needs of each partner. And for years, it was responsible for managing and reviewing matters until its value was reduced first and then it was reorganized in 1913 and replaced by the Market Merchants Association. There are many associations today, but none is on top of the other and it is not representative of the entire market.
Despite the fame of Istanbul Grand Bazaar and its traditional goods and products, you will see a range of modern products in this market.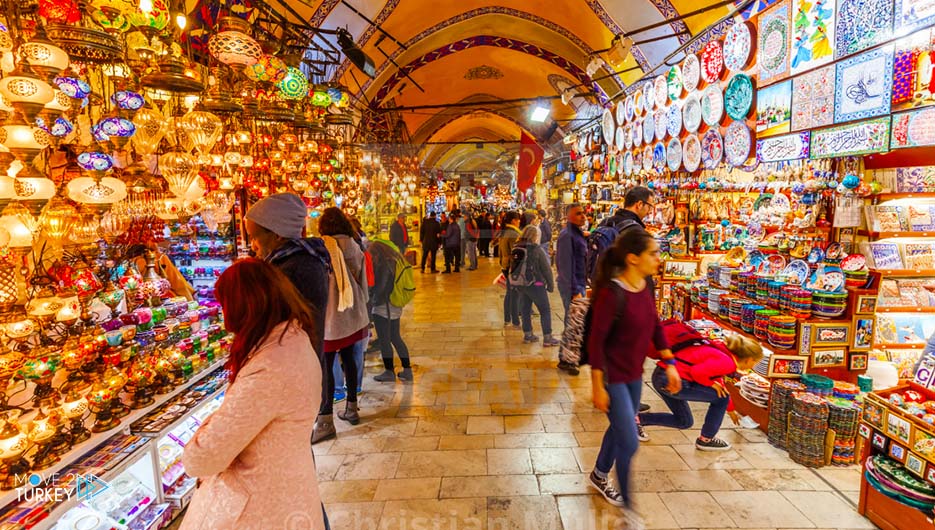 Sections of Istanbul Grand Market:
It consists of two main parts: the main bazaar and the sandal bazaar, the two parts have been separated and re-connected over time, the main market is rectangular and the sandal market is square, the main market has 4 entrances:
Old gate in the north
South Gate
Goldsmiths Gate in the East
The portal of women's dress in the West
Places to be seen in Istanbul Grand Bazaar:
Beyazit Mosque: the oldest Ottoman mosque, in which the altar and its columns are famous, can be accessed within 5 minutes.
Fatih Mosque: This mosque was built by the order of Sultan Muhammad, and his grave is located behind this mosque.
The Spice Market: Or the Egyptian Market, in addition to nuts, sweets, tea and coffee can also be found in this market.
Rustem Pasha Mosque: It is located in the western side of this spice market and is one of the masterpieces of architect Sinan.
Suleymaniye Mosque: the tallest mosque in Istanbul, built by the architect Sinan, whose tomb is located outside the mosque in the northern corner.
Column of Constantine: a 35-meter-long column, a relic of ancient Rome, located near the entrance to the market from the tram stop.
Prince Mosque: Sultan Suleiman built this mosque in memory of his late son
New Mosque (Yeni Camii): The minarets of this mosque are very famous.
Noor Othmani Mosque: can be reached in 10 minutes.
Basilica Cistern: reachable in 20 minutes
Sultan Ahmed Mosque (the blue mosque): can be reached in 25 minutes
Hagia Sophia Mosque: can be reached in 25 minutes
Topkapi Museum Palace: reachable in 32 minutes
Markets and their divisions in Istanbul Bazaar :
In large markets, there are usually different orders to make it easier for people to find what they want, and to control the quality and price of the goods.
When there are many stores next to each other and the goods are similar, competition forms between them and each of them wants to provide the best quality and the most appropriate price to the customer.
Sections of markets inside the Istanbul Grand Bazaar:
There are about 20 rows of them:
Antique items: But it is forbidden to take out old and very expensive things from Turkey, so before buying them, make sure that you can do it or not.
Section of carpet sellers: It is like traveling to Istanbul to learn the Turkish language from the abundance of professional work on carpets, as Turkey has a history in the field of carpet weaving.
Silversmiths Syndicate: The Istanbul Grand Bazaar is the center of production and sale of silver jewelry, only 50 large workshops operate here, producing silver products such as rings, bracelets, necklaces and earrings.
Spice section: They sell spices, herbs, teas, pills, herbal juices, etc.
Collector's section: If you are looking for collections of Turkish and foreign coins and banknotes, go straight to the Istanbul Grand Bazaar.
Shoes: In Turkey, handmade leather shoes are called "Yemeni shoes." These shoes are currently only available in the Grand Bazaar in Istanbul, although the number of shops is smaller compared to what was the case before, but some shoe makers are still working.
Leather clothes and clothing: Turkish leather clothing is famous in the world and Istanbul's Grand Market is its main production center.
Blacksmiths' section: You enter this row and hear the hammers of handymen on copper plates, which take weeks to turn into samovars, vases, pots, trays, etc.
Section of money exchange: This first thing used to be a cashier and then they gradually changed their business to gold shops, but the name of the cashier remained on them.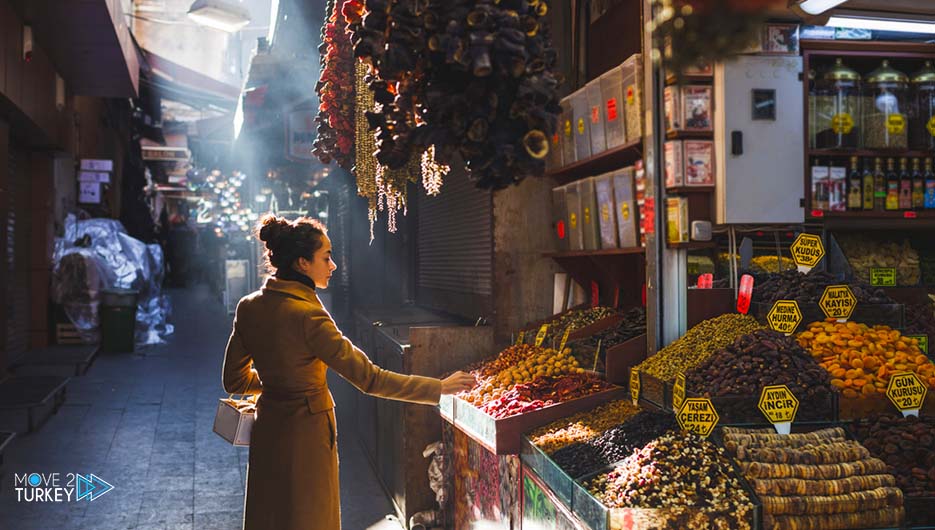 Facilities that are located inside the Grand Bazaar in Istanbul :
Tourist Information Center: By visiting this center, you can get help from the officials of this center for any instructions.
Drinking Area
Several mosques and prayer halls, large and small
security Department
Post office
The branches of most Turkish banks are of wide use
Restaurant, cafe and more
Shopping etiquette in the Grand Bazaar in Istanbul :
About 300,000 people come to the Grand Bazaar in Istanbul every day, so it must be a crowded place, so the possibility of theft will be very high, and if you are planning to go to the Grand Bazaar, keep your important documents in the hotel and do not take extra bags and accessories with you as possible. This is true for all the crowded places around the world, not just the Istanbul Bazaar.
If you get lost in the market, do not worry, because in this large and crowded space, getting lost is a natural thing, look at the signs to find your way, the big sellers in the market are professionals, that is, they convince you to buy in a way that you do not even realize. Therefore, it is better for you to be a professional buyer or take a professional with you.
It doesn't matter which country you are from, sellers in this market are trying to contact you. So don't worry about that.
Try to bargain as much as possible, sellers are accustomed to this, you don't have to worry about them, even if you can get out of the store, the seller will most likely follow you with an offer for half the price.
Due to the fiery past of the bazaar, smoking is strictly prohibited in this place.
How to get to Istanbul Grand Bazaar :
There are different ways to reach it, if you are in Taksim Square then take the metro to F1 Funicular Station in Kabataş, then get off at Kabataş Station and take the T1 tram and get off at Beyazit KapaliCarsi Station.
If we are hungry in the Istanbul Bazaar, where do we go ?
You are 99% likely to be hungry or thirsty in the market, it is recommended that you take a bottle of mineral water with you, of course there are some drinking places in the market and you can use their cold water, and you may want to rest and drink or eat for a few minutes, so you are looking for the closest option, and the best:
Bursa Lokantasi Restaurant: famous for its Lamb and eggplant puree, and the food is served in an open puffet.
Fez Café: It is located in the center of the market and it sells a variety of sandwiches.
Hamdi Restaurant: You must try the Turkish kebabs in this old restaurant, this restaurant is located on Kalcin Street.
Nar Restaurant: It is located on the fifth floor of the Armaghan store in the market, it is recommended to eat smoked fish or small meatballs in this restaurant for lunch.
Best time to visit Istanbul Grand Bazaar:
The Grand Bazaar is closed on Sundays as well as on public holidays and opens on other days.
It is very crowded on Fridays and Saturdays and it is difficult to find goods at reasonable prices.
Visiting hours: Daily from 9:00 to 19:00 except on Sundays and public holidays.
In terms of weather, the best times to visit this market are May, June, September and October. Although this market is an indoor market, the weather still affects visiting this market.
Istanbul's summer is hot and humid and its winters are cold, rainy and snowy, it rains abundantly in the city and even in summer there were occasional floods.
Main address: Grand Bazaar, Beyazıt Mh, Fatih, Istanbul, Turkey.