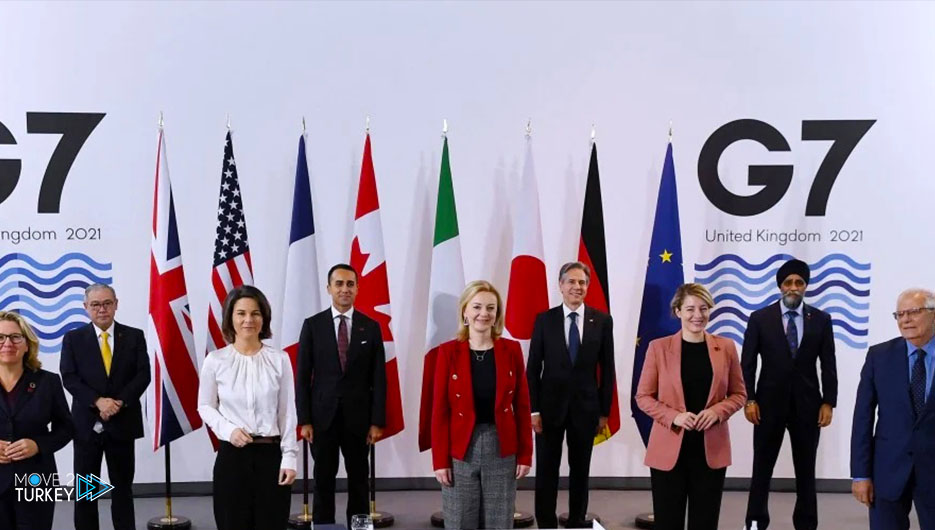 The foreign ministers of the Group of Seven major industrialized nations on Sunday condemned Russia's military build-up and aggressive rhetoric against Ukraine.
This came in a final statement following a meeting of foreign ministers of the group hosted by Britain in the city of "Liverpool" in northern England.
"We are united in our condemnation of Russia's military build-up and Moscow's aggressive rhetoric toward Ukraine," the statement, which was published by the US State Department on its website, said.
The seven countries also called on Russia to "not escalate, follow diplomatic channels and abide by its international obligations regarding the transparency of military activities."
"The seven countries reaffirm our firm commitment to the sovereignty and territorial integrity of Ukraine as well as the right of any sovereign state to determine its own future," the statement added.
The seven countries also praised Ukraine's restrained stance.
The statement stressed that "Russia should have no doubt that further military aggression against Ukraine will have serious consequences and a high cost in response."
Relations between Kyiv and Moscow have been experiencing escalating tension for nearly 7 years due to Russia's illegal annexation of Ukrainian Crimea and its support for separatists loyal to it in the "Donbass".
More recently, Western countries have accused Russia of amassing troops near the Ukrainian border.
Washington has threatened to impose sanctions on Russia if it "launches" an attack on Ukraine.
For its part, Moscow rejected the accusations about the movements of its forces inside Russian territory and denied any "aggressive" plans it had towards Ukraine.
Britain currently holds the rotating presidency of the Group of Seven major industrialized countries, which also includes the United States, Italy, France, Germany, Japan, and Canada.