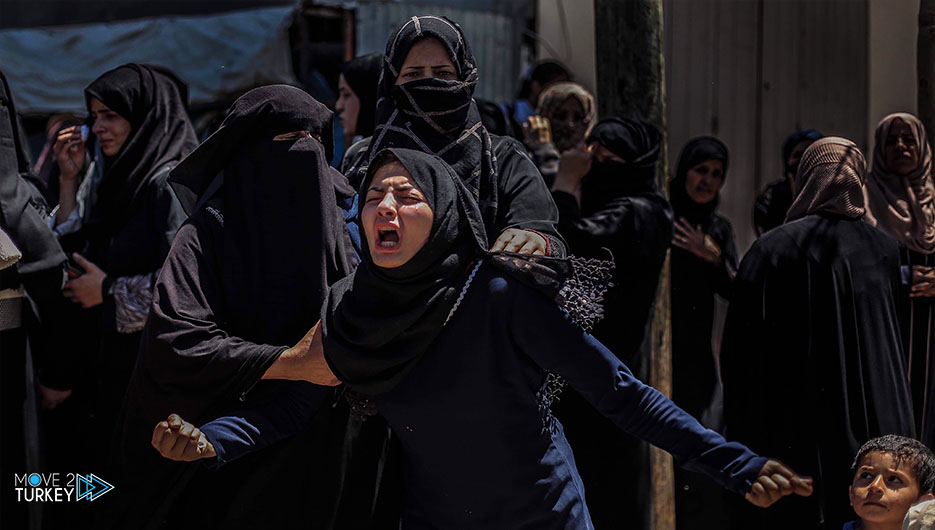 On Monday, hundreds of Palestinians mourned the bodies of two of four martyrs who were killed by the Israeli army at dawn in the Jenin refugee camp in the northern West Bank, while the Palestinian presidency warned of a "mass explosion whose consequences cannot be predicted."
The funeral procession set off from Jenin Governmental Hospital towards the city and the camp, where the families of the two martyrs took a farewell look at the bodies.
Then the funerals of Raed Abu Yousef were held in the Jenin cemetery and Saleh Ammar in the Jenin camp cemetery.
The funeral procession was accompanied by shouts of zoom and shooting in the air by Palestinian gunmen.
The mourners also chanted expressions of condemnation of the occupation and loyalty to the martyrs, "Oh martyr, my cousin, the night is long, enough is enough, and you intifada, ignite."
And at dawn on Monday, 4 Palestinians were killed by Israeli forces' bullets in Jenin camp.
Jenin Governor Akram Rajoub told Voice of Palestine radio (official) that 4 Palestinians "were martyred in Jenin at dawn today, and two of them were detained by the occupation."
According to the Palestinian Ministry of Health, the occupation army is still holding the bodies of the two martyrs, Noureddine Abdel Ilah Jarrar and Amjad Iyad Husseiniya.
In a second statement within hours, the Palestinian presidency warned of a "mass explosion whose consequences cannot be predicted."
The official news agency quoted presidential spokesman Nabil Abu Rudeina as saying: "The lesson that Israel must understand is that the situation is no longer tolerable."
He added that "its continuation of killing and settlement operations will lead to a comprehensive explosion, the consequences of which cannot be predicted for the entire region."
Abu Rudeina pointed out that "what happened in Afghanistan (the Taliban's control of the country) and before that in Vietnam confirms that external protection for any country will not bring it peace and security."
Palestinian factions, forces, and personalities also condemned the Israeli "crime", calling for a halt to the Israeli escalation.
And earlier on Monday, the national and Islamic forces in the Jenin governorate announced a general commercial strike and mourning for the lives of the martyrs.