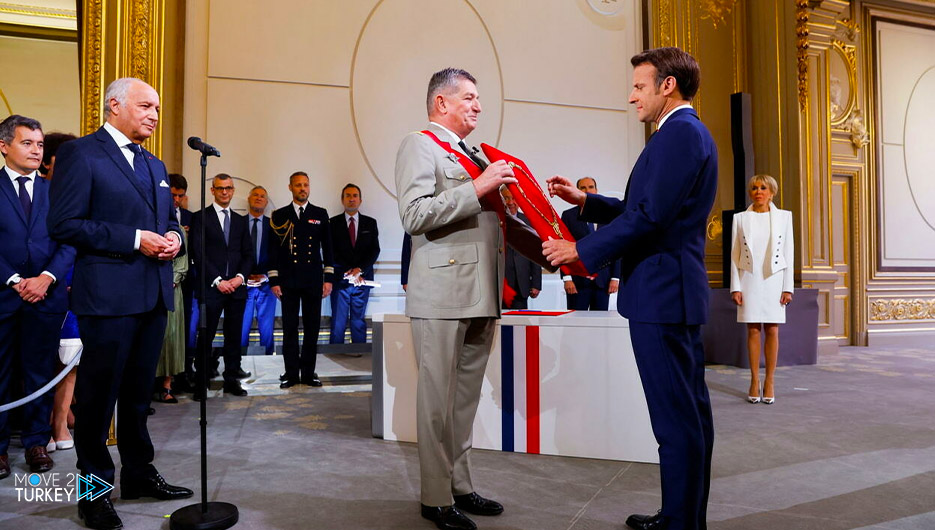 Emmanuel Macron was sworn in as French President for a second term on Saturday in a simple ceremony at the Elysee Palace.
Macron promised, in a speech during the inauguration ceremony, that he would lead the country with "a new approach through planning, reform and involving the French," according to the local "France 24" website.
At 11:00 (09:00 GMT), Macron entered the ballroom, the largest and most prestigious in the Elysee Palace, to the sound of music.
The French president also promised the young people that he would "bequeath them a more livable planet and France more vibrant and stronger."
He welcomed the invitees, including health care providers, local elected officials, association officials, athletes and youth.
The new presidential term officially begins on May 14 and lasts for 5 years.
In April, Macron won the French presidential election, becoming the first president in his country to win a second term in 20 years.
Macron, 44, was elected after receiving 58 percent of the vote in the second round of the elections, compared to 42 percent for his far-right rival Marine Le Pen, 53.
With this victory, which all opinion polls expected, Macron entered history and became the third head of state to be elected twice in a row by universal suffrage, joining his predecessors François Mitterrand (1981 – 1995) and Jacques Chirac (1995 – 2007).
During his first term, which began on May 14, 2017, Macron faced several crises, but he withstood the "yellow vest" protests and resisted the repercussions of the United Kingdom's exit from the European Union and succeeded in dealing with the repercussions of the Corona virus epidemic.