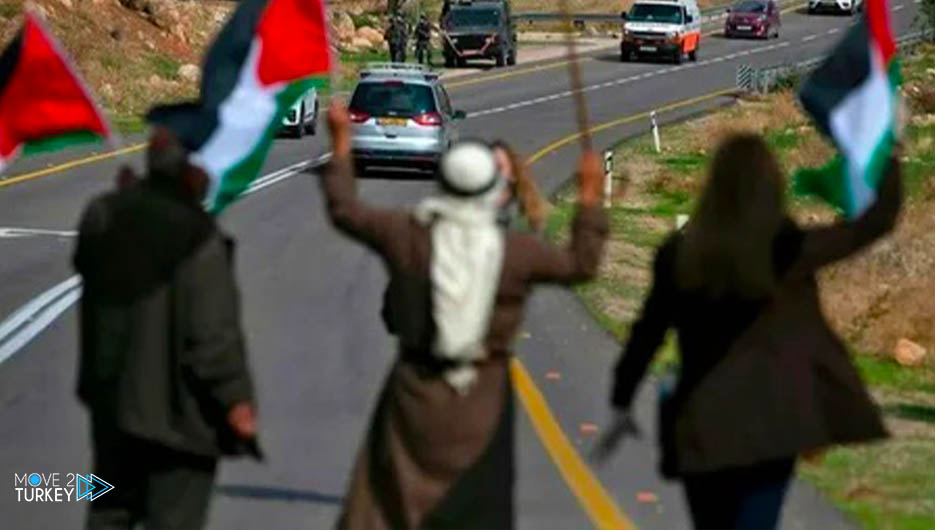 The European Union said on Monday that increased violence by Israeli settlers in the occupied West Bank "would increase tension," and called for the protection of Palestinians.
This came in a statement issued by the office of the representative of the European Union in Palestine.
"High levels of settler violence only increase tension, and Palestinians must be protected in accordance with Israel's obligations under international law," he added.
The statement indicated that "several Palestinians were injured on Sunday/Monday night by Israeli settlers who burned cars and damaged commercial buildings in different parts of the West Bank."
He continued, "It is necessary to prevent more violence now, before the month of Ramadan, which coincides with the Christian and Jewish Easter holidays in April."
For their part, the national and Islamic forces (a body representing all factions) in the West Bank denounced the Israeli "provocative decision" to allow settlers to storm Al-Aqsa Mosque during the month of Ramadan (which begins next week).
This came according to a statement issued at the conclusion of a meeting held on Monday in the West Bank that included the head and members of the Higher Follow-up Committee at home (a supreme body representing the Arabs in Israel).
The statement added that the Israeli decision "means nothing but to provoke our people who come to Jerusalem to pray in the Al-Aqsa Mosque and its pure precincts, and to strain the atmosphere and create shocks."
The factions called on "all our people, especially the sons of Jerusalem and the crowds of worshipers in the blessed Al-Aqsa Mosque, to be vigilant and vigilant in the face of the occupation's plans, and to stand united in the face of these plans."
And on Saturday, the official Hebrew channel Kan reported that Tel Aviv had decided to allow Jewish settlers to continue storming Al-Aqsa Mosque at the same pace as the situation currently.
The Israeli police began to allow the incursions in 2003, despite the rejection of the Islamic Endowment Department in Jerusalem.
During the month of Ramadan last year, Al-Aqsa Mosque witnessed tension and violent confrontations between Palestinians and Israeli forces after being stormed by Israeli settlers.