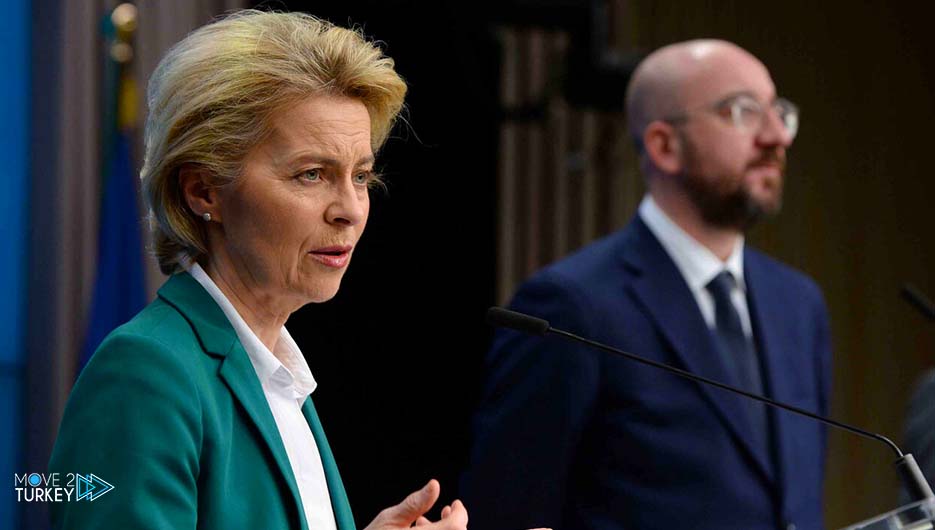 Agence France-Presse reported, Monday, that the chief of the executive body and the Council of Europe will travel to Turkey to meet Turkish President Recep Tayyip Erdogan.
Where it is scheduled for the President of the European Commission Ursula von der Leyen and European Council President Charles Michel to take off to Turkey on April 6, according to Agence France-Presse.
Turkish President Recep Tayyip Erdogan surprised his European allies last week by announcing his country's withdrawal from the Convention on the Elimination of Violence against Women, known as the (Istanbul Agreement) signed in 2011. Turkey joined it 10 years ago.
German Foreign Minister Heiko Moss also warned that Turkey is sending the wrong message to the European Union to withdraw from the agreement and try to dissolve the People's Democratic Party (HDP).
Joseph Borrell, the European Union's foreign policy chief, said:
"It is time to show leadership and reinforce global efforts to combat violence against women and girls, not back down."
"For this reason, we cannot properly understand and we deeply regret the Turkish government's decision to withdraw from this agreement that bears the name of Istanbul," he added.
"We are ready to cooperate in common areas such as immigration and customs," the European Commission president said earlier, referring to what he called "Turkey's constructive position."
But if Turkey returns to actions or provocations from one side, especially in the eastern Mediterranean, we will suspend our cooperation."
These observations show that relations between the European Union and Turkey are complex and go beyond Ankara's withdrawal from the Convention on the Elimination of All Forms of Discrimination against Women.
The issue of the Syrian refugees who settled in Turkey is also considered a vital and very important issue for Europeans.
Europe has also focused on exerting pressure on Russia and restraining China, and it seems unwilling to create a new crisis in relations with Turkey.
European leaders issued a statement last week urging Turkish President Recep Tayyip Erdogan to help improve relations in good faith.
The statement said: "The European Union is ready to take a gradual and appropriate approach for Turkey in order to strengthen cooperation in a number of common areas and further decision-making in the European Council in June."