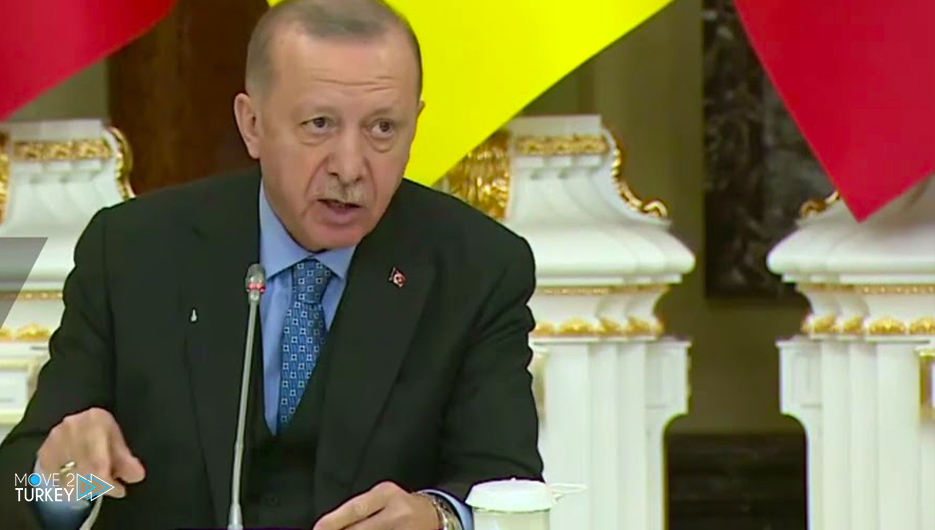 Turkish President Recep Tayyip Erdogan criticized the West's handling of the crisis between Russia and Ukraine, pointing out that US President Joe Biden has not yet shown a positive approach to resolving the tension.
This came in statements to reporters on the plane during his return from Ukraine, which he visited on Thursday.
Erdogan said: "The world's eyes are directed to the developments in Donbass and the border areas. I hope that peace will not leave the region."
And he added: "We would like to hold a high-level meeting between Mr. Putin and Mr. Zelensky."
"Ukrainian President Zelensky told us that we are ready to contribute to reducing tension," Erdogan added, telling reporters that President Zelensky was ready to take any step in this regard.
He continued, "If we are entrusted with the role of mediator between Russia and Ukraine after my meeting with Putin, we will accept this task and will work to fulfill the responsibility entrusted to us."
President Erdogan pointed out that "the West has not contributed to resolving the Russian-Ukrainian tension so far, but rather is obstructing the situation."
He also indicated that Biden has not yet shown a positive approach to resolving the Russian-Ukrainian tension.
Erdogan affirmed his country's readiness to host a summit of the Russian and Ukrainian leaders, or to host talks between the two countries at the technical level.
At the same time, Erdogan reiterated his country's support for the sovereignty and territorial integrity of Ukraine.
On the economic front, the volume of trade between Turkey and Ukraine in 2021 reached the level of 7.5 billion dollars, and Erdogan said: Our goal now is to reach 10 billion dollars.
He pointed out that 8 agreements were signed with Ukraine during the visit, which coincided with the 30th anniversary of the establishment of diplomatic relations between the two countries.
At its meeting, the high-level strategic council between Turkey and Ukraine discussed the development of cooperation between the two countries at the military, political, economic, commercial and cultural levels.
On another matter, Erdogan stressed that Turkey firmly continues its struggle against the terrorist organization ISIS and the deviant mentality it represents, and actively contributes to international efforts in this regard.