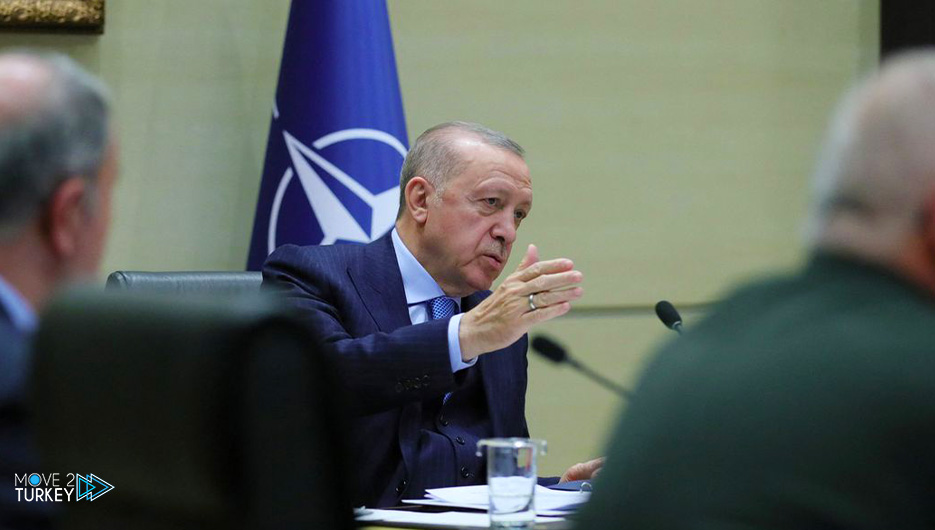 Turkish President Recep Tayyip Erdogan called on Russia and Ukraine to declare a ceasefire at the earliest and make a contribution to world peace.
This came in a press conference on Tuesday with his Kosovar counterpart Fyuza Osmani in the capital, Ankara.
"All actors in our region and beyond should give priority to regional peace and stability," Erdogan said.
He added: "We appreciate the efforts to bring Ukraine into the European Union, but I say to the members of the Union: Why are you still worried about Turkey's accession?"
And he added (on EU membership): "The interest you showed in Ukraine showed Turkey as well, or will you put our country on your agenda when it is attacked by someone?" President Erdoğan reiterated Turkey's support for Kosovo's membership in NATO.
"We have always maintained that NATO expansion would be beneficial for world peace, and we still affirm that today," he said.
On the level of bilateral relations, Erdogan praised Osmani's visit to Turkey in strengthening the brotherly relations of cooperation between the two countries.
The Turkish president reminded that his country was the second country after the United States to recognize the independence of Kosovo.
According to Erdogan, the Turkish Cooperation and Coordination Agency (TIKA) has completed about 700 projects in Kosovo since 2004, in addition to investments worth 400 million euros for Turkish companies.
The Turkish president praised the free trade agreement between the two countries that entered into force in 2019, as the volume of trade between the two countries in 2021 increased by 52 percent to reach $600 million.
The Turkish president also stressed that he attaches great importance to ending the presence of the "Gülen" terrorist organization in Kosovo.
In this regard, he said, "It is very important to eliminate an organization that targeted our democracy and killed 251 of our citizens."
The Turkish president also indicated that he discussed with his Kosovar counterpart regional developments, economic and trade relations, energy issues, defense, culture, education, health and combating terrorism.