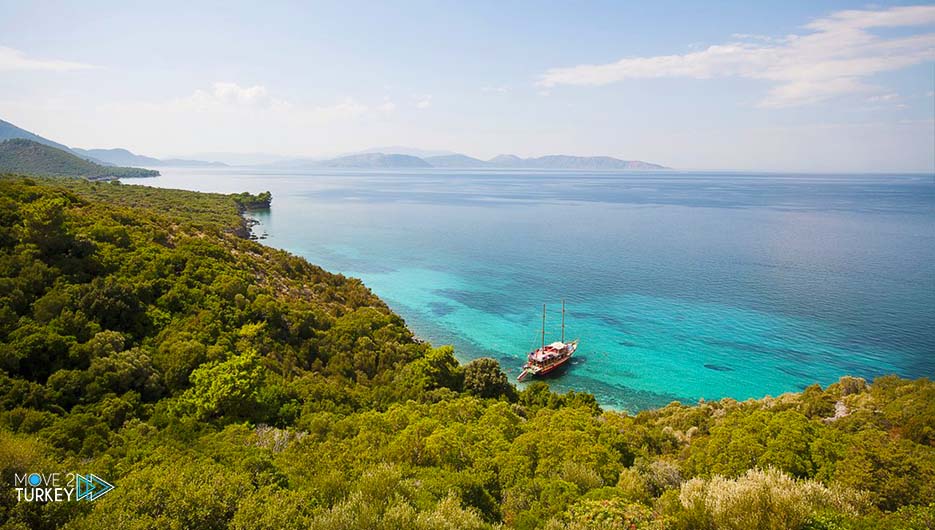 Kusadasi is an important tourist city in Turkey, located near other tourist cities such as Marmaris, Bodrum, Izmir and others, and this proximity doubled the importance of tourism to this city.
The tourist attractions in Kusadasi are very beautiful, tourists come to visit this city from different countries of the world, especially in the spring and summer.
If you are traveling to Kusadasi for a nice summer vacation, we recommend going a few kilometers south to the Dilek Peninsula National Park.
Dilek Peninsula National Park has many hiking trails and quiet sandy beaches, which are a great place to explore.
This park is considered one of the most important natural places in Turkey, where the blue sea extends on the outskirts of the park along with the wonderful landscape, making Dilek National Park one of the most famous tourist attractions in Kusadasi.
In this article, we will take you on a tour to learn more about this park.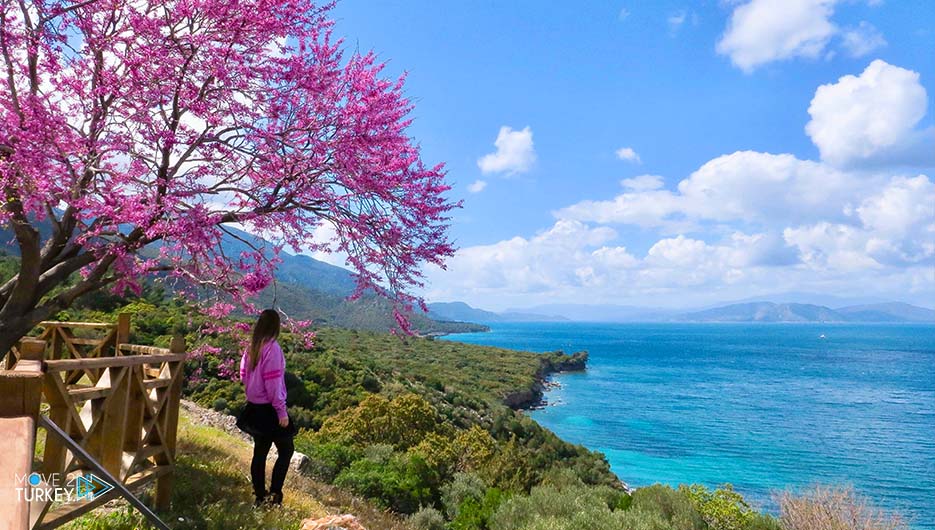 Introduction to Dilek National Park
Dilek Peninsula National Park, is located 32 km south of Kusadasi in a small town called Guzelcamli in the province of Aydin (Aydın), Turkey.
This park covers an area of ​​27.598 hectares, 6 kilometers wide and 20 kilometers long, and many consider its beach to be the most beautiful beach in this area.
Dilek National Park is located on a mountainous land divided into sections by some valleys, and the park includes sandy beaches and valleys in addition to natural, historical and cultural attractions.
Some consider Dilek Peninsula National Park a piece of paradise for its enchanting beauty, and if you want to relax, this place will bring you incredible deep peace.
Whether you love hiking or getting some peace and relaxation on the beach, Dilek Peninsula National Park will be perfect for you.
Dilek Peninsula National Park is a great place to take a picnic with friends or family, due to its clean environment, stunning scenery and calm beaches.
This park will provide you with everything you need for a picnic. Some of the picnic facilities in the park include benches & picnic tables, toilets, showers and many other facilities.
Even if you don't plan on hiking, you can spend the day in one of the beautiful and comfortable beach cafes enjoying a cup of Turkish tea, or sample some Turkish dishes at the wonderful restaurants of Dilek National Park.
If your trip to Kusadasi coincides with one of the most important events in your life, such as your wedding anniversary, birthday or any other important event, or if you want to spend an unforgettable romantic moment with your spouse, Dilek Peninsula National Park will provide you with the necessary facilities to spend a special and fun time.
This park contains many beautiful beaches, such as Kalamaki Beach and many other beaches, the most important beaches in Dilek National Park are Icmeler Beach, Kavakli Beach and Karabiner Beach.
Attractions of Dilek Peninsula National Park
Take a nature tourism along the shores of the park
The park has many beautiful beaches, where you can lie for hours on the golden sands of these beautiful and calm beaches.
Enjoying the nice and hot beach sun in the summer, and reading a book you love can also be a good idea while relaxing on the beach.
Walking and exploring the park
If you are bored of reading books and sunbathing, you can walk in the park and go on a fun adventure to see nature and mountains, as Dilek Peninsula National Park has many long hiking trails that take you to magical places.
Other fun activities that you can do in this nature include photography, visiting the flower garden and watching cute wild animals.
Great Menderes Delta
The Menderes Delta, with an area of ​​16,613 m², is located south of Kusadasi and is one of the most important places for migratory birds in the Aegean Sea. It has many beautiful landscapes as well as a lot of fish.
Do a lot of fun activities
Dilek Peninsula National Park has many options for tourists, you can swim on the quiet beaches or stroll among the chestnut trees in the vast forests, as well as the possibility of cycling and wandering among the pine trees.
You can also do great challenges like rock climbing, in addition to all these activities, if you are a fishing lover, Dilek National Park will provide you with the possibility of fishing.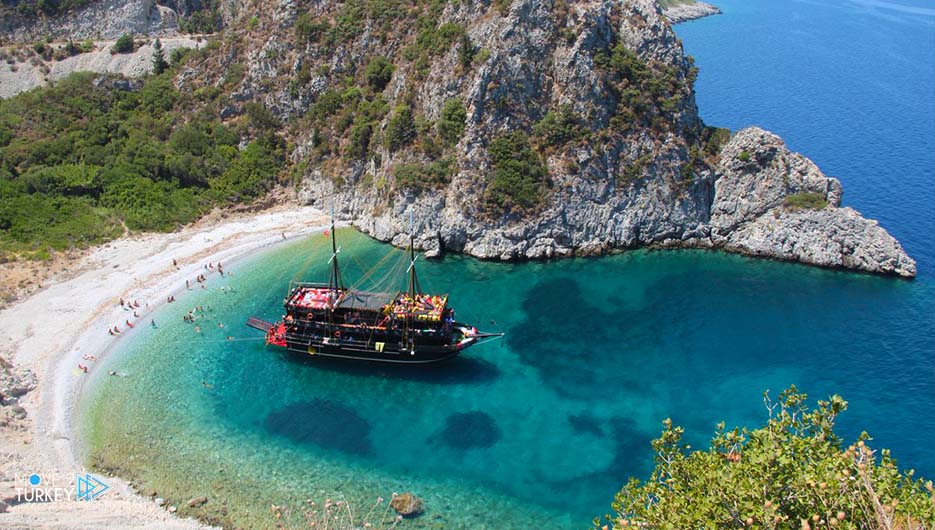 Boat tour
You can take a boat to reach the pristine waters of Dilek National Park from Kusadasi or Guzelcamli.
As this peninsula is located near the Greek island of Samos and overlooks magnificent bays.
In addition, marine animals will undoubtedly attract your attention, as you can sometimes see beautiful dolphins swimming along the boat.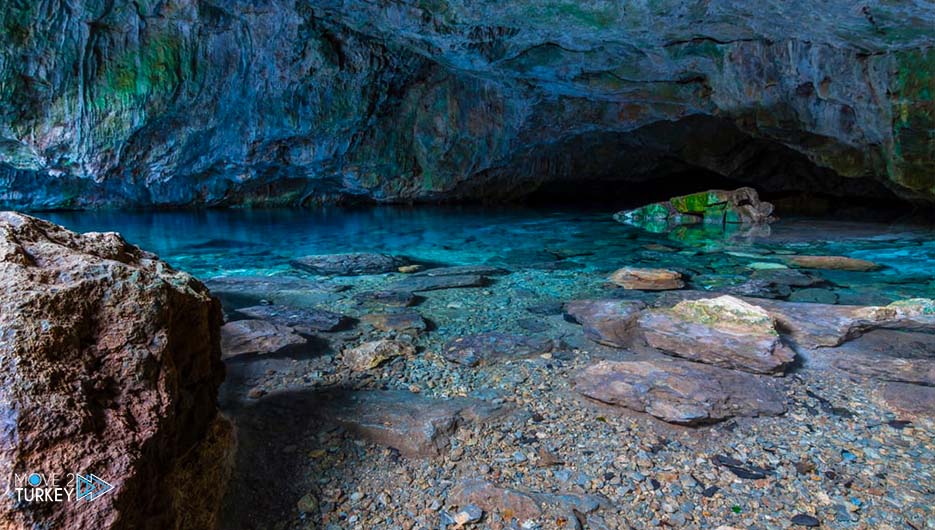 The Cave of Zeus
It is true that Dilek Peninsula National Park is a natural attraction, but there is also an archaeological site belonging to the time when the peninsula was called Mycale.
At the entrance to the Cave of Zeus in the Dilek Peninsula National Park, you will be drawn to the presence of a cold and pure water pool, tourists who come for a tour of this park usually take a little bath in the Cave of Zeus.
There are many legends about this cave, as some legends say that Zeus bathed in this cave, in addition to the fact that the Virgin Mary also went to this cave, as there is a house of Mary located near the park in the city of Ephesus.
Whatever the story of this cave, make sure to visit it during your Kusadasi tour and your trip to Dilek Peninsula National Park.
Enjoy watching wild animals on the south coast of the park
The southern shores of Dilek Peninsula National Park are quite different, as it is home to mainly flamingos, with another 208 species of birds that can be seen at different times of the year.
There are 76 species of birds that lay their eggs in this area, along with other wild animals in the area, which are so accustomed to the presence of humans that they reach the coast, and if you are lucky enough, you can even see wild horses on the hills in front of the beach.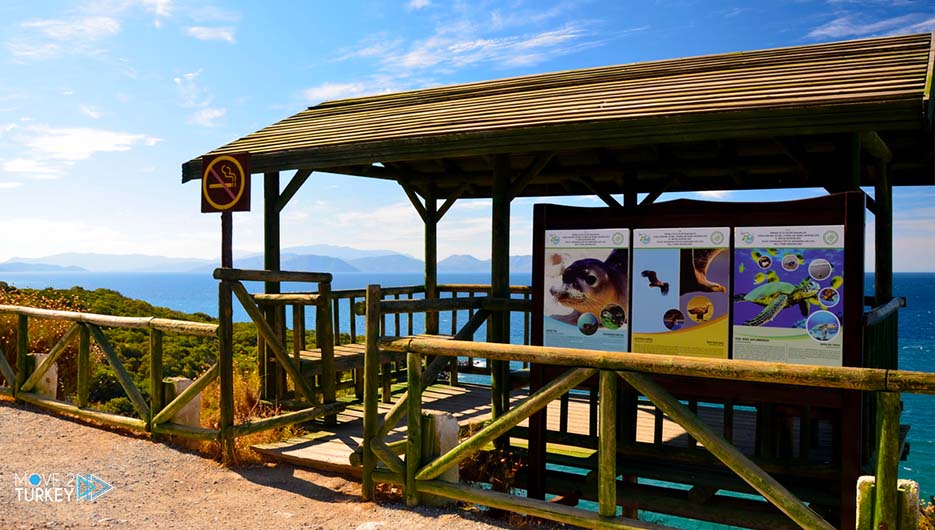 Diverse vegetation of Dilek National Park
The diversity of vegetation in the peninsula is just like the diversity of wildlife.
Dilek mountain (1,237 m) has caused many changes in temperature between the northern and southern parts of the peninsula, which means that it is a plant habitat comprising 4 different regions.
Apart from the plant species specific to the Aegean, there are other plants belonging to the Mediterranean and the Black Sea.
Best time to visit Dilek National Park
Spring and summer are the best times to visit Dilek Peninsula National Park, as Kusadasi trekking times are peak times but prices are a bit higher at this time of the year.
If you are looking for a cheap tour to Kusadasi, early autumn is the way to go, but in other seasons this tourist city is cold and there are fewer trips to it.
How to get to Dilek Peninsula National Park
Buses run from Kusadasi to Dilek Peninsula National Park once every half an hour and at very reasonable prices.
You can also reach the park by boats that operate daily from 10 am to 5 pm, and you can also use taxis.