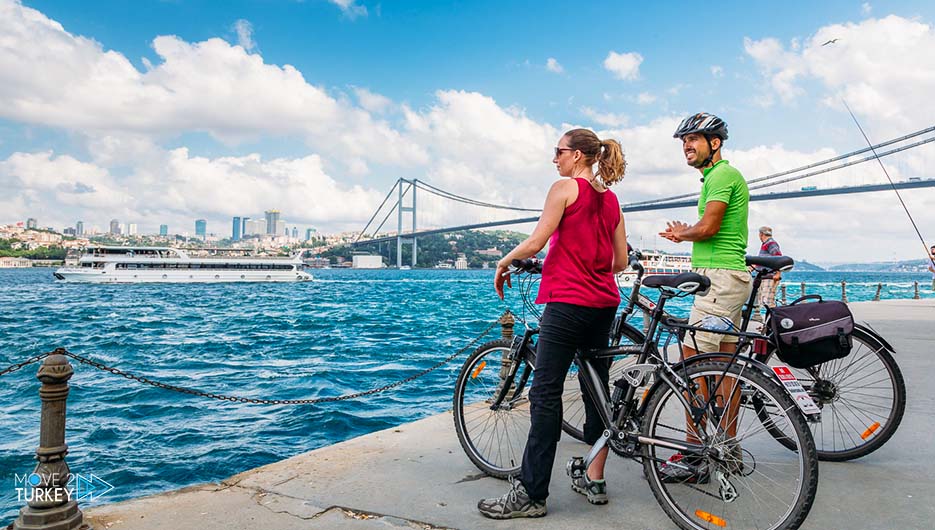 If you are looking for more exciting entertainment on your trip to Istanbul, you can try cycling in Istanbul. As this city has great cycling routes.
Cycling routes in Turkey are not as good as in European countries, but there are special cycling routes that you can try on a tour in Istanbul for a comfortable bike ride.
According to recent studies, cycling is one of the most enjoyable means of transportation, because you can enjoy the beautiful views and reach your destination as quickly as possible, despite the hustle and bustle of public transport and poor ventilation.
Where to buy a bike in Istanbul?
There are many shops for this purpose in almost all regions of Istanbul, but if you want to have affordable shopping in the best shopping malls in Istanbul, it is best to visit Köprüaltı Bisikletçiler Çarşısı store in Fatih.
Be sure to visit this part of the city on your trip to Istanbul, as the big bazaar in Istanbul is located under the main road bridge, in this market there are different types of bicycles and accessories at different prices and according to your budget, of course the cheapest price starts from 350 liras and can be increased up to thousands of liras, so before buying bikes in Istanbul, it is better to research enough which bike will suit you, and we recommend that you never order your bike online.
Cycling software in Istanbul:
Here are some applications, one of which is very useful for cycling in Istanbul, the other two programs also will help you to maintain your health through cycling.
The Bisiklet Ulaşım Platformu or BUP application is one of the most useful applications when cycling in Istanbul.
This application contains a map via the internet for bike repair shops in Turkey, bike parking units, lanes, shops and rental stations in Turkey, dangerous entrances, basic rules for public transport and restrictions, bicycle costs in the subway, metro, and tram, the app is currently running on Android and iOS.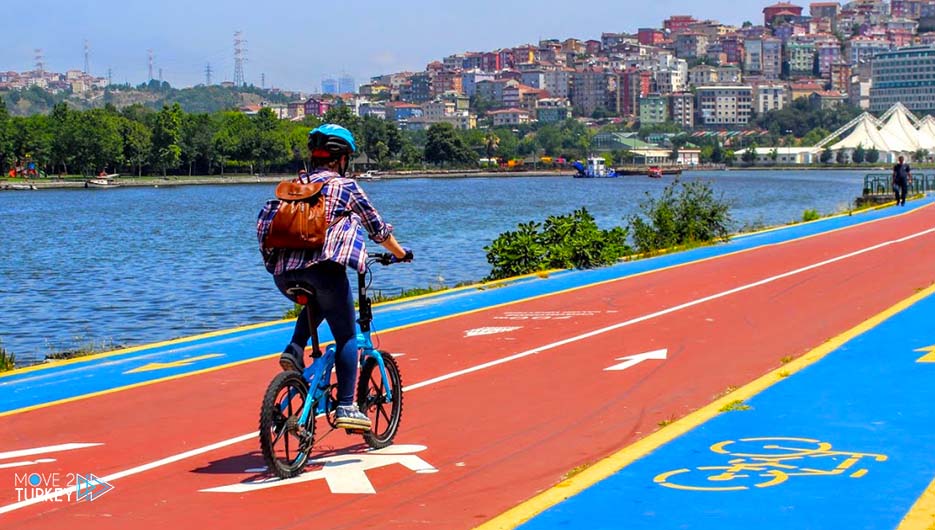 Popular cycling routes in Istanbul:
Cycling routes in Turkey are not as good as it is in European countries, but there are special bike routes that you can try on your tour in Istanbul to ride a bike and relax, if you want to use the bike to explore the beautiful landscapes, you can enjoy some comfortable ways to cycle here, some of the popular cycling routes:
Bosphorus beach in the European part of Istanbul:
Cycling between Karakoy and Sarıyer Istanbul is very easy and fun, in fact, most of the beaches of the Bosphorus coast have walking and cycling trails.
From Kadikoy to Bustancı:
It is interesting to know that this road is the most beautiful cycling route in the Asian part of Istanbul, as these same sections contain many tourist attractions, and the cycling route between them has added to its appeal.
Golden Horn bay:
To ride a bike in Istanbul, all you have to do is hop on your bike and drive with all your might from the Galata Bridge to Eminonu, on the way, you can visit the Orthodox Church in Fener and Balat, as well as the Chora and Mahramah Sultan churches in Edirnekapi.
The old town :
There is another cycling route in Istanbul's Old City that you can ride from Galata Bridge to Sirkici and go to Sultanahmet and Gulhane Park. Also, if you live in Fatih district, you can easily ride a bike on the streets.
Apart from police and emergency cars, there are no other vehicles on BuyukAda Island, if you do not agree, stand by the street to take a taxi, you will not see anything but bikes and buggies, for riding as well as others, in the middle of this, some people may also prefer walking.
Cycling in Buyukada area :
It is one of the best places for cycling in Turkey, where you can spend hours relaxing and cycling on a coastal road in complete peace and quiet in this place, even if you do not have a personal bike, you can rent a bike and enjoy your time.
Cycling in Heybeliada :
On the island of Heybeliada, the bike path starts from the sidewalk and starts from the house of the Turkish author Husayn Rahmi Gurbinar, the Monastery of Saint Spyridon and Cam Harbor Bay, to reach the building of the former sanatorium, the next destination is Aya Triada School for Religious Studies, located in the northern part of the hill, from there, you can return with your bike directly.
Cycling on the island of Burgazada Ada :
You will reach the monastery of Aya Yorgi Gribi via the coastal road, the Greek Orthodox Church was built on the island in the 17th century, and it is home to the Russians who fled the country after the Bolshevik Revolution in 1917, after that, you will arrive at Kalpazankaya, which is a place for a short vacation or a meal, you can sit on the restaurant chairs and enjoy a delicious meal while you are passing by.
Riding a bike in Cappadocia :
The ancient Cappadocia region is located in the central part of Turkey, where you can ride bicycles and enjoy the tranquility of the environment and unspoiled nature, and there is a hiking path in this area, you can also go hiking.
Finding a bicycle parking :
Because Istanbul residents do not have a compromise with cycling in their life in the city, bike parking can be a problem, you may need to travel around the city for a long time to find a suitable place to pack your bike, and you need a strong chain and tie your bike to something.
Smart Bikes in Istanbul
Istanbul City Council, ISPARK launched a project in 2013 to use smart bikes in Istanbul called İSBİKE. That has been working in various parts of the city since then.
In addition to encouraging people and society to use sport as a means of transportation and exercise, smart bikes in Istanbul aim to reduce fuel consumption, air pollution and greenhouse gas emissions in the city.
For this reason, the İSBİKE project has been very well received by environmentalists.
In addition, those who used to ride their personal bikes in the city, are no longer worried about finding a safe position to park their bikes. As they can also use these smart bikes with ease.
Istanbul cycling groups :
If you want to try cycling in Istanbul before purchasing a bike, or if you want to join weekly and monthly tours, then you should definitely join Istanbul cycling groups!
They rent bikes at affordable prices and also organize bike tours in Istanbul's historic districts, attractions and sites, and tourists.
You can start from their cycling store, get your helmet, bike, and other equipment and start the tour with the group.
Finally we recommend that you think about safety tips for cycling in Istanbul, always wear a helmet and paddings while riding, avoid cycling in really dark areas or use LED lights suitable for your bike, watch all traffic lights and make sure you are fully awake while riding the bike, check tires Brakes and bicycle lights daily.