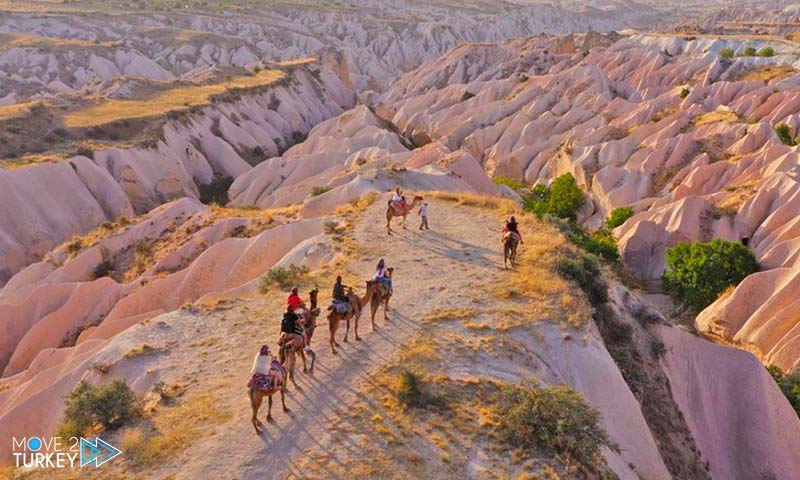 Tourists come from all over the world, to take a camel tour in Cappadocia, to explore the historical, natural and cultural riches of this charming city, which captivates hearts with its landscapes.
One of the most important tourism centers in Turkey is Cappadocia. Tourists attend a camel tour, and explore the fictional landscapes of the rocky and mountainous masses of the famous Turkish city.
The city of Cappadocia is included in the UNESCO list of world cultural heritage, and various activities are organized for tourists in the city, to explore the natural, historical and cultural beauty, whether from the air through the famous hot air balloon trips, or by land through tours on camels.
Tourists taking part in a camel tour wander through the charming chimneys and valleys covered in the natural rock formations of Cappadocia. Interest in this type of trip has increased in recent years.
This excursion attracts the interest of tourists, who travel to the hills of Iskandar and Golodiri and the Reed Valley in the region, which creates images that will remain in the memory.
"Riding on camels in Cappadocia is exciting"
The American tourist, Nour Kassar, who attended the camel tour in Cappadocia, stated that the camel is a strange animal, and that he was very excited to participate in such an event in a mysterious tour within the Cappadocia rock formations.
Kassar emphasized that everyone should definitely see the tourist areas in Cappadocia. "I have been in Cappadocia for two days and this was one of the most beautiful places I have visited so far. Cappadocia is an incredibly beautiful place. It is also exciting to ride camels."
On the other hand, the American tourist, Luna Gharawi, said that she participated in various activities with a group of her friends, and that she loved the trip very much. "Cappadocia is very beautiful with its geographical features and landscapes."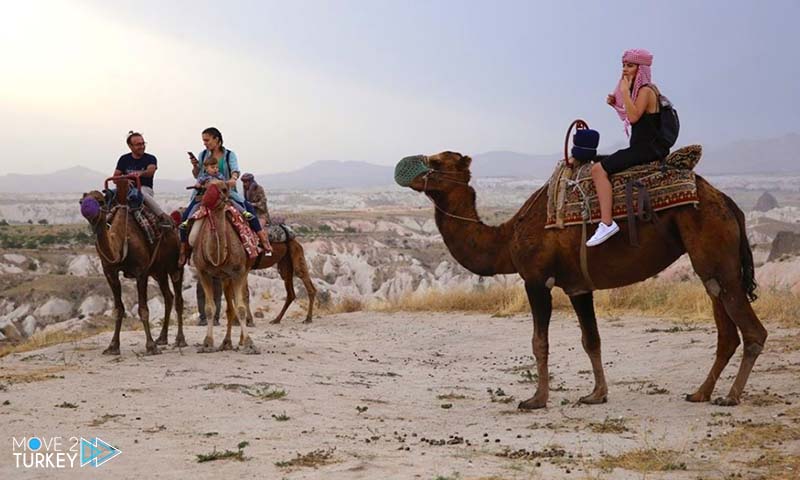 Burko Damla Ozcan, who participated in the camel tour with her family from the Turkish city of Kayseri, said that Cappadocia has a very magical atmosphere and that she is happy to stroll in one of the rare places in the world.
Tourist artist Kemal Guntaş drew attention to the great interest in organizing trips, in a wide geographical area covered with exciting rock formations, which are not found anywhere else in the world.
"We have guests from all nationalities, especially Latin America," Guntaş said. We enable them to see ancient cave areas, shelters and tunnels in the valleys from above with a panoramic view.
We can perform this activity on all non-rainy days so that our guests do not get wet in the rainy weather.