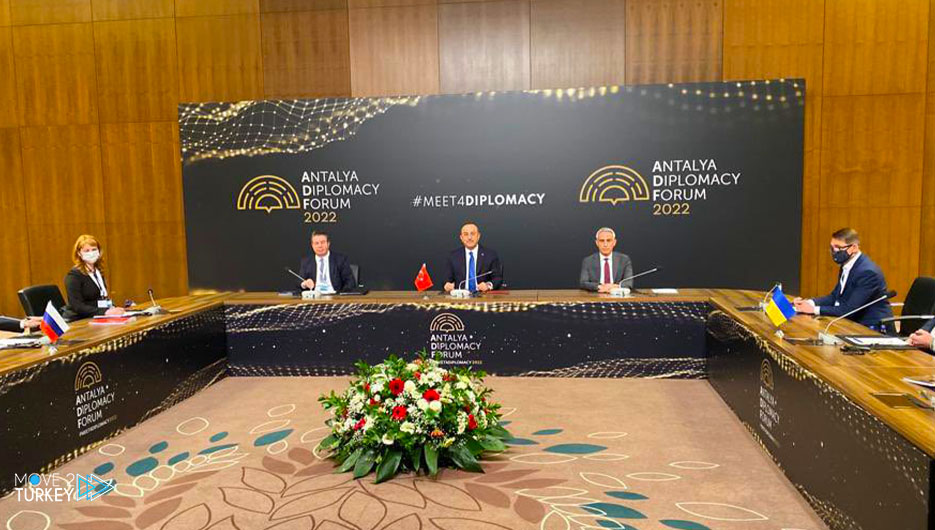 In addition to its global fame in tourism, the Turkish state of Antalya (south) has become the headquarters and capital of diplomacy by hosting annually a diplomatic forum sponsored by Turkish President Recep Tayyip Erdogan.
Antalya, which annually hosted about 16 million tourists before the outbreak of the Corona epidemic, has become, during the last two years, the center of diplomacy.
Under the patronage of President Erdogan and organized by the Turkish Foreign Ministry, the third edition of the Antalya Diplomatic Forum will be launched this year on March 11, and will continue until March 13.
On this occasion, the state is witnessing a great movement, as it is preparing to host prominent personalities from many countries, most notably the foreign ministers of Russia and Ukraine, given that their countries are currently in a state of armed conflict.
At the request of Turkish Foreign Minister Mevlut Cavusoglu, a meeting will be held on the sidelines of the Antalya Diplomatic Forum, including the foreign ministers of Russia and Ukraine.
Antalya will also host the 8th Istanbul Mediation Conference, in which heads of a number of countries will participate, along with politicians, diplomats, experts and academics.
The Antalya Diplomatic Forum is being held in Serik district this year under the slogan "Restructuring Diplomacy" with the participation of presidents, ministers, diplomats and businessmen from several countries.
585 journalists from 142 media organizations from 27 countries will follow the forum.
In a statement, the governor of Antalya, Arsin Yazici, said that the state is moving forward to be the seat of diplomacy in addition to its global fame in tourism.
He pointed out that the presidents and ministers began arriving in Antalya yesterday, Wednesday, to participate in the Antalya Diplomatic Forum, which led to an unprecedented movement in the city.
"We are awaiting the participation of heads of 15 countries in the forum, along with 54 ministers, as well as academics, experts and businessmen," he added.
And he added: "All cadres of the Turkish Foreign Ministry are here and working for the success of the forum, and we, in turn, have done what is necessary to contribute to the success of this diplomatic forum."