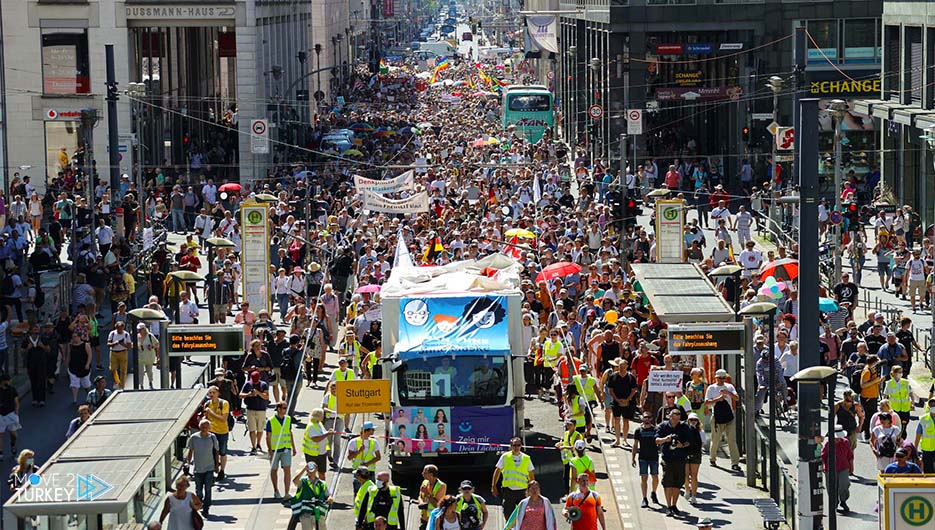 The German capital, Berlin, witnessed a demonstration calling for the evacuation of those at risk in Afghanistan, following the Taliban's takeover of power there.
At the call of the "Seebrücke" initiative, nearly 2,000 demonstrators gathered in front of the German parliament.
The demonstrators raised banners with phrases such as: "Afghanistan is not safe," "Stop killing Afghans," and "Help Afghans."
Large numbers of Afghans also participated in the demonstration, in which the participants chanted slogans calling for the establishment of an air bridge to evacuate the vulnerable in Afghanistan, and welcoming Afghan refugees.
Similar demonstrations were also held in the cities of Cologne, Bochum, and Leipzig.
In a related context, German Foreign Minister Heiko Maas announced that his country will negotiate with the Taliban to evacuate employees of the Afghan collaborators with Berlin.
He added in a joint press conference with the German Defense Minister that the German embassy in Kabul will undertake the task of negotiating with the Taliban in this regard.
And since last May, the "Taliban" began expanding its influence in Afghanistan, coinciding with the start of the last phase of the withdrawal of US forces, which is scheduled to be completed by August 31.
In less than 10 days, the movement took control of almost all of Afghanistan, despite billions of dollars spent by the United States and the North Atlantic Treaty Organization (NATO) for about 20 years to build Afghan security forces.
In 2001, an international military coalition led by Washington overthrew the rule of the "Taliban" because of its association at the time with the "Al-Qaeda" organization, which adopted attacks in the United States in September of that year.