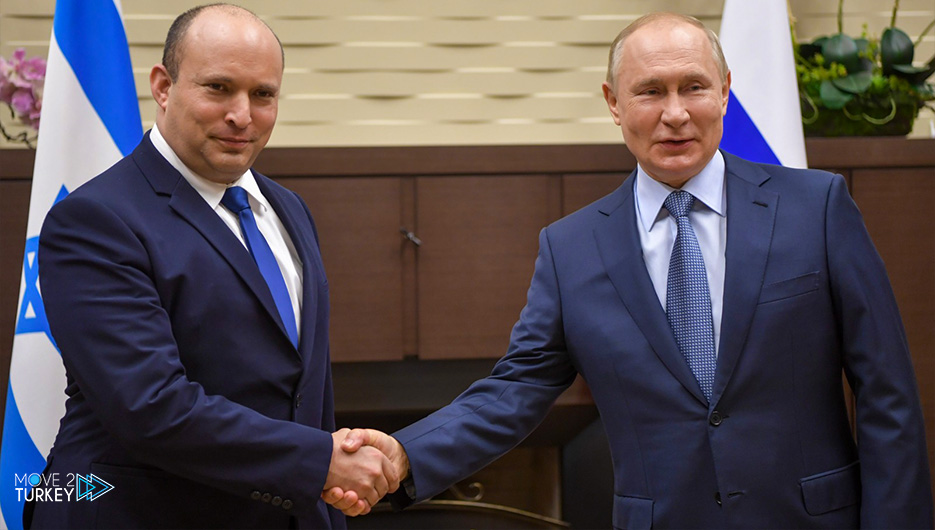 Israeli Prime Minister Naftali Bennett said on Sunday that during his meeting with Russian President Vladimir Putin he reached "good and stable" understandings on Syria.
This came in a speech during the Israeli government meeting, which comes hours after Bennett's return from the Russian resort of Sochi, where he met Putin on Friday, according to the official Israeli channel "Kan".
"With the Russian president, I reached good and stable understandings on Syria," Bennett said, without further details.
"I found President Putin attentive to Israel's security needs, and we also discussed Iran's advanced nuclear program, which worries everyone," the Israeli prime minister continued.
"We discussed the situation in Syria, of course, in a way, the Russians are our neighbors in the north (Syria), and it is important that we manage the delicate and complex situation there smoothly and without incident," he added.
From time to time, Israel launches air attacks on regime sites and Iranian forces in several Syrian provinces.
Bennett revealed an embarrassing situation during his meeting with the Russian president, saying, "Minister Ze'ev Elkin (the Israeli Minister of Construction and Housing, who worked as a translator, fell asleep during the meeting in Sochi.
He added: "Suddenly Elkin fell asleep, I pushed him with my elbow to wake up," according to the same source.
On Friday, Elkin said that Bennett and Putin had reached understandings of continuing the current (Israeli-Russian) policy on Syria.
In an interview with reporters, Elkin said that the main issue is "creating continuity between Israel and Russia."
He added, "There was a huge talk about strategic issues, including a very broad dialogue about the situation in Syria while maintaining the coordination mechanism," according to Kan.
For its part, the Hebrew newspaper "Haaretz" said (privately) that Putin demanded Bennett during the meeting in Sochi.
"Israel should improve the notifications it sends to Moscow about its activities in Syrian territory, and be more accurate in this."
The newspaper added: "The two also discussed Iran's positioning in Syria and Israel's efforts to keep it away from the border as much as possible."
Haaretz considered that the gaps between Moscow and Tel Aviv regarding Israeli activity in Syria are "small."