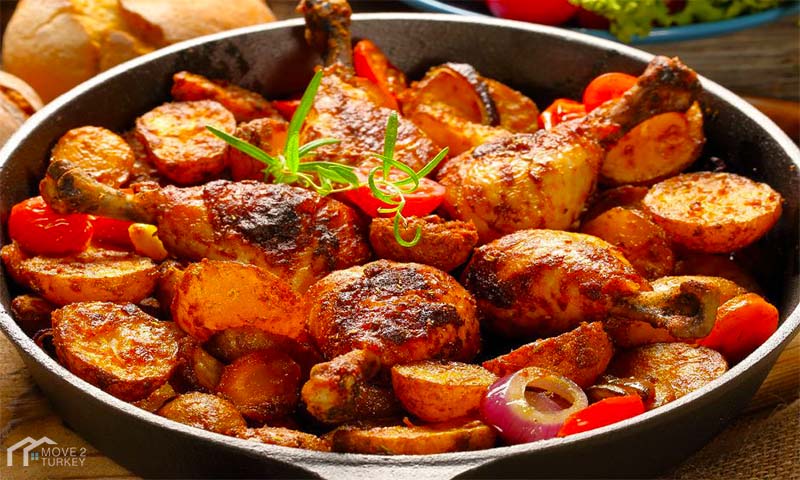 Ingredients for Baked Potato Chicken Recipe
6 chicken thighs (chopped, top bone removed)
2 medium potatoes
1 large tomato
1 pepper
For the sauce:
1 tablespoon of pepper paste
2 cloves of grated garlic
1/2 tea glass of olive oil
1 teaspoon of ground red pepper
1.5 tablespoons of yogurt
1 teaspoon of salt
1 teaspoon of black pepper
The Key to the Baked Potato Chicken Recipe
The cooking time may increase depending on the model and working principle of your oven. With the help of a toothpick, check the fleshy part of the chicken, if water comes out from the point where you pierce the toothpick, it means that it is cooked.
We used the butterfly-shaped chicken thighs with the upper bone removed. If you wish, you can try our recipe with baguette or larger size chicken hips or thighs.
How to Make Baked Potato Chicken Recipe?
Mix all the necessary ingredients for the sauce in a bowl. And add a small amount of water.
Place the chickens in a bowl or heat-resistant ovenware.
Then pour the sauce over it. Leave it to marinate for 20 minutes with the sauce. If you don't have time, you can go to the next stage without resting.
Chop the potatoes to the size you desire. Mix it with some olive oil and salt. Arrange your potatoes so that they do not cover the chickens completely.
Then put the tomatoes and peppers on top. Add some salt on it. Add some water around the edge.
Bake in a 190-degree oven for about 35-40 minutes until the chickens are golden brown.
When cooked, Take out of the oven and serve hot.
Enjoy your meal!
Service recommendation
After taking it out of the oven, you can pour a little olive oil on it and add freshly ground black pepper. It will add a great taste to its flavor.