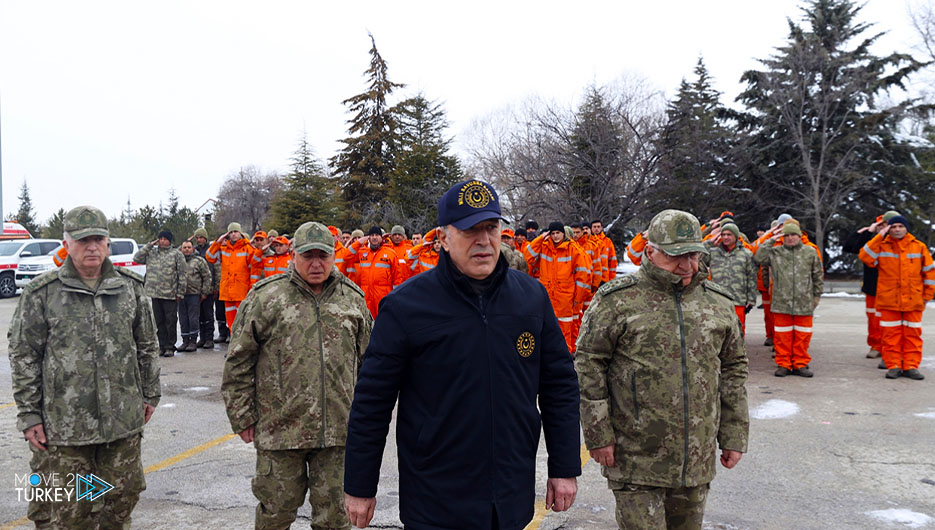 Turkish Defense Minister Hulusi Akar said on Saturday that 25,067 members of the armed forces are working in the earthquake zone.
During his visit to the state of Adana, Akar, accompanied by Chief of Staff Yasar Guler, inspected the progress of work within the framework of the "air assistance corridor" launched by the ministry following the earthquake to transport personnel and equipment to the affected areas.
He also held a meeting via videoconference, in which the commanders of units operating in the earthquake zone participated, and received a briefing on the latest situation with regard to field work and activities.
Akar added, "So far, we have carried out 707 sorties with 63 aircraft, transporting 9,780 specialized personnel and 625 tons of supplies."
He pointed out that the planes that transport personnel and equipment transport the injured and citizens who wish to leave the affected areas during their return.
He also referred to the allocation of helicopters belonging to the armed forces to transport personnel and equipment as well.
He explained that 57 multi-purpose helicopters were collected at the Incirlik base in Adana and allocated to serve the areas affected by the earthquake.
He reported that 710 helicopter sorties had been conducted so far.
On the other hand, Minister Akar pointed out that there are 24 ships operating within the framework of the "naval aid corridor".​​​​​​​​​