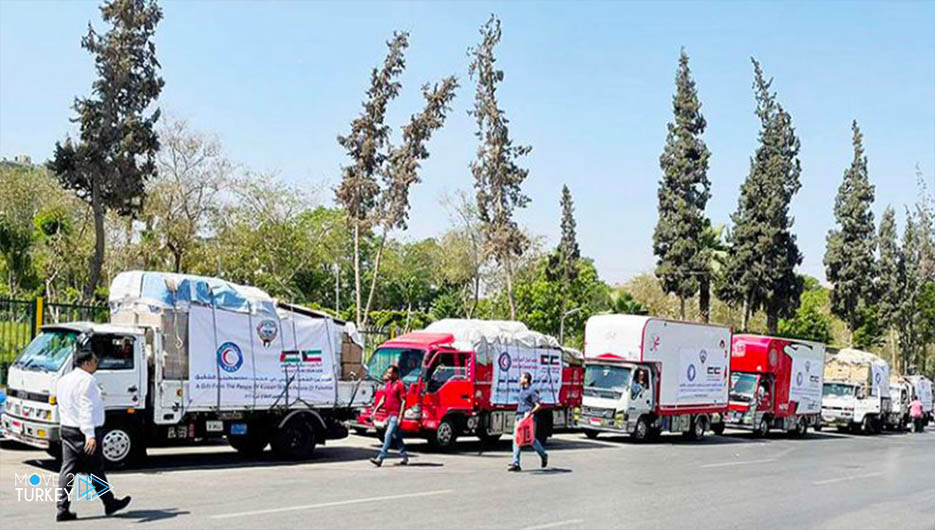 The Palestinian Embassy in Cairo announced, on Wednesday, the arrival of aid convoys from 4 countries to the Egyptian Rafah border crossing to enter the Gaza Strip.
In a statement, the embassy stated that "convoys of field, relief and medical aid from the countries of Morocco, Tunisia, Kuwait and Ukraine arrived in the Gaza Strip."
And through the Rafah land crossing to support the Gaza Strip as a result of the brutal Israeli aggression.
She emphasized that Egyptian presidential instructions had been issued to allow all countries to conduct relief convoys through Egyptian territory to the Gaza Strip via the Rafah land crossing.
In a related context, the Kuwait News Agency reported that "a convoy of medical and relief aid in her country headed Wednesday from Cairo to the Rafah border crossing in preparation for entering the Gaza Strip to contribute to alleviating the suffering."
It quoted the head of the delegation, Youssef Al-Maraj, as saying that the Kuwaiti convoy was carrying 85 tons of relief aid.
Among them are nearly 1000 food baskets that were purchased from the Egyptian local market.
According to the Egyptian News Agency, on Wednesday, the authorities continued to open the Rafah land crossing for the eleventh consecutive day.
To cross the stranded, sick and humanitarian cases, receive the wounded and injured coming from the Gaza Strip, and bring aid into the Strip, according to the directives of the political leadership.
On Friday dawn, a ceasefire began between Israel and the Palestinian factions in Gaza, mediated by Egypt, after an 11-day Israeli military aggression on the Gaza Strip, where more than two million Palestinians live.
And on Sunday, an Egyptian aid convoy reached the Gaza Strip through the Rafah land crossing, and it is the second in a week, with a total of 87 trucks in support of the people of the Strip.