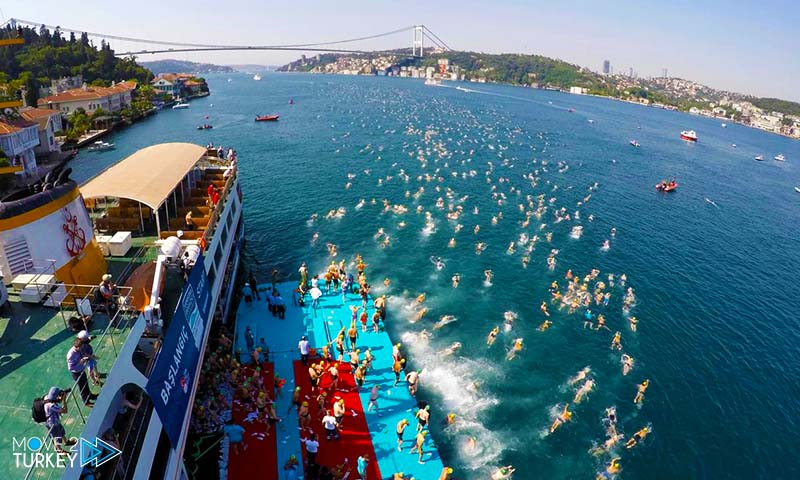 Almost 2000 swimmers from all over the world participated in the annual swimming championships in Turkey, which are held in Istanbul to cross the Bosphorus strait, swimming between Asia and Europe.
The width of the Bosphorus strait ranges between 700 and 3,550 meters, as swimmers in this tournament cross the shortest swimming path in the strait from the Asian bank of the Bosphorus to the European bank of the strait, which is 700 meters.
This swimming race in the Bosphorus strait is considered one of the most famous swimming marathons in the world, and many international and Turkish swimmers participate in it each year.
According to Turkish media, this annual competition attracts swimmers from more than 50 countries around the world.
This year, 1,765 people participated in the traditional swimming championships in Istanbul. This is less than last year, when the number of participants reached 2,400, which is a record in the history of the competition.
Any athlete can participate in this race, provided he possesses a swimming license, or anything that indicates that he has undergone professional training.
And this year, the Turkish professional swimmer Mustafa Sivinai won the men's swimming championship in a time of 46 minutes, according to the Turkish Olympic Committee organizing the race. Among the women, Hilal Zaynep Seraç achieved the best time with 47 minutes and 52 seconds.
The Bosphorus is a blue strip that connects the Black Sea with the Sea of ​​Marmara and separates the two continents of Europe and Asia. Istanbul is located on both sides of the strait.
This strait is 30 km in length and between 700 and 3,550 meters in width, and it is considered one of the most famous and controversial waterways in the world at the same time. As it is characterized by being a waterway for international merchant ships in addition to being one of the most important tourist attractions in Istanbul.