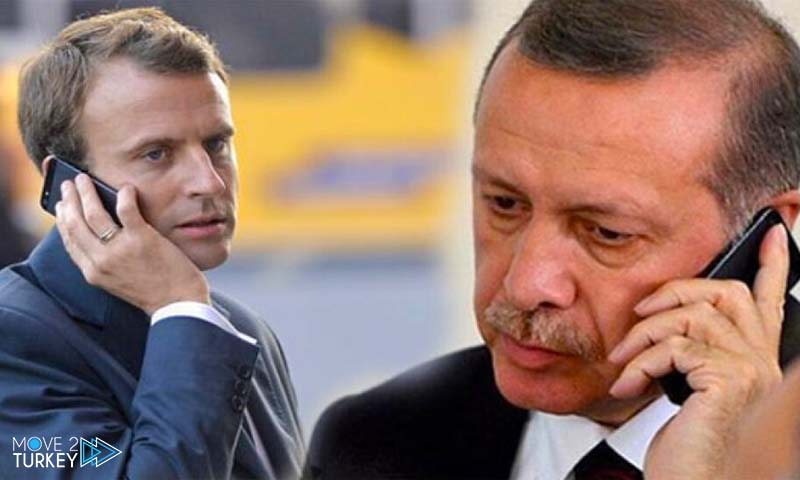 French President Emmanuel Macron talked, in a phone call to his Turkish counterpart, Recep Tayyip Erdogan, for a "commitment" to stop escalating tensions in the eastern Mediterranean with Greece and Cyprus, as members of the European Union.
According to Sky News, the two presidents discussed bilateral relations, as well as relations between Turkey and the European Union and the latest developments in the Eastern Mediterranean.
French President Emmanuel Macron also called on his Turkish counterpart Recep Tayyip Erdogan to fully respect Turkey's sovereignty over EU member states and international law, refusing to take any new unilateral action that might lead to tensions in the region, and a commitment to creating an atmosphere of peace and cooperation in the Mediterranean.
Erdogan also told his French counterpart that Turkey expects Paris to take a "constructive" approach to the conflict between Ankara and Greece in the eastern Mediterranean.
He also assured Macron that "Turkey is not greedy for the rights of anyone, but it will not allow its rights to be violated. And it will support dialogue to solve the current problems."
The Turkish president stressed that the cause of tension in the eastern Mediterranean is the neglect of the "legitimate" rights of Turkey and the Turkish Cypriots in the region.
France's support for the tense business and claims of Greece and the Romanian part of Cyprus is meaningless. Diplomatic opportunities must be seized and sustainable negotiation processes implemented to reduce tensions. We want to solve problems and negotiate at the negotiating table.
Paris supports Athena in this crisis.
According to the Elysee Palace, Macron called on Turkey to agree to hold a similar dialogue with Cyprus along the same lines.
Turkish-French relations escalated following tensions in the eastern Mediterranean and French support for Greece and Cyprus.
The two sides also differ on the Libyan issue, as Paris accuses Ankara of violating the international arms embargo.
Macron called on Turkey to "fully adhere to the arms embargo imposed on Libya within the framework established by the United Nations and to respect the security interests of its allies in Syria."
According to a statement by the French presidency, Macron and Erdogan agreed to continue talks at the presidential and ministerial levels.