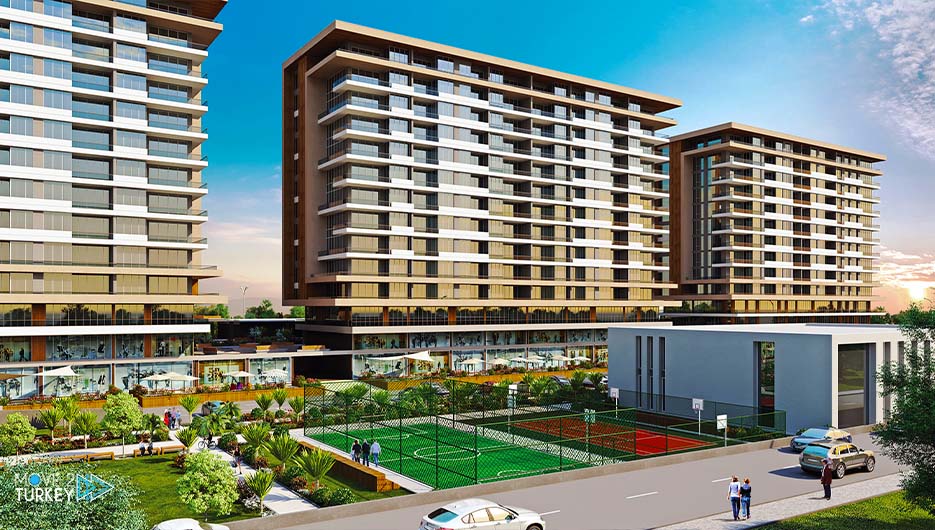 In recent years, the numerous benefits of living in Turkey and social welfare and security facilities in this country have prompted many foreigners to buy a home in Turkey.
If you are planning to emigrate, invest in buying a house in Turkey, you should first know the types of houses in Turkey.
Because Turkey is a mixture of tradition and modernity, you will find a wide range of houses that may confuse buyers and investors.
Follow us to introduce you to the types of houses in Turkey and features of each of them.
Types of houses in Turkey
The types of homes in Turkey can be divided into 4 general categories, which include apartments, regular properties, apartment complexes, detached houses and villas.
Among each of these types, there are ready-made properties and properties under construction available to buyers and investors.
In the previous articles, we talked in detail about whether it is better to buy a ready to move property in Turkey or buy a property under construction, which you can refer to to learn about the advantages and disadvantages of each investment.
1- Residential Apartments
Apartments in Turkey are suitable for all buyers due to the variety of prices, spaces and designs suitable for different lifestyles.
Apartments may be separate buildings or in apartment complexes.
Usually, luxury apartments in Turkey are built according to the latest advanced technologies.
Smart apartments in Turkey also include a variety of luxury units such as penthouses, duplexes and triplexes with modern entertainment systems, and stunning designs in terms of interior or exterior architecture.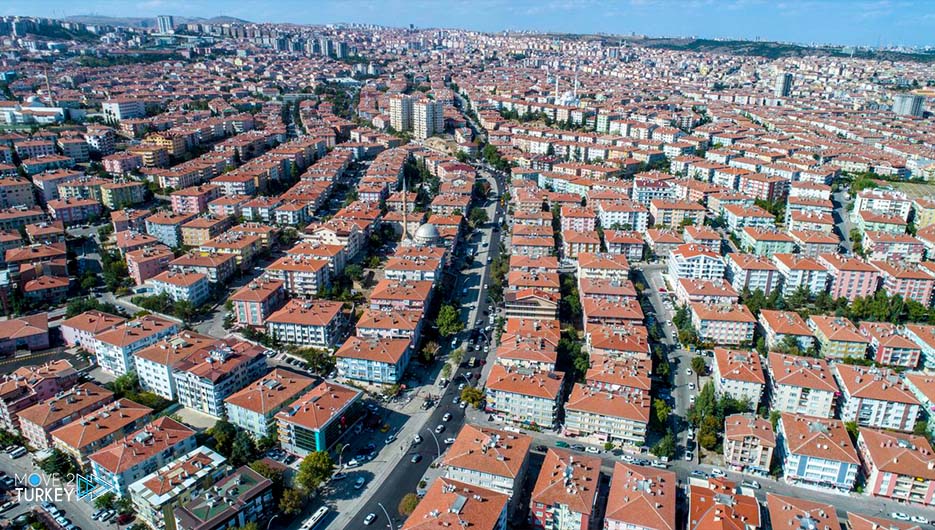 Standard Apartments
Buildings of standard apartments usually consist of 4 or 5 floors, located in different parts of the city, whether old or newly built apartments.
Standard apartments can be found at different prices, and the price depends on the area of the apartment.
Standard apartments are the most popular type of house in Turkey among Turkish citizens, but immigrants may not be very interested in this type of housing.
This is because these types of apartments do not have green spaces or amenities such as central heating and security, and the rent for this type of apartment is usually very low and cheap.
Penthouse apartments
This type of modern apartment in Turkey is located on the top floor of large buildings or so-called skyscrapers, penthouse apartments like villas, private and independent.
This type of apartment occupies the entire upper floor and often has glass walls that provide a panoramic view of the entire city.
It also has a private car park and a private lift independent of the lifts on the other floors.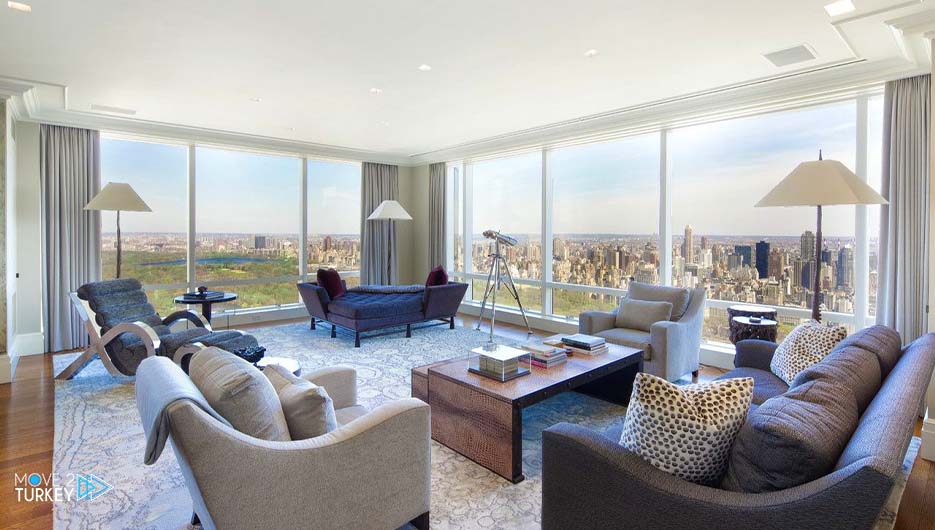 Duplex apartments
As the name suggests, duplex apartments are two complete apartments on top of each other and connected by an internal staircase, each apartment consisting of a bedroom, a living room and a bathroom.
Usually the first floor of these apartments is dedicated to the kitchen and living room, and the second floor is dedicated to the bedroom and bathroom.

Triplex apartments
Triple apartments consist of three floors connected by internal stairs. The apartments are usually built where the first floor includes the kitchen and living room, the second floor includes the bedrooms and bathrooms, and the third floor can be used as a private office or home gym.
Studio apartments
The studio apartments consist of a room that has a bed with a wardrobe and the other part is used as a living room and kitchen.
Usually these types of apartments are suitable for single young people who have migrated to Turkey for work or study and are looking for cheap and small apartments.
2- Typical apartments
Typical apartments are more popular with immigrants than standard apartments because they often have more amenities.
But keep in mind that Typical apartments are more expensive compared to regular apartments and have higher monthly fees.
These apartments are usually located in an area of several thousand meters and are protected by a central security, as this type of housing can be said to be one of the safest types in Turkey.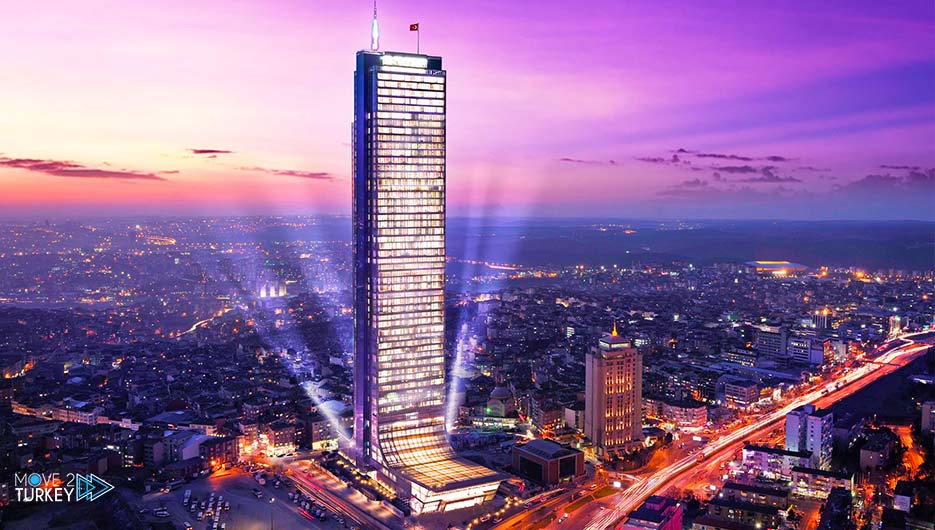 3- Apartments within residential towers
In recent years, the construction of towers in Turkey has increased significantly, and these apartment complexes were the first choice for many foreigners who immigrated to Turkey.
There are a variety of facilities in the residential towers, including sports complexes, swimming pools, saunas, and in some cases a restaurant and a children's playground.
The other main feature of this type of housing is the extensive green spaces and central security.
It is worth noting that in addition to central security, each tower or apartment building usually has a separate guard who monitors the movement of the building.
Most of the towers are equipped with a central ventilation system, which is why the monthly fee is higher compared to other types of houses in Turkey.
Because of the facilities of these multiple residential complexes, their prices are high, however various factors such as the area and year of construction can affect the price of the housing units.
4- Detached houses and villas
Detached houses and villas in Turkey are among the most expensive types of housing in the country and are the primary choice for many real estate investors in Turkey.
Many of the world's wealthy want to buy villas in Turkey, which are usually very expensive. The prices of villas in Turkey vary according to the region, location and engineering design.
The villas are independent and large and contain spacious gardens, private swimming pools and a private garage for cars, and some of these villas overlook nature and tourist areas.
Due to the security facilities of the real estate, the villas in the residential complexes are more suitable for immigrants or those who do not reside permanently in Turkey.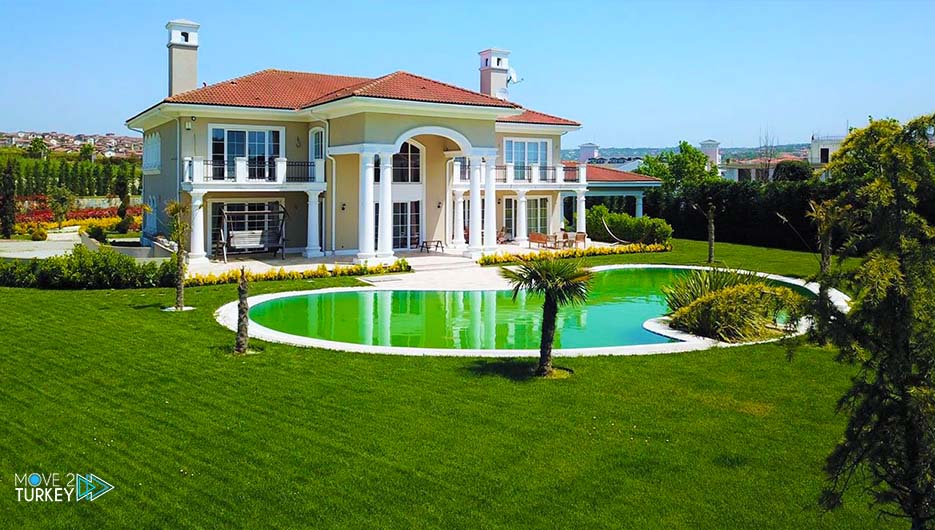 Standard villas
This type of villas are found in many neighborhoods of different cities in Turkey, especially in areas far from the important tourist centers, and some are located in the suburbs.
These villas have a large area and are surrounded by large green spaces.
Tourist villas
It is very similar to regular villas in terms of space and design, but differs in terms of landscaping.
Tourist villas usually have a view of beaches or tourist and historical sites, so their prices are higher compared to regular villas.
Villa with a private beach for sale in Istanbul…
Historical palaces
Historic villas or the so-called historical palaces, the most famous of which are the Ottoman palaces on the Bosphorus in Istanbul, are known as one of the most expensive types of homes in Turkey, and are often bought by Turkish investors and wealthy foreigners.
It is often a very large area surrounded by gardens and has wooden decorations running along the corners, and the central room of the house has a vaulted ceiling and a row of small windows, these windows help to cool the house.
These villas are usually located along the sea, and many of them were originally built as summer residences in the Ottoman era.