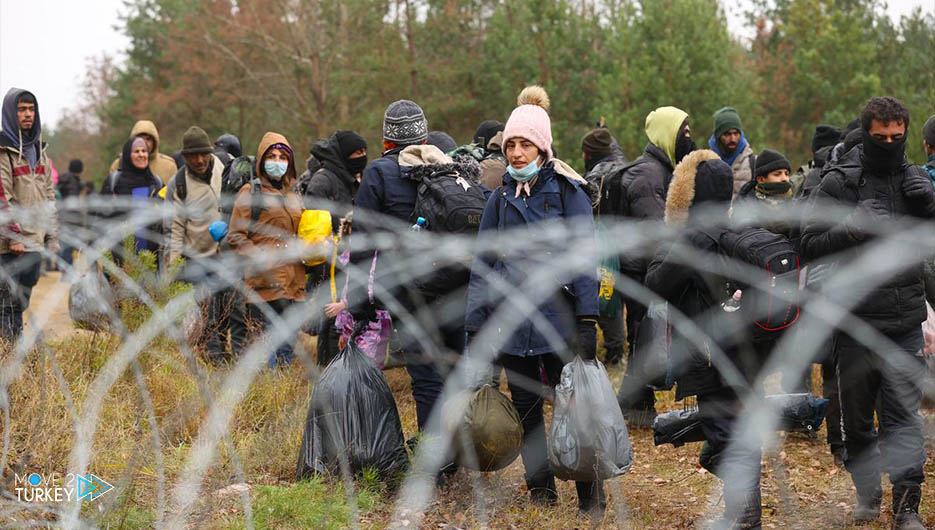 Turkish Red Crescent President Kerem Kinik expressed on Thursday his organization's readiness to help irregular migrants stranded at the Belarus-Poland border.
In a speech during a meeting with representatives of the organization's branches in its office in the state of Edirne (west), Kinik said that the Red Crescent, since its founding in 1868, has followed the same principles and values.
He explained that the Red Crescent aims to protect human dignity, alleviate his suffering, support him and help him live a dignified life.
And he indicated that his institution played an important role during the irregular migration movement in Edirne (the borders with Bulgaria and Greece) in the year 2020.
Regarding the people stranded on the border between Poland and Belarus, Kinik indicated that the border between the two countries is witnessing a major crisis.
He stated that he went to Belarus and met with officials of the Red Cross, and expressed to them the possibility of the Crescent providing the necessary support.
"These people (the migrants) face difficulties in obtaining the most basic humanitarian support services," he said.
He added: "In Minsk, we had a meeting with the President of the Parliamentary Assembly of the Organization for Security and Cooperation in Europe.
I expressed to him the possibility of sharing our experience with the European Union on this issue."
He continued, "The supplies that we will send to protect people, especially in that region where severe winter conditions prevail, are ready. We are waiting for the parties' approval on this matter."
He indicated that they want to provide the necessary support to people who have entered Belarus legally, and are trying to immigrate from it to Europe.
Kinik stressed that Turkey is the first in the world to provide humanitarian aid, and hosts millions of refugees.
Last week, many asylum seekers tried to cross the border to enter Poland from Belarus.
There are currently about 4,000 asylum seekers on the border between the two countries, according to the Polish News Agency.
The European Union accuses Belarusian President Alexander Lukashenko of coordinating the arrival of this wave of migrants and refugees to the eastern side of the bloc.
This was in response to the European sanctions imposed on his country after the "brutal repression" his regime had exercised against the opposition.