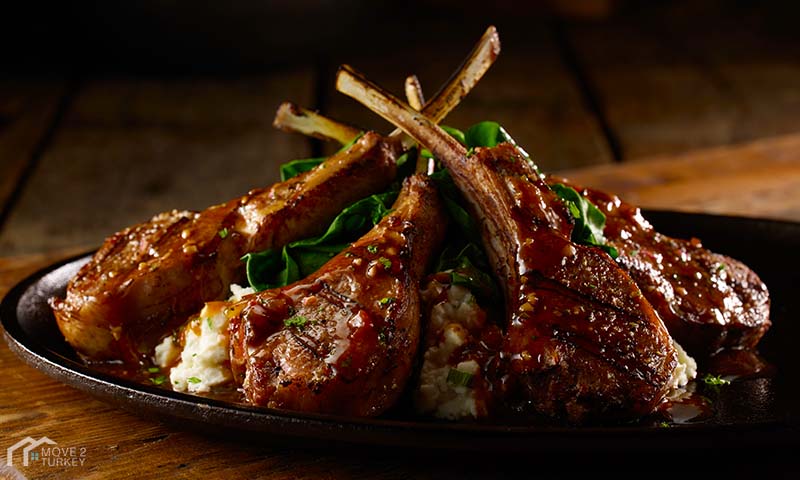 You have been invited to a special Turkish dinner with the Turkish lamb chop recipe that settles on the serving plate with its colorful garnishes.
You can serve this recipe, as a main dish, as well as other Borsa Restaurant recipes.
Ingredients for Turkish Lamb Chops Recipe
For spinach with bechamel sauce:
300 grams of spinach
1 teaspoon of butter
1 teaspoon of flour
1/2 cup of milk
1/4 teaspoon of black pepper
1/4 teaspoon of salt
For sauteed potatoes:
3 small potatoes
3 tablespoons of olive oil
2 small onions
2 cloves of garlic
1 sprig of rosemary
1/4 bunch of parsley
1/4 teaspoon of salt
1/4 teaspoon of black pepper
1/2 teaspoon of paprika
The Key to the Turksosh Lamb Chops Recipe
In the preparation of bechamel sauce, make sure to roast the flour until it turns into a light color. Add the milk you have heated to the boiling point after it is warmed, add to the roasted flour, mix it with a whisk.
How to Make The Turkish Lamb Chops Recipe?
Boil the potatoes that you wash in plenty of water. Chop the boiled potatoes that you peeled into large cubes.
Chop the onions into small cubes. Slice the garlic thinly. Finely chop the rosemary branches and the extracted parsley leaves.
Heat the olive oil in a small pan. Add the onions and sauté until they get color. Add the garlic and rosemary pieces. Add the boiled potato cubes and saute until it turns golden brown.
Season the sauteed potatoes with salt, pepper, paprika and parsley.
Boil the spinach in hot water and drain the excess water.
To prepare a small amount of bechamel sauce; Melt the butter in a separate pan over low heat. When the oil melts, add flour and start roasting.
Add warm milk gradually to flour, and mix it quickly with a whisk. Add the whole milk. To avoid lumps, sweeten the sauce you mix constantly with salt and black pepper. Mix on low heat, remove the sauce you cook until it thickens and mix it with the boiled spinach.
Cook the high quality lamb chops, which you got with extra fat, inverted in the grill-cast iron pan that you preheated, and cook according to your taste.
Serve hot, accompanied by sauteed potatoes and spinach béchamel sauce with a small serving bowl.