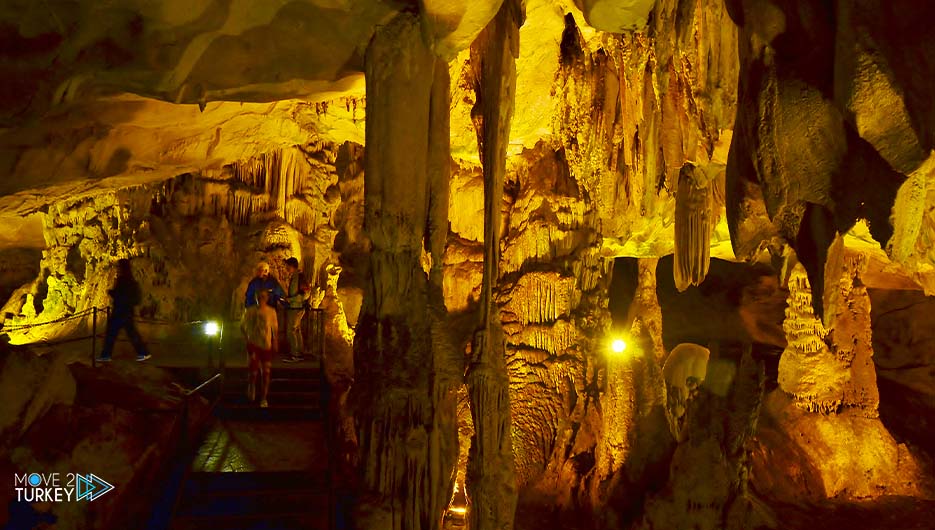 "Dupnisa" Cave is located in the state of Kırklareli, northwestern Turkey. It is the only cave available for tourism in the Thrace region, which includes, in addition to Kırklareli, the states of Tekirdağ and Edirne. It has a rich ecosystem in which bats abound.
The length of the cave is 2,700 meters and is administratively affiliated with the village of "Serb Dere" located in the "Demirköy" region of Kirklareli Province.
The cave is divided into two parts, "dry and water," and despite its large area, an area of 500 square meters can be visited, with a length of 100 meters.
Dupnisa Cave also houses about 60,000 bats of 16 species.
Because of its uniqueness for tourism in the region, its beautiful stone interior, its columns descending from the ceiling, and its pools, Dupnisa Cave attracts thousands of local and foreign visitors from all directions.
The Director of Culture and Tourism in Kırklareli, Elili Shen, said that the Dupnisa Cave is located on the slopes of the Astranka Mountains and has great tourism potential.
Shen explained that the cave was opened to tourism twenty years ago in 2003, noting that the cave is 2,700 meters long.
He added: "Caves are formed from karst formations and underground formations over millions of years, and our country is very rich in terms of caves."
He pointed out that Kırklareli contains about 40 caves, and Dupnisa Cave is the only one open to tourists.
Shen explained the features and details of the cave, indicating that the temperature at the exit of the cave is about 17 degrees, and inside it drops to about 12 degrees.
He expressed his belief that the balance between cold and heat had an important role in the formation of colors, stalactites and stalagmites in the cave over millions of years.
He said that the Dupnisa Cave has a unique character than others, noting that 100,000 local and foreign tourists visited the cave last year, and their number reached 70,000 since the beginning of the year.
Regarding bats, the Director of Culture and Tourism confirmed that the cave contains a large number of bats.
He pointed out that the water section of the cave is closed between November 15 and May 15 of each year due to the breeding of bats.