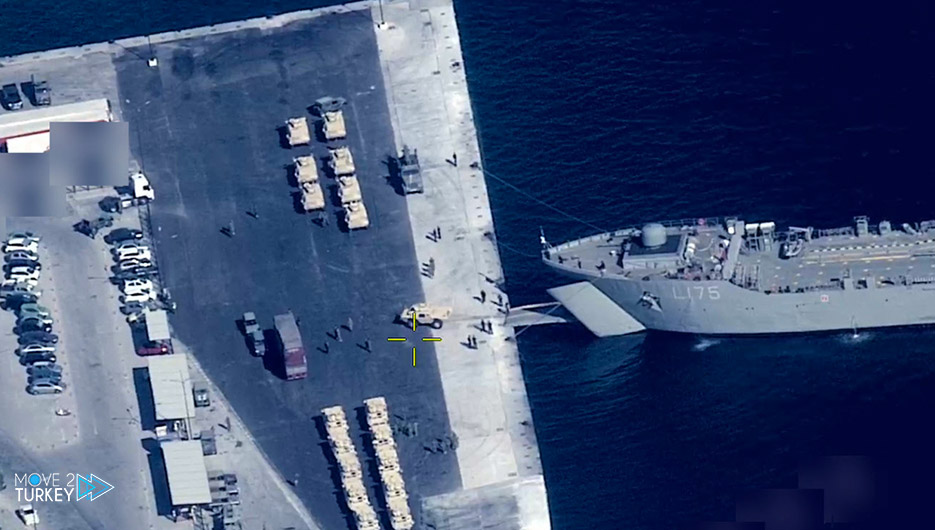 Turkish drones monitored Greece's transfer of armored vehicles to demilitarized islands in the Aegean Sea.
Security sources reported that Turkish drones spotted two Greek landing ships heading to the islands of Mudallali (Lesbos) and Sesam (Samos).
She explained that the two ships transported 23 armored vehicles to Mudallali and 18 others to Sisam.
It was remarkable that it was one of the armored vehicles donated by the United States to Greece, which arrived at the port of Dede Agag (Alexandroupoli).
The sources emphasized that the two armored transport incidents, which took place on September 18 and 21, are a clear indication of Greece's continued arming of the islands near Turkey and the violation of the status of those islands, which are supposed to be demilitarized in accordance with the relevant agreements.
She pointed out that Greece is seeking to deploy weapons donated by the United States, in particular, on those islands.
The sources described the aggressive behavior of Greece, a member of NATO, which is against international law and the spirit of the alliance, despite calls for dialogue and good-neighborliness, as "totally unacceptable."
She pointed out that Greece has been violating the "non-military status" of these two islands for many years and deploying weapons on them.
She pointed out that Greece, through recent shipments, replaced some armored vehicles on the two mentioned islands with armored vehicles with tactical wheels that Washington granted to Athens.
The sources pointed out that Greece did not respond to Turkey's calls to resolve differences through dialogue and within the framework of international law.
She stressed that Greece evaded dialogue, its absence from meetings in this regard, and its continued provocations, which clearly show who is the party that increases tension and carries out aggressive and illegal activities.