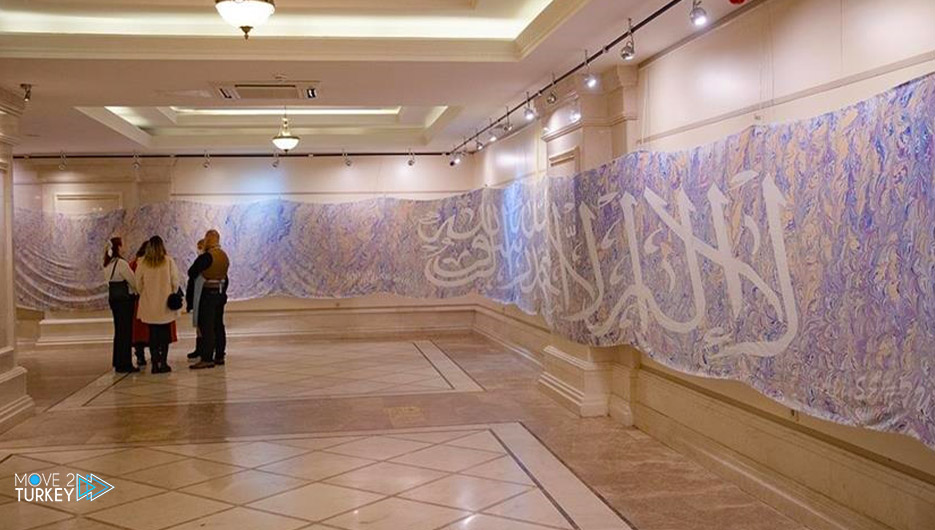 Turkish artist Ali Şantürk and his student Hikmet Akçelik managed to paint the largest Ebru (painting on water) painting in Ankara, 31 meters long.
The painting, which entered the Guinness Book of Records, was displayed at the Fine Arts Gallery in Qazil Ai Zafar Market.
Chanturk indicated that he started the art of Ebru in 1996 and organized 16 exhibitions in several countries, including France, Germany and Turkey.
He pointed out that the painting is 31 meters long and 1.5 meters wide, with the word "Tawheed" written on it.
As for the student Aq Celik, he indicated that he is specialized in traditional Turkish handicrafts
He explained that the art of Ebru requires a lot of patience and is a treatment for the soul.
He stressed the need for the artist to have psychological stability in order to be able to paint on the water, saying: "That is why the ebru is performed to the sound of the flute or classical music."
The painting will continue to be displayed at the Fine Arts Gallery in the capital, Ankara, until February 10.
The "Ebro" is one of the most beautiful Turkish arts. It relies on drawing on water mixed with certain materials to make it thick and uses special colors that are sprayed and formed on the surface so that later that drawing can be taken on special thick alabaster paper to withstand water.