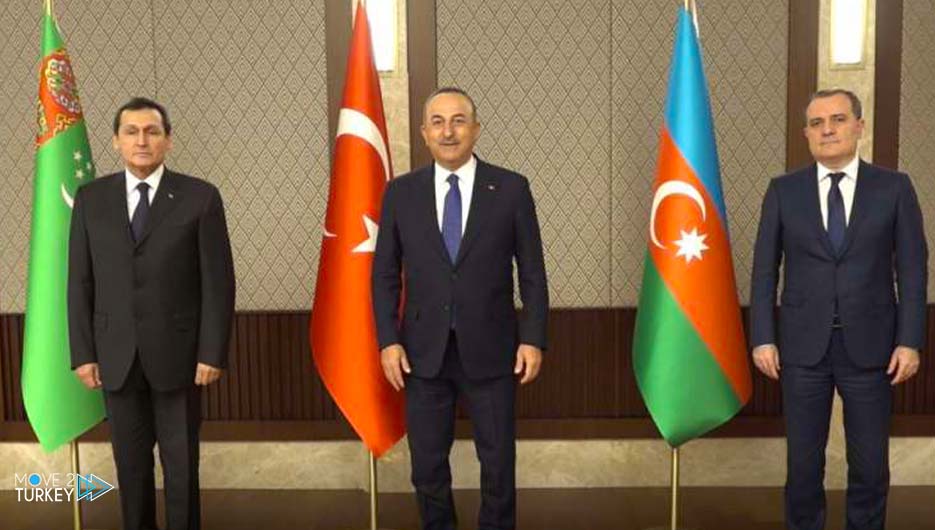 Azerbaijani Foreign Minister Jeyhun Bayramov said that the agreements concluded between Turkey, Azerbaijan and Turkmenistan "will serve peace, stability and development of our peoples, our region and the wider geography."
This came in a joint press conference he held with his Turkish counterpart Mevlüt Çavuşoğlu and Turkmenistan Rashid Muradov in the city of Turkmen Bashi on Wednesday.
He added, "We are living in historic days when the leaders of Azerbaijan, Turkey and Turkmenistan meet for the first time in a tripartite summit, and great preparations and intensive negotiations have been made in all fields."
He pointed out that the volume of trade exchange between Azerbaijan and Turkey reached $5 billion in 2022, while the volume of trade exchange between Azerbaijan and Turkmenistan rose to record numbers after it increased fivefold.
He pointed out that with the three countries signing five agreements and declarations, "they will contribute significantly to the economic field for all."
Regarding transportation, transit and logistical services opportunities in the three countries, Bayramov indicated that they are of particular importance today and have great potential.
"Through these capabilities, our cooperation can be further strengthened by establishing trade routes between Europe and Central Asia through Turkey, the South Caucasus and the Caspian Sea, which is one of the directions of the historical Silk Road," the Azerbaijani minister added.
He continued, "The priority issue for Azerbaijan is the reconstruction of the liberated areas in the Karabakh region from the Armenian occupation, and more than 700,000 of our compatriots need to return to their lands safely."
He indicated that Azerbaijan is implementing major projects in the lands liberated from the Armenian occupation, and $1.8 billion has been allocated from the 2023 budget for this purpose.
Regarding the Zangezur corridor, which will link Azerbaijan and the Nakhivan region via Armenia by land, Bayramov confirmed that work is continuing for its opening.
And he added, "The agreements signed between us will contribute to peace, stability and development for our peoples, our region and the broad geography."