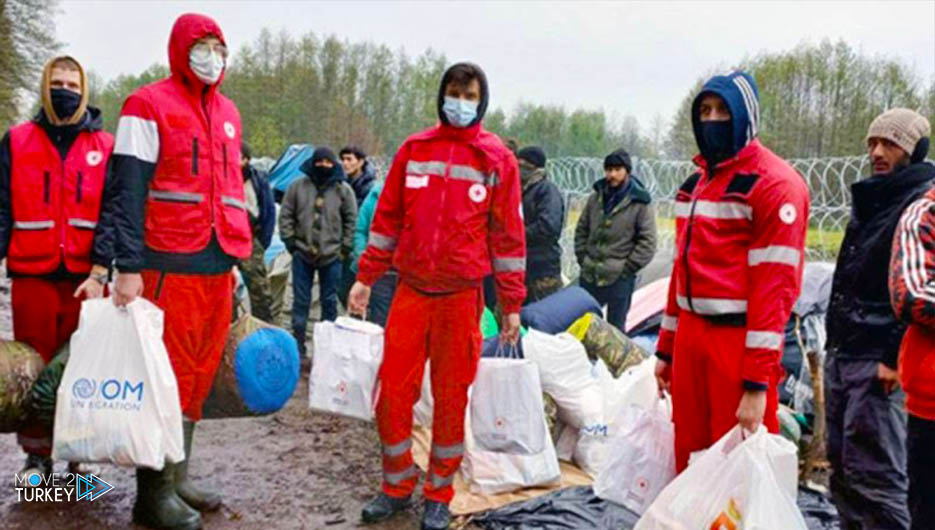 The Turkish Red Crescent sent humanitarian aid to irregular migrants at the Belarusian-Polish border.
The Red Crescent said in a statement on Saturday that an aid truck left from Istanbul towards Belarus, carrying basic supplies such as heaters, blankets, bedding, pillows and other personal items.
The company expressed its readiness to provide an additional shipment of aid when needed.
The Deputy Director General of the Red Crescent, Albert Kucuk and Ibrahim Ozer, participated in the farewell ceremony for the aid truck in Istanbul, as well as the President of the International Federation of Red Cross and Red Crescent Societies, Jagan Chapagın.
In early November, thousands of asylum seekers tried to cross the border to enter Poland from Belarus, where there are currently about 4,000 asylum seekers at the two countries' borders, according to the Polish news agency.
The European Union accuses Belarusian President Alexander Lukashenko of coordinating the arrival of this wave of migrants and refugees to the eastern side of the bloc.
This is in response to the European sanctions imposed on his country after his regime's "brutal repression" against the opposition.