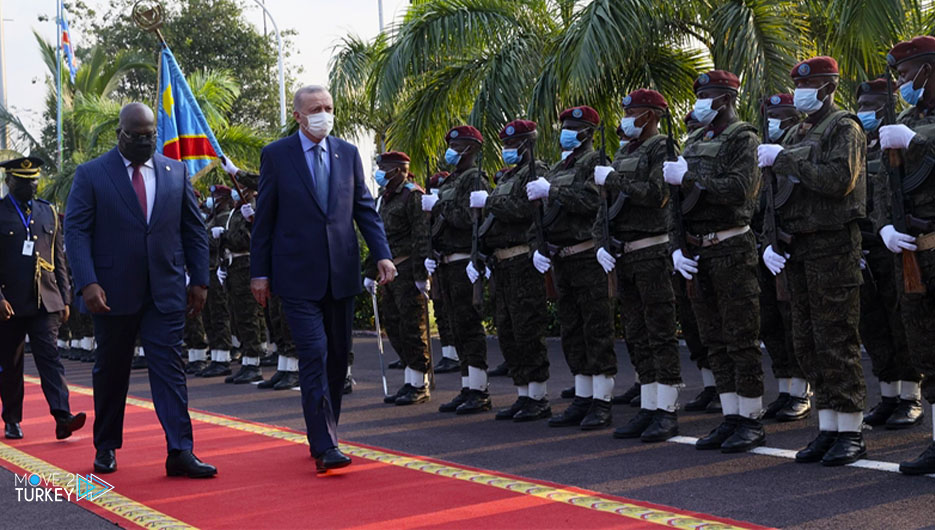 The President of the Democratic Republic of the Congo, Felix Tshisekedi, received his Turkish counterpart Recep Tayyip Erdogan in the capital, Kinshasa, with an official ceremony.
The official reception ceremony took place at the presidential palace in the capital, Kinshasa, where the national anthems of both countries began to be played.
After Erdogan greeted the reception podium, the two leaders introduced the delegations of their countries to each other.
It is expected that Erdogan and Tshisekedi will hold a press conference after their bilateral meeting and chair the meeting of the two countries' delegations and sign a number of agreements.
Earlier today, Erdogan arrived in Kinshasa at the start of an African tour that also includes Senegal and Guinea Bissau.
Erdogan is accompanied on his visit by Foreign Minister Mevlut Cavusoglu, Interior Minister Suleyman Soylu, and Defense Minister Hulusi Akar.
As well as trade, Mehmet Muş, transportation and infrastructure, Adil Kara Ismailoglu, and youth and sports, Mehmet Muharrem Kasapoglu.
He is also accompanied by the Turkish presidential spokesman Ibrahim Kalin, the head of the Defense Industries Corporation, Ismail Demir, and the head of the communications department in the Turkish presidency, Fahrettin Altun.